October 2009
KTM X-Bow Clubsport
X-Bow is styled like nothing else on the road
October 2009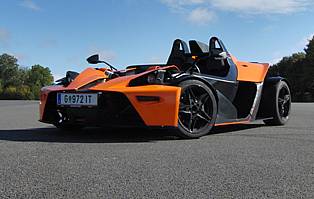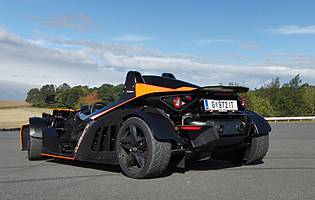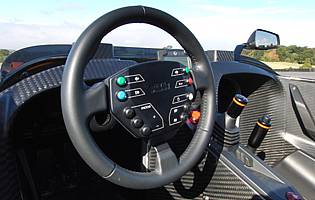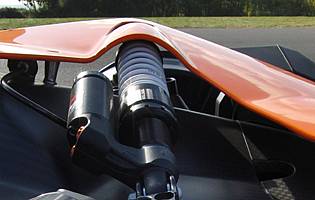 Overall rating

Likes:
Unique, amazing and irresistible styling
Fantastic acceleration, cornering and braking performance
Highly communicative controls
Robust and reliable track day car
Gripes:
Utterly impractical
No protection from elements
Exasperating starting procedure
Very poor rear visibility
The first car from Austrian motorcycle manufacturer KTM is the uniquely styled X-Bow. A road legal track car, the X-Bow pays little attention to practical details but is designed purely with performance and the driving experience in mind.
KTM is a manufacturer highly regarded for its performance motorbikes but has also turned its attention to cars with the X-Bow model. No ordinary road car, the open two-seater is essentially a track car boasting the bare necessities to make it road legal and with the focus on racing performance.
A chassis manufactured from carbon fibre makes the X-Bow super stiff and extremely light while a complicated and highly visible suspension set-up is fully adjustable. Several different versions are available within the range from the Street, designed for the track enthusiast who wishes to drive to the circuit, to the FIA homologated and non-street legal GT4.
All use an engine and other components from Audi. The 237bhp 2.0-litre direct fuel injected and turbocharged engine can be upgraded to offer 296bhp if required while sports exhausts and other race-oriented modifications are also available as options. Regardless of specification, the X-Bow remains a very basic vehicle in terms of creature comforts. The lack of a windscreen or manual heater controls in the Clubsport model means it requires dedication even for occasional road use.
Perhaps the most striking feature of the X-Bow however is its styling. The mixture of on-show suspension geometry, carbon fibre, angular bolt-on panels and extruding lights conspire to create a look like little else on the road. Surprisingly tractable on the road despite it phenomenal on track performance, the X-Bow attracts attention like a super-car costing considerably more.
Our verdict on the KTM X-Bow Clubsport
Clearly, the KTM X-Bow isn't going to pass muster as an everyday road car, but its ability to provide thrills on the road as well as track in Clubsport form makes it a worthy addition to the garage regardless. It delivers a thrillingly direct sports performance that never gets tired. Surprisingly easy to live with if you can forgive its obvious flaws, the X-Bow's robustness, looks and phenomenal performance make it one of the best options for the track enthusiast.
Costs
The KTM X-Bow's high tech materials and highly involved build and set-up procedure makes it an expensive purchase. Insurance will likely need to be specialist, the high performance model is likely to be harder on tyres than a normal road car and the turbocharged engine comes with quite a thirst. Of course, no-one is likely to run the X-Bow as a sole car. Rather it will be a guilty weekend pleasure or track day tool for the committed enthusiast. In this sense, it's worth every penny.
Space and practicality
With only two seats and no provision made for storage, the X-Bow makes no allowances for everyday practicality what-so-ever.
Controls and display
A central LCD display with selectable menus is an efficient way of conveying vital information to the driver. The unit also features a red gear shift warning light; very useful on track. The X-Bow features controls for the essential functions only with all but the starter switches located on the removable steering wheel. These are colour coded and easy to master. The Clubsport model also features an additional electrical master switch, which means the starting procedure is a little more complicated and the ignition barrel is located in the passenger footwell, making it impossible to reach when belted into the driver's seat. The clutch is surprisingly light for a car of this nature, although the lack of steering assistance can make it hard work at low speed.
Comfort
The X-Bow is not built for comfort, yet the non adjustable shell seats still manage to prove less draining than might be expected. Fully adjustable steering and pedal box position makes it easy to find a set-up to suit within the enforced race driving position. With no protection from the elements a long run requires a level of commitment, and the super-firm ride will take its toll away from the smooth surface of a race track. A heater automatically kicks into life when the temperature really starts to tumble.
Car security
Using the ignition system from a Volkswagen Group car modified to include an additional master switch cut out to prevent wear on the battery in the Clubsport model means the X-Bow is reasonably secure in terms of opportunist theft. The steering wheel is also fully removable. The open top format offers nowhere to hide valuables, however.
Car safety
Wearing a helmet for road use is advisable to avoid being hit by stones and other debris. The X-Bow's natural road holding ability and sharp brakes offer their own degree of safety but the car lacks any electric safety systems including ABS. Racing harnesses will certainly hold occupants in place in the event of an accident, however.
Driver appeal
The KTM X-Bow offers a raw and unadulterated driving experience few cars can match. High power and low weight make for startling performance and the advanced suspension geometry and large track tyres combine to produce breathtaking cornering ability. However, if pushed beyond the limit the model remains beautifully easy to control bestowing the driver with the confidence to really take advantage of the taught chassis. At the same time exhilarating and forgiving, the experience is intensified by the lack of protection from the elements.
Family car appeal
With only two seats, both using four-point harnesses, and no dedicated storage the KTM X-Bow is particularly unsuited to family life.
First car appeal
In a perfect world its back-to-basics approach and intuitive experience means the X-Bow is a car every young driver should have the pleasure of driving to give a greater understanding of car control. Unfortunately, its power and expense means very few young drivers will get to use one on the road. A lack of manoeuvrability and visibility also make it unsuitable for the inexperienced driver.
Quality and image
Unless a fan of the impressive motorcycles built by KTM, the brand is likely to be a new experience for the majority of drivers. Regardless, the X-Bow's unique styling and inescapable presence mean it turns heads like little else on the road, with reaction unwaveringly positive. Built using proven Audi technology mixed with KTM's own high quality craftsmanship, the X-Bow should prove extremely durable and is built to handle sustained abuse.
Accessibility
The racing car driving position requires a degree of agility to adopt, although being able to remove the steering wheel quickly aids ingress. With no doors, both driver and passenger must first climb aboard being careful not to stand on and damage the external panels. The Clubsport's additional electronics require the car to be started before strapping down the harnesses else the ignition barrel will not be within reach. Four-point race harnesses take longer than a traditional seatbelt to secure, too.
Stereo and ICE (In car entertainment)
There is no provision for audio of any description in the KTM X-Bow Clubsport. The open cabin means use of a full face helmet is advisable, rendering an audio system largely pointless anyway.
Colours and trim
The range of colour options for the X-Bow's removable exterior panels is limited but all are eye catching. Bright orange is the Austrian company's corporate colour and will ensure the X-Bow is spotted from some distance. Black or white options are slightly more discreet, but on a car of this nature discretion is at its most relative. A stripped out interior means there's little else in the way of traditional trim, but the carbon fibre bodywork has a look often replicated in modern sports cars.
Parking
The KTM X-Bow's turning circle is very poor, making it a difficult model to manoeuvre in a tight spot. Although not hard to position thanks to a uniform platform shape despite the angular bodywork and with little overhang, rear visibility is poor. Extended mirrors offer a limited view to the rear and large blind spots are a hazard that must be lived with.
Spare wheel
No provision made as standard.
Range information
Petrol engine options - 2.0-litre (237bhp); 2.0-litre (296hp). Transmission options: six-speed manual gearbox, six-speed DSG clutchless manual gearbox. Trim levels: Street, Clubsport, ROC, Superlight, GT4.
Alternative cars
Caterham R500 Even more impressive power to weight ratio
Lotus 2-Eleven Road legal race car is beautifully set-up
Ariel Atom Similar exposure to the elements and brutal performance
Radical SR4 Clubsport Great speed and race car styling but less suited to road use