Best used family cars
Having your first child is a hugely exciting time, and one that comes with a lot of decisions to make. One of these is whether your current car is fit for purpose.
With any child, you want your car to be as safe, comfortable and practical as possible. That doesn't mean you suddenly need a large seven-seat MPV or SUV, though.
There are plenty of smaller cars that are safe and useful that will fit the bill for your young family. Here are 10 used options worth considering, all of which come with Isofix points for car seats.
Volkswagen Polo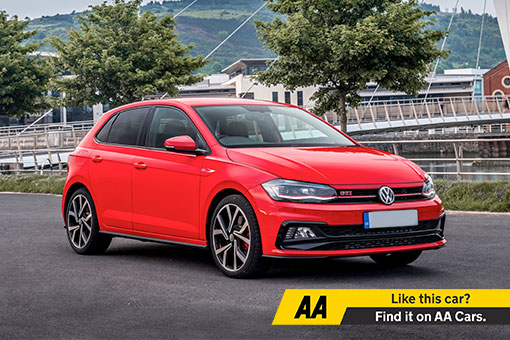 Superminis have grown in size and spaciousness in recent years. Take the latest Volkswagen Polo for example, which has been around since 2017 - it's nearly the same size as an early 2000s Volkswagen Golf from the class above.
With a large 351-litre boot, it's much bigger than the majority of cars in this class - easily providing enough room for a pram. Rear space is also generous, with a decent amount of legroom - handy when trying to prevent a small child from kicking the seat in front. The latest Polo is also a five-door only - aiding practicality. A 5-star safety rating from Euro NCAP (2017), and an 85% score child occupant protection makes it a great small family car.
Find a used Volkswagen Polo on AA Cars
Honda Jazz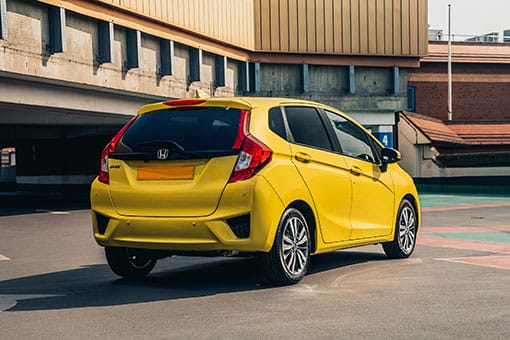 The Honda Jazz might not do your street cred any favours, but if you're looking for a seriously roomy and affordable small family car, this Japanese hatchback is a great option.
It's more of a small MPV than it is a supermini, and this works to its advantage- it has a large 354-litre boot and offers a serious amount of room in the rear seats. Even with 2 young children you won't struggle for room- plus, the space makes it easy to reach across when helping a child into their car seat. The third-generation Jazz (the most practical of the lot) also has a 5-star safety rating, including an 85% ranking for child occupant protection.
Find a used Honda Jazz on AA Cars
Citroen C3 Aircross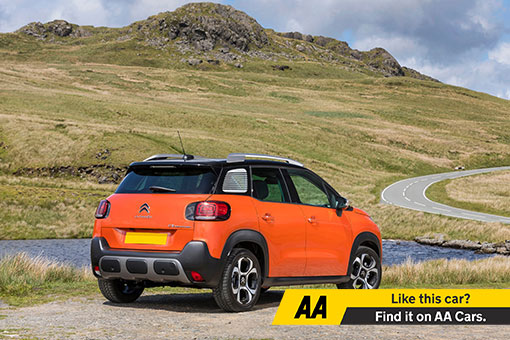 Crossovers are becoming popular with the family car market- the additional ride height is a bonus when it comes to fitting child seats and getting kids out of them. While many of these vehicles look more practical than they actually are, the Citroen C3 Aircross isn't one of them.
This model has a 410-litre boot as standard, and comes with sliding rear seats that can increase the space on offer to 520 litres- significantly more than the 300 litres you get with the regular C3. The C3 Aircross also gets funky styling, and the all-important 5-star Euro NCAP safety rating- it was awarded a child occupant protection score of 82%, too.
Find a used Citroen C3 on AA Cars
Skoda Octavia vRS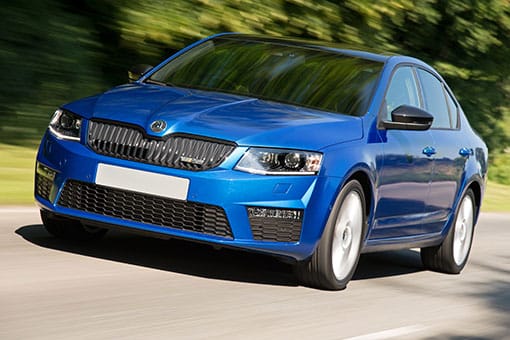 Having a young family doesn't mean you have to sacrifice on fun. Hot hatches are a great option if you need something more sensible, but still want a car that's quick and great to drive. And one of the most practical options is the Skoda Octavia vRS.
Any of the 3 generations would be a great choice, but we'd go for the third-generation version, which was sold between 2014 and 2020. Its 590-litre boot is absolutely huge, with more than enough space for prams and items needed for a small family. Both petrol and diesel versions are available, with lower running costs coming with the latter. It's yet another car to receive the top rating from Euro NCAP, with an especially high 86% score for child protection.
Find a used Skoda Octavia on AA Cars
Mini Countryman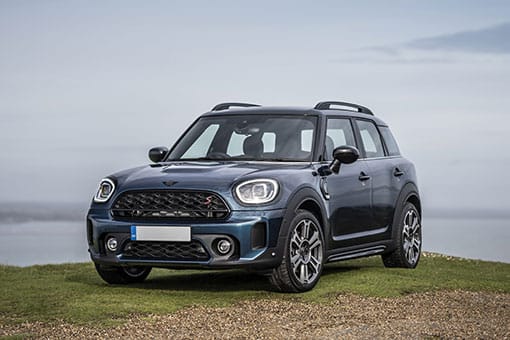 The regular Mini Hatch is a hugely popular choice with young buyers, but its small dimensions and cramped interior mean it's a heavily compromised choice for families. Thankfully the British brand caters to this audience with its Countryman crossover.
The first SUV-style Mini, it's also the brand's roomiest car, and was first introduced in 2010. But it's the second-generation Countryman, launched in 2017, that is the one to go for, with its higher-quality and more modern cabin - it's also got a lot more space inside. With a choice of petrol, diesel or hybrid versions, there's certainly plenty of choice with this Mini. It also scored 80% for child occupant protection by Euro NCAP.
Find a used Mini Countryman on AA Cars
Nissan Leaf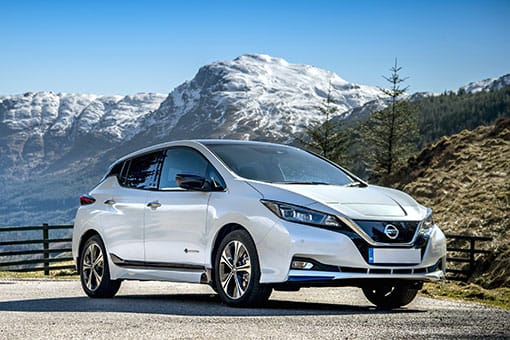 Used electric cars are generally quite still pricey, but an exception to the rule is the Nissan Leaf. As one of the first mass-market EVs, prices now start from as little as £5,000 for an early car. However, if your budget stretches to it, the second-generation Leaf (launched in 2018) is a much better choice.
Not only is it smarter to look at, but the interior is a big improvement, and it's packed with technology - particularly high-spec Tekna versions. With a bundle of safety equipment included, it also scored very well in Euro NCAP tests, receiving an 86% rating for child protection. Standard 40kWh battery models can travel a claimed 168 miles between charges, though an upgraded 'E+' version gets a larger 62kWh battery, increasing the range to 239 miles.
Find a used Nissan Leaf on AA Cars
Seat Leon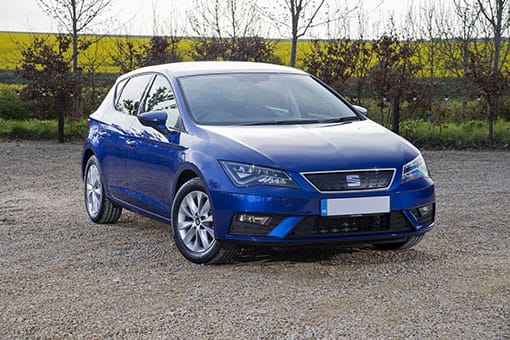 If you want a family car that still looks the part and is good to drive, a Seat model should be high on your shortlist, and particularly the brand's Leon. Based on a Volkswagen Golf, it offers a sportier design and impressive levels of technology - it was the first car in its class to come with full LED lights, for example.
Available as a hatchback or roomier ST estate version, both offer large boots, a generous level of standard equipment and an almost hot hatch-like feel from behind the wheel. Look out for a third-generation Leon (sold between 2013 and 2020), with these starting from just £4,000. A 92% child occupant protection score from Euro NCAP is seriously impressive too.
Find a used Seat Leon on AA Cars
Range Rover Evoque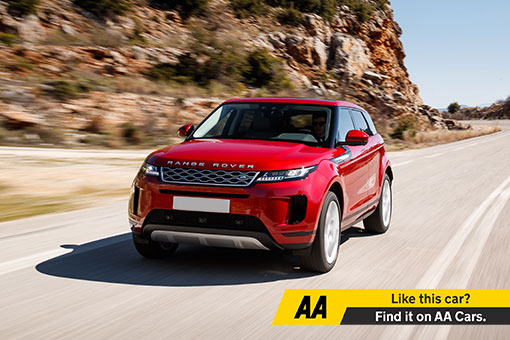 Few brands have as much badge appeal as a Range Rover, and the British brand has been able to capitalise on this with the smaller Evoque. Though introduced in 2011, the second-generation 2019 car makes for a better option, thanks to its more modern interior and improved driving experience.
With plenty of standard equipment included, the Evoque - despite being the smallest Range Rover - is still practical, with a roomy interior and 591-litre boot making it a great choice for families that still want a car that's stylish. A wide range of petrol and diesel engines are offered, with an efficient plug-in hybrid recently joining the line-up. Euro NCAP awarded it an 87% child occupant protection score.
Find a used Land Rover Range Rover Evoque on AA Cars
Ford Puma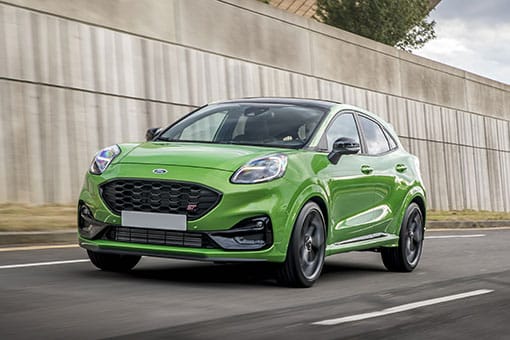 Since Ford revived the Puma in early 2020, it's already overtaken the Fiesta and Focus in terms of popularity, and it's now one of the UK's best-selling cars. Based on the same underpinnings as the Fiesta, it offers the same sporty driving experience, but with plenty of extra space - particularly in the rear seats. Its boot also has something called a 'MegaBox', which is a clever underfloor solution for keeping mucky boots and clothes out of the way.
All Puma models come with plenty of equipment included for the price, too, while many versions use Ford's 1.0-litre mild-hybrid EcoBoost petrol engine - bringing swift performance and low running costs. More than 50mpg is possible in careful driving.
Find a used Ford Puma on AA Cars
Toyota Yaris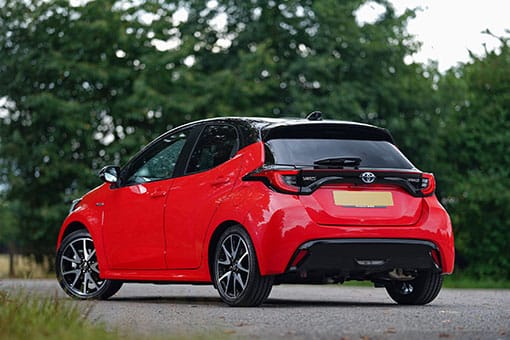 Though the Yaris might prove a bit small for some families, if you don't want anything too big, it could be a fantastic choice. Renowned for its reliability, the Yaris also has a great reputation for safety - with the latest example (launched in 2020) being one of the safest compact cars ever made, and still scoring an 81% rating for child protection.
This latest car also brings some big advancements in other areas, such as style and technology, while it's now exclusively sold as a hybrid - where Toyota claims it can return 68mpg, with CO2 emissions of just 92g/km. With a comprehensive list of standard equipment, it could be an ideal urban family runabout. Just be aware that the boot is relatively small.
Find a used Toyota Yaris on AA Cars
Prices correct at time of publication [08/2023].