Best used sports cars
If you enjoy getting behind the wheel and want to own something specifically that'll be a pleasure to drive, it's hard to beat a sports car.
Whether you choose something more affordable and accessible, or a vehicle approaching supercar territory, a sports car can be a fantastic mood booster. Whether you're looking for something to use every day, or to keep for occasional use in good weather, there's plenty going for a sports car.
As these cars can often lead hard lives and can be expensive to repair, we recommend having an independent vehicle inspection carried out before purchasing, as well as investing in a warranty in case any work is needed.
Here are the 10 best used sports cars on the market.
Toyota GT86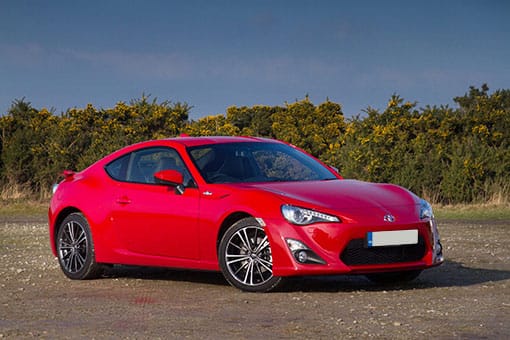 Toyota adopted a similar policy to Mazda when creating the GT86, preferring a smaller, naturally-aspirated engine and favouring a lightweight construction. It's what makes this coupe so fun to drive.
The GT86, which is pretty much the same car as the rarer Subaru BRZ, has a good reputation for reliability, while thanks to a small pair of rear seats and a decent-sized boot, is relatively practical as well. Used examples of this Toyota sports car start from around £12,000.
Find a used Toyota GT86 on AA Cars
Ford Mustang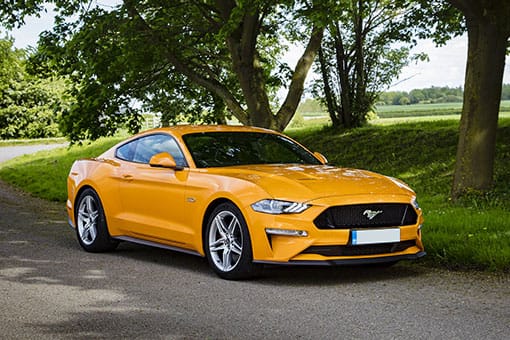 A sports car of a different breed altogether comes in the form of an American muscle car, and one of the most popular models is the Ford Mustang. While models were imported to the UK in left-hand-drive form for decades, in 2015 Ford finally started selling officially sold right-hand-drive examples.
For the full muscle car experience, you want a Mustang with the characterful 5.0-litre V8 engine, though be aware of expensive running costs. With cool styling and surprising practicality, there's a lot going for this Ford. Prices start from around £25,000 for a 2015 car.
Find a used Ford Mustang on AA Cars
Audi TT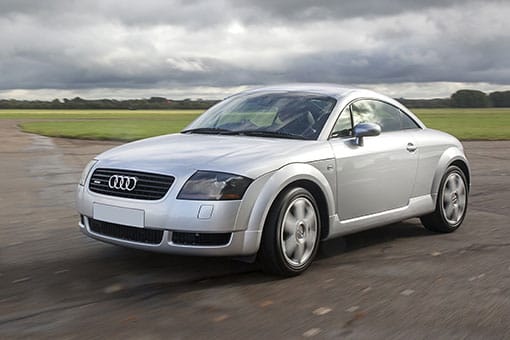 Audi's TT has been an icon for this German firm for 25 years, with its cool styling earning it plenty of fans over the years. It's also another affordable choice, with older, used examples starting from just £2,500. You can choose it as a coupe or Roadster convertible too.
The 222bhp 1.8-litre Quattro models are some of the most popular and desirable, while Audi also offered a V6 model if you want something with a little more character. Sportier TTS and RS models are also available if you want a quicker TT, though do cost quite a lot more to buy.
Find a used Audi TT on AA Cars
Mercedes-AMG GT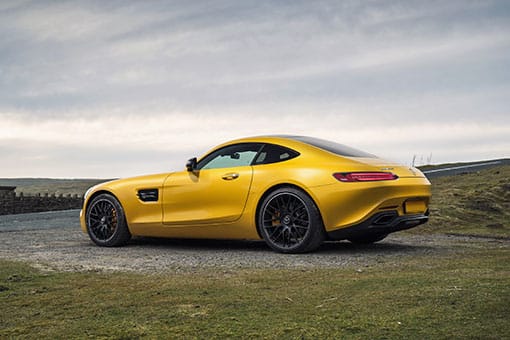 If you've got more money to spend and want something that feels a lot more 'special', we recommend a look at the Mercedes-AMG GT. Packing a monstrous 4.0-litre V8 engine, it's really more supercar than sports car.
It commands a huge amount of presence too, not least because of its long bonnet and low set right height. When the AMG GT was new in 2015, it would have set you back more than £100,000, but today, used models are available from around £55,000.
Find a used Mercedes AMG GT on AA Cars
Jaguar F-Type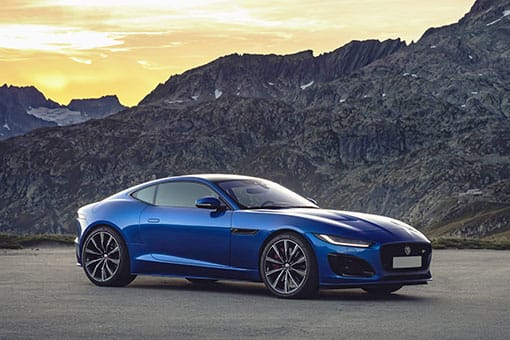 Jaguar has produced some incredible sports cars over the years, and its most recent hit is the F-Type. First introduced in 2013, the British firm will soon be discontinuing it to make way for future electric models.
But if you can get one you should, as with either the V6 or V8 engine under the bonnet, the F-Type is a fantastic sports car. Used prices have also come down to the point that becoming more accessible, with examples now available from around £20,000.
Find a used Jaguar F-Type on AA Cars
Mazda MX-5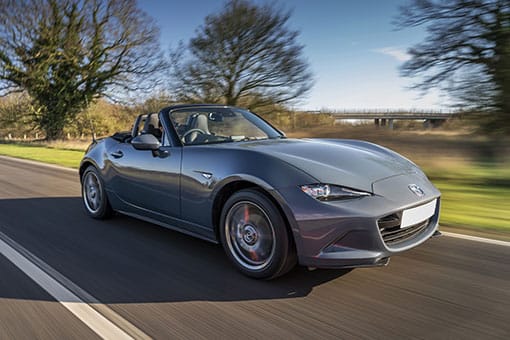 If you want a sports car that doesn't cost a lot to buy, and won't cost a fortune to run either, it's hard to beat a Mazda MX-5. Renowned for its fun and accessible performance, the drop-top MX-5 is ideal on a warm, summer's day.
There have been four generations of MX-5, but it's the third model (sold between 2005 and 2015) that makes for the best choice. You can pick up a usable, high-mileage model for just £2,500, but double that will buy a very clean example.
Find a used Mazda MX5 on AA Cars
Porsche Cayman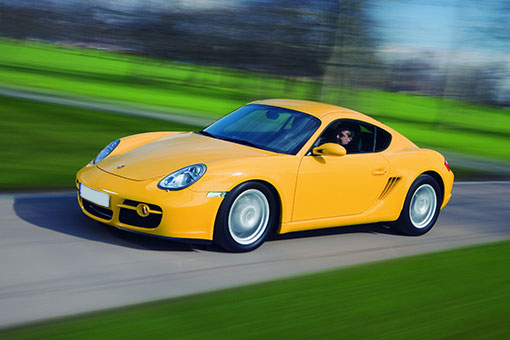 A Porsche is often a go-to choice when it comes to sports cars, with this brand's models being renowned for their driving pleasure. While they command a premium to buy, used Porsches hold their value very well, and are generally quite reliable too.
While it's the 911 that's often the default choice, we reckon the smaller Cayman could be worth going. First introduced in 2005, it's a hard-top version of the Boxster that brings a remarkable drive yet surprising levels of practicality. Used Caymans start from around £12,000 for an early, high-mileage car.
Search for used Porsche Caymans on AA Cars
Fiat 124 Spider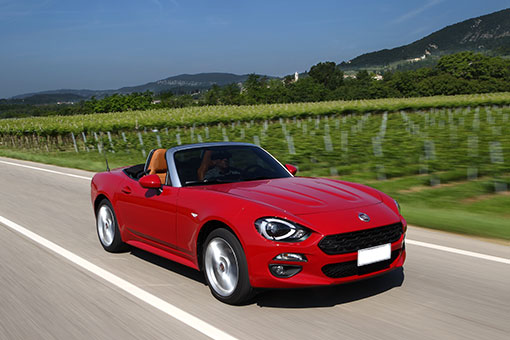 Fiat might not be the first firm that comes to mind when you think of a 'sports car', but over the years this Italian firm has made some fantastic sporting models. In more recent times the brand revived its 124 name – a model which this time around was twinned with the Mazda MX-5.
Only sold between 2016 and 2018, the 124 uses Fiat's turbocharged 1.4-litre petrol engine that offers a good mix of performance and fuel economy. It only sold in small numbers so they are quite hard to find, but prices start from around £12,000.
Search for used Fiat 124 Spiders on AA Cars
Volkswagen Scirocco R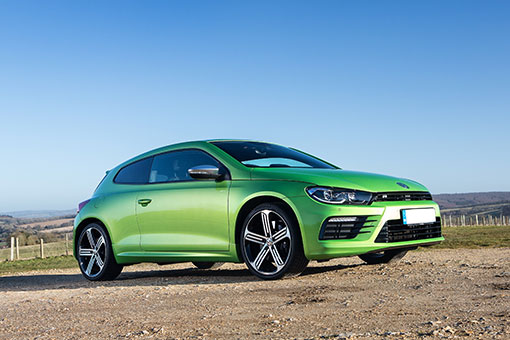 Volkswagen revived its Scirocco in 2008 as a sportier Golf-based coupe, and it sold well and remains a popular used choice. The German firm added some additional performance to it in the form of an 'R' model.
Using a turbocharged 2.0-litre petrol engine producing up to 276bhp, it allowed for plenty of pace. The 'R' also handles well, and despite getting on in terms of age now, the interior and overall design have aged well. These range-topping models are quite hard to find, but can be bought for around £13,000.
Search for used Volkswagen Scirocco R models on AA Cars
BMW i8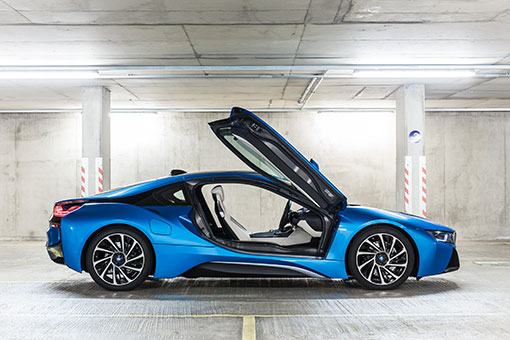 A sports car of a very different breed is the BMW i8. That's because this striking model is fitted with a plug-in hybrid powertrain, which was especially innovative at the time of its launch in 2014. They also offer an electric range of around 15 miles, which could be ideal for shorter trips or commutes around a city.
But the i8 still offers plenty of performance, with 357bhp on tap allowing for a 0-60mph time of 4.4 seconds. The i8 also delivers show-stopping looks, aided by its gullwing doors which are typically a feature reserved for the most expensive supercars. With used prices starting from around £35,000, the i8 is good value for money as well.
Search for used BMW i8s on AA Cars
Prices correct at time of publication [07/2023].