Best used estate cars
Perhaps you're in the market for a saloon or a hatchback, but found that a conventional 5-door doesn't provide enough space or practicality. You could turn to an SUV, a popular choice at the moment, but there's another option - the all-purpose estate.
Offering up great on-road manners and a healthy dose of boot space, the estate car is ideal if you need the flexibility of a large and long load space. With a wide range of versions to choose from, we've picked out some of the best.
BMW 5 Series Touring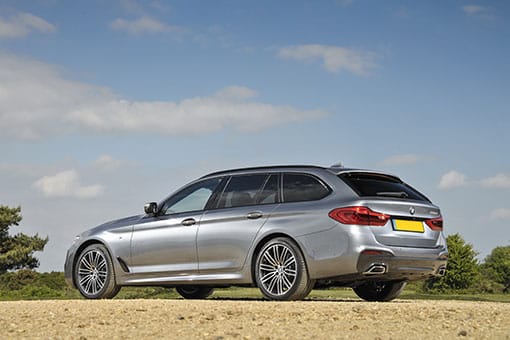 The BMW 5 Series Touring has been around since the late '80s, and from that point has become a go-to option in the estate segment. This is down to the car's excellent driving dynamics, which deftly combine comfort and sportiness.
But as with any estate, it needs to be practical to succeed. Fortunately, it has a huge load area and an easily accessed boot. It even has a pop glass section, which allows you to get into the boot without opening the entire rear hatch. With a wide range of petrol and diesel engines available - as well as a plug-in hybrid - the 5 Series Touring is a terrific all-rounder.
Find a used BMW 5 Series on AA Cars
Skoda Superb Estate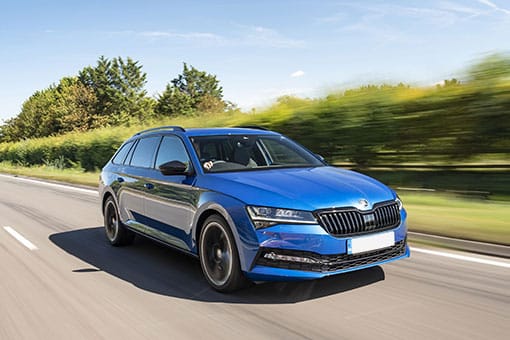 Want practicality, reliability and comfort all in one value-for-money package? Then look no further than the Skoda Superb Estate. Though it may lack the badge prestige of some of its rivals, the big Superb makes up for it with a great range of standard equipment and tip-top build quality.
It's also jam-packed with inspired touches - which Skoda calls 'Simply Clever' features - such as umbrellas installed in the doors, and an ice scraper underneath the fuel filler cap.
Find a used Skoda Superb on AA Cars
Mercedes E-Class Estate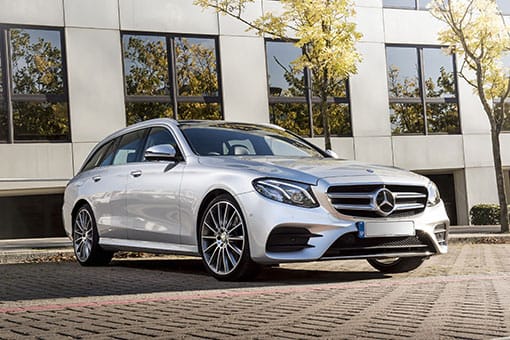 Much like the 5 Series, Merc's E-Class Estate has, in various guises, been around for some time. It's a great option for those who want out-and-out space, thanks to its cavernous boot and useful square shape which makes loading bulkier items a breeze.
It offers more than just spaciousness alone, though. The current E-Class is excellent to drive, and there's even an all-wheel-drive 'All Terrain' version for those who want a little more traction when things get slippery.
Find a used Mercedes E Class on AA Cars
Ford Focus Estate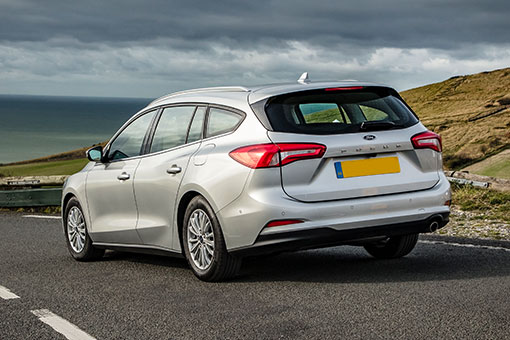 Ford's estate cars have always been a popular choice, with the option of either the Focus or Mondeo to choose from. But it's the smaller Focus that gets our vote, as it's more stylish and more enjoyable to drive too.
Yet it's still very practical, with its large boot likely to prove more than big enough for most, and making it far more useful than the standard hatchback it's based on. With a range of efficient engines to choose from, and decent standard equipment levels, it's well worth a look.
Find a used Ford Focus on AA Cars
Audi A6 Allroad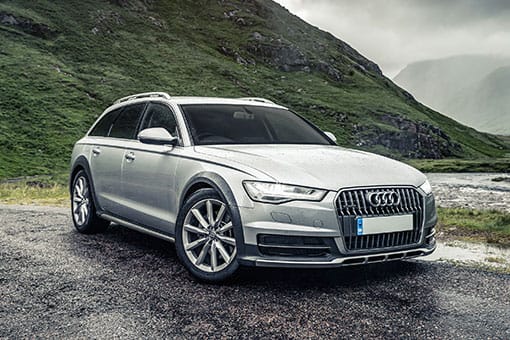 If you want the greater off-road capability of SUVs, but still prefer the estate car body style, it's certainly worth looking at a car like the Audi A6 Allroad. Bringing chunkier looks, a raised ride height and greater off-road capability, this Audi is a very appealing choice.
As it's based on the standard A6 Avant, it means you still get a spacious, high-quality interior and powerful petrol and diesel engines under the bonnet. Newer versions are also equipped with adaptive air suspension, giving the Allroad an exceptionally comfortable ride.
Find a used Audi A6 on AA Cars
Volvo V90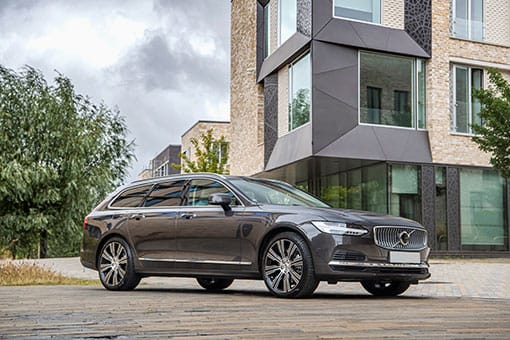 When it comes to estate cars, Volvo has been leading the way for decades. It's a brand that symbolises this type of car for many people, and the Swedish brand's latest wagons are better than they've ever been. Take the V90 - currently Volvo's largest estate - which looks the part and has a superb interior as well.
It's still got a very roomy interior too, as well as a massive boot, and though Volvo also offers a 400bhp T8 plug-in hybrid model, more regular versions bring a great combination of performance and low running costs.
Find a used Volvo V90 on AA Cars
Dacia Logan MCV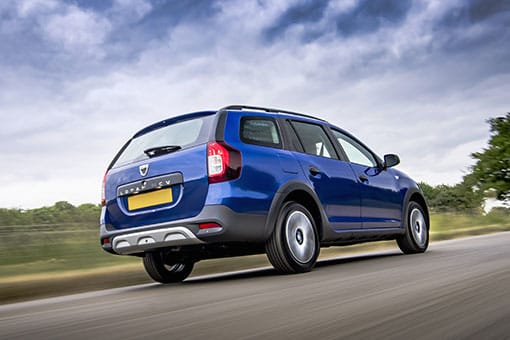 Just because you want a roomy estate car, doesn't mean you have to spend a fortune, with Dacia's Logan MCV usefully catering towards the more budget end of the spectrum.
If you want a fancy leather-lined interior, the Logan isn't the car for you, but if you're after a useful estate car that's roomy and practical and impressively cheap to buy (considering its age), this Dacia is in a class of its own.
Find a used Dacia Logan MCV on AA Cars
Mazda6 Tourer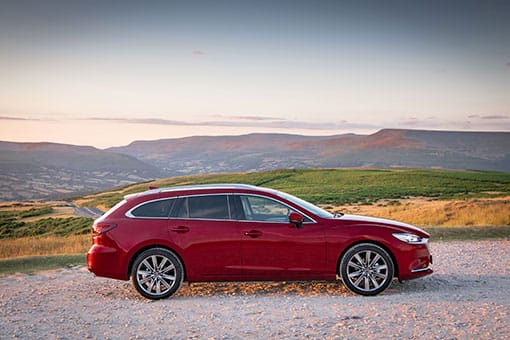 Mazda's 6 Tourer might not be the most cutting-edge of estate cars, but what it does offer is terrific value for money for a wagon of its size. The latest versions also get a long list of equipment for the money, such as features like adaptive cruise control, a head-up display and adaptive LED headlights.
The 6 Tourer is also one of the best estate cars to drive in its class, while the latest generation offers an especially smart design, helping to set it apart from rivals, but not at the expense of spaciousness.
Find a used Mazda 6 on AA Cars
Volkswagen Passat Estate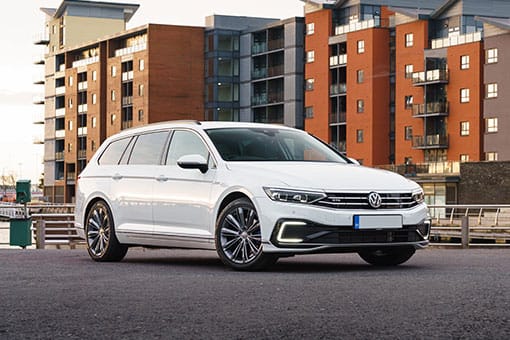 Volkswagen's Passat is another mainstay in the estate car class, with this model's classy looks, well-built interior and spaciousness earning it many loyal fans over the years.
Though there might be sportier estates on the market, its combination of refinement and quality are hard to match without venturing into more premium manufacturers. Choose the latest generation for the best interior and smartest styling, while a plug-in hybrid is also offered for those looking for a more environmentally friendly vehicle.
Find a used Volkswagen Passat on AA Cars
MG5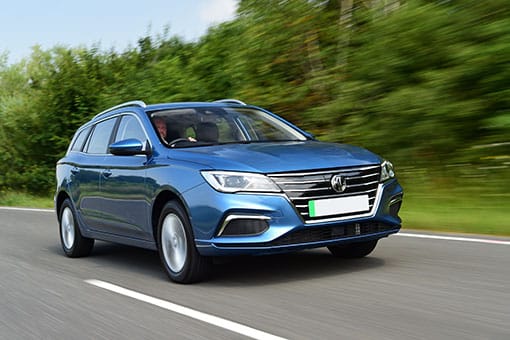 While plenty of estate cars are now available as hybrids, very few are offered as an EV. One exception is the MG5 - a more compact estate car that has an electric range of up to 250 miles, or 214 miles with the smaller battery option.
Though not the most stylish or premium wagon around, the MG5 is decent to drive, roomy for its size and comes with plenty of standard equipment for the price. As it only launched in 2020, it might look pricey on paper, but actually is very good value next to petrol and diesel-powered rivals
Find a used MG MG5 on AA Cars
Prices correct at time of publication [11/2022].