Best used 4x4 cars 2022
With colder weather setting in, you might be thinking about getting a 4x4 to help you in the trickier winter conditions.
If you do decide that you need a 4x4, you might be shocked by how expensive they are to buy new. The most affordable Land Rovers today will cost you more than £35,000, so new 4x4s certainly aren't cheap.
However, there are plenty of used 4x4s out there that bring extra ability at an affordable price. Here are 10 great choices that won't break the bank.
Toyota RAV4
Although you'll struggle to find a Land Cruiser or Hilux at an affordable rate, Toyota's cheaper RAV4 can provide everything you need.
For less than £5,000 you could pick up any of the first 3 generations of RAV4, all of which are known for their reliability and robustness. This car isn't meant for extreme off-roading, but should prove useful in wintery conditions - providing you choose a four-wheel-drive option, as some for sale will be the front-wheel-drive version. Three-door models were offered on the first two generations of RAV4, but the five-door models are a much more practical option, and don't cost much extra to buy either.
Find a used Toyota RAV4 on AA Cars
Land Rover Freelander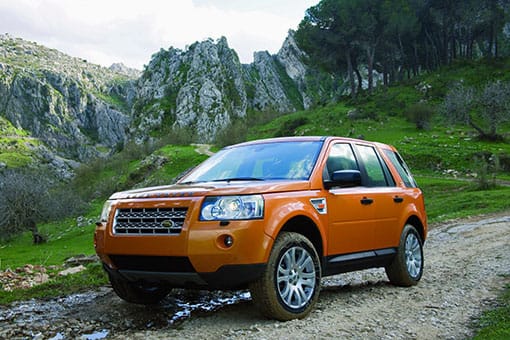 Land Rover is a name that means a lot in 4x4 circles - it's what this brand's reputation is built on, after all. But new models are quite expensive, so if you want one on a budget, the used market is a much better bet.
For those on a budget, we'd recommend the Freelander. For just £5,000, you can pick up a great Freelander 2 that offers modern styling and great off-roading ability.
As used Land Rovers don't have the best reliability reputation, it's worth having any example mechanically inspected before buying. Don't be afraid to view a few before settling on the right example.
Find a used Land Rover Freelander on AA Cars
Skoda Yeti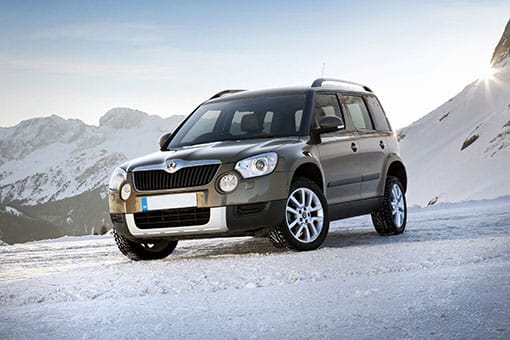 Skoda's chunky Yeti could be a surprisingly useful tool to keep you mobile over the winter months.
The Yeti was Skoda's first SUV built to impress with its surprisingly spacious interior, good build quality and funky styling. It's a very popular family car too.
Not all versions come with four-wheel-drive, so it's worth rooting out a '4x4'-badged example if you want that extra capability. Yetis hold their value well, so having a small budget may limit you to high-mileage examples. However, the 2.0-litre TDI diesel engine is known for being very dependable. It's also a lot more efficient than other models on this list - returning around 47mpg.
Find a used Skoda Yeti on AA Cars
Suzuki Jimny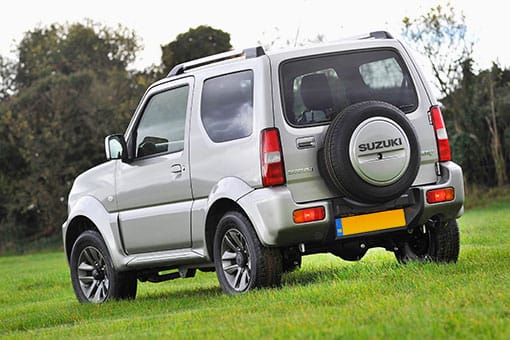 If you want an affordable and seriously capable off-roader for a low price, the Suzuki Jimny should be high on your list.
Thanks to its small 1.3-litre petrol engines, it's not too expensive to run and insure. And the Jimny can give much larger 4x4s a run for their money when it comes to ability - proving that lightness goes a long way.
Just be aware that the Jimny isn't always great on tarmac, so if you do a lot of miles each year, it's worth avoiding - or potentially just keeping as a second car to use over winter.
Find a used Suzuki Jimny on AA Cars
Nissan X-Trail
While Nissan might be best known for its EVs and crossovers, the firm has produced some very accomplished 4x4s over the years - including the X-Trail. While this model has evolved to become a more 'lifestyle' choice, its first 2 generations, which debuted in 2001 and 2007 respectively, are surprisingly rugged.
Its chunky styling means it's aged really well, while it's also comfortable and well-equipped - high-spec versions even come with a full-length panoramic roof. If you're looking for a family 4x4, the X-Trail is ideal thanks to its roomy and versatile interior.
All first- and second-generation X-Trails of this age (up until 2014) come with all-wheel-drive, too, so you're guaranteed that they'll be useful over winter.
Find a used Nissan X-Trail on AA Cars
Dacia Duster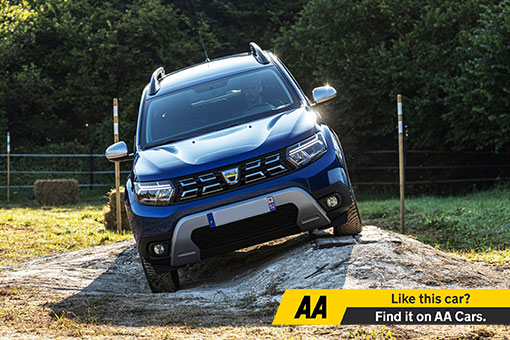 Renault-owned Dacia has only sold cars in the UK since 2013, but has already well established itself here as a brand renowned for offering great value for money. That applies to all its cars, but particularly the Duster SUV, which hugely undercuts rivals for price.
Bringing rugged and chunky styling, the Duster doesn't offer much in the way of equipment or quality, but makes up for that with its decent on-road manners and roomy interior. Though four-wheel-drive versions are rarer, they're still available from very affordable prices.
Find a used Dacia Duster on AA Cars
Volvo XC70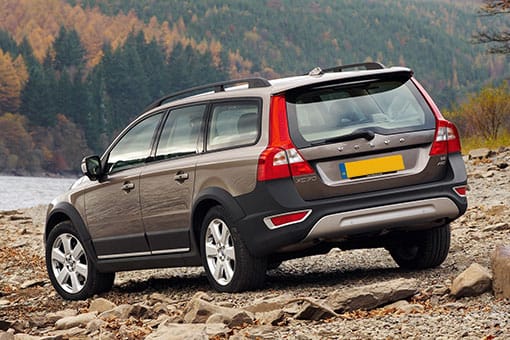 Four-wheel-drives come in all shapes and sizes, and if you don't like the more popular SUV bodystyle, it could be worth looking at a rugged estate car. Though these are rarer, a leading firm here is Volvo with its XC70. Based on the regular V70 wagon, and sold between 1996 and 2016, it's an impressive choice when the conditions get tougher.
It also carries over Volvo's long-running traits of comfort and safety, while also offering loads of interior space, both for passengers and in terms of boot room. Big and smooth diesel engines suit the XC70 well too.
Find a used Volvo XC70 on AA Cars
Ford Ranger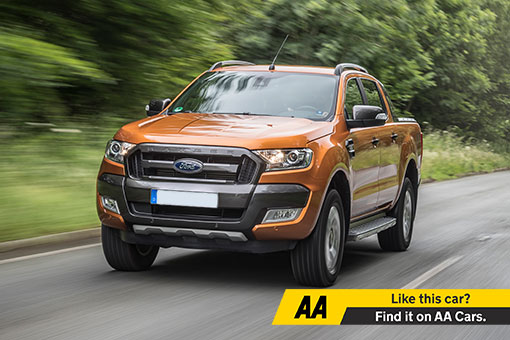 Pick-ups have become a more popular bodystyle in recent years, but new versions are particularly expensive. If you're shopping on a budget, though, used trucks are available from very low prices.
One of the best choices is the Ford Ranger, which is available from under £5,000. Double cab (four-door) versions are the most practical, while still having a useful load bed. With a towing capacity of more than three tonnes, the Ranger can usefully double up as a workhorse too.
Find a used Ford Ranger on AA Cars
Hyundai Santa Fe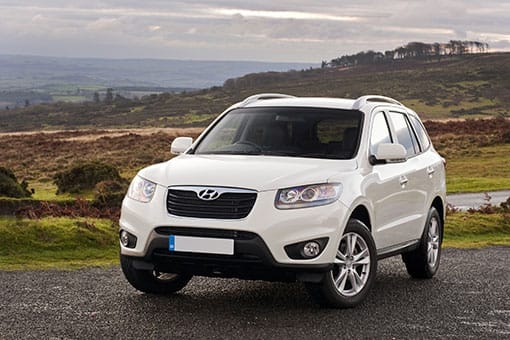 Used seven-seat 4x4s at bargain prices aren't all that common, but if you want space and winter capability on a budget, things don't get much better than the Hyundai Santa Fe.
You'll want to look for the second-generation model (sold between 2006 and 2012) for three rows of seats, while it comes with a great diesel engine and loads of standard equipment. In terms of design, it's aged pretty well too.
Find a used Hyundai Santa Fe on AA Cars
Subaru Forester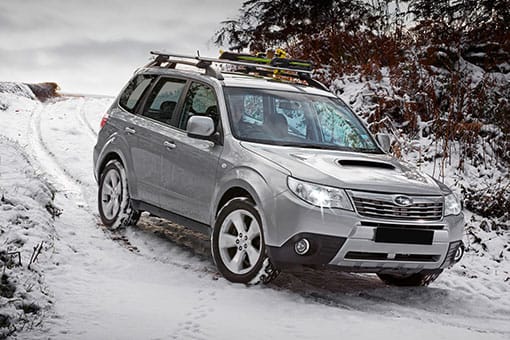 Subaru has a fantastic reputation for offering capable 4x4s, with virtually every car it sells coming with four-wheel-drive. One of the top choices from the Japanese firm is the Forester - a well-sized SUV.
It's very capable off-road, so could prove to be very useful in winter, while also has a very spacious interior. With a solid reliability reputation, it's a very attractive used buy, regardless of the age of vehicle you're searching for.
Find a used Subaru Forester on AA Cars