Best used first cars
Have you or a loved one just passed your driving test? It can be difficult for newly-qualified drivers to find the ideal first car, but after months of coveting that licence, the time has come to head out to the forecourt - and the anticipation is understandably high.
On a practical level, there are a few things first-timers should bear in mind. Style will no doubt be on your list of priorities, but the best cars for new drivers are those that are also safe, easy-to-drive and affordable - not only in terms of price and running costs, but also how much it'll cost to get insured as a first-time driver.
Things to consider
Buying a used car is a great way for new drivers to find a fantastic deal. It can be well worth getting a pre-purchase car inspection carried out on the option you're keen on. Any car bought from an AA approved dealer will already have undergone these checks, but you can still take advantage of this service even if you buy elsewhere.
Our vehicle checks give you extra peace of mind about the car's mechanical condition. You can also get a vehicle data check from us too. This confirms the mileage of the car, the number of previous owners and whether it's been stolen or involved in an accident - as well as if it's got any finance outstanding on it.
Check if the cars you're looking at have any active safety features, such as anti-lock brakes (ABS) and electronic stability control (ESC). These can help prevent road accidents, while newer cars may have features that can autonomously force the car to brake or keep it in a lane to prevent collisions. Euro NCAP safety ratings are an important guide too, but bear in mind the test has changed over the years, so you can only directly compare cars of a similar age.
Other costs
Have you thought about insurance premiums? If you're looking to save money, you should see which insurance group your preferred car is in. Every car belongs to a 'group' between 1 and 50. The lower the number, the cheaper it normally is to insure. All the cars we've recommended tend to be in lower insurance groups, but this will depend on the exact model.
The best cars for new drivers can help to keep insurance costs down, but only to a point. With no experience and no 'No Claims' bonus, you're almost certain to pay more for your insurance than experienced motorists. In some cases, you may find it'll cost you more than the vehicle itself.
How much will Vehicle Excise Duty (VED) set you back? Also known as car tax, it can drive up the cost of running a car. The way VED works has changed a couple of times over the last 20 years, so how much you'll have to pay will depend on the age of the car. It's possible the CO2 emissions of the car or list price when new will be a factor too.
The good news is that the right car could cost you nothing in VED. But some vehicles may cost you anywhere up to £570 a year - so it's important you know what's what.
One more thing to consider is the MOT status of the car you're thinking about buying. If it's 3 or more years old, it must be tested every year to ensure it meets the minimum standards for roadworthiness and emissions. You can check the status of any car by using the DVLA's vehicle information service.
We know there's a lot to bear in mind when buying a car for the first time, but it's much better to be prepared.
Vauxhall Corsa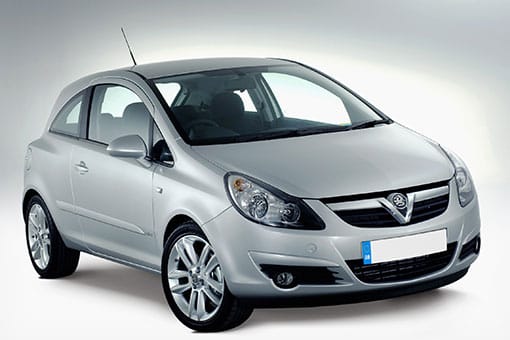 Insurance group range: 1-32
One of the most popular small cars around, the Vauxhall Corsa comes with everything a new driver is looking for in a compact, stylish package. It's small, good to drive, responsive and a nifty car to drive in the town or city centre.
The Corsa is available in a range of engine sizes for economical driving and prices start at £17,380 for a new car. Buying used? You'll easily find a 7-year-old Corsa with fewer than 70,000 miles on the clock for under £7,000.
It has relatively low insurance costs too, particularly models fitted with the smaller 1.2-litre petrol engine.
Find a used Vauxhall Corsa on AA Cars
Renault Clio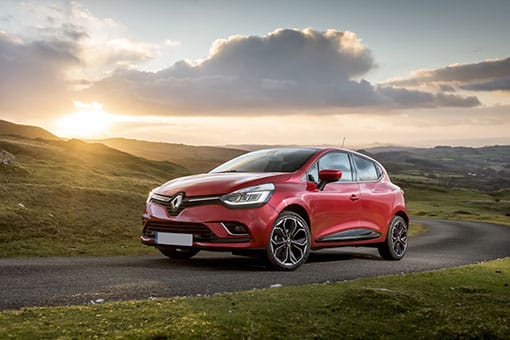 Insurance group range: 5-39
Sleek, fun and practical - the Renault Clio is a seriously good car for new drivers. With affordable and small engine sizes available, it comes with a sporty exterior and fantastic features such as automatic headlights and wipers, and a 7-inch touchscreen.
As well as being well-suited to style-conscious drivers, the Clio is a reliable performer. Priced new from £18,290, used Clios often make more sense with their stylish looks, decent equipment levels and low prices. Around £6,000 will get you a well-specced 7-year-old example. Look out for versions with the 1.1-litre petrol engine for the lowest insurance premiums.
Find a used Renault Clio on AA Cars
Ford Fiesta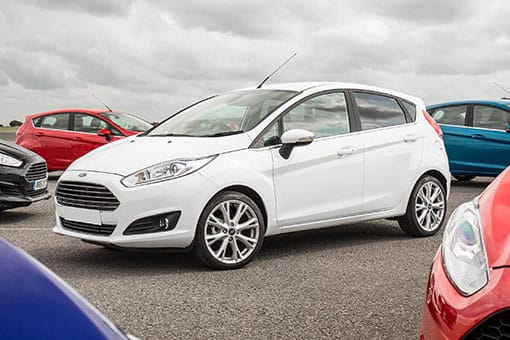 Insurance group range: 5-30
It's the best-selling car of all time in the UK so it's no surprise the Ford Fiesta is one of the best used cars for new drivers. The innovative MyKey system - first introduced in 2012 - lets safety-conscious parents limit the stereo volume and maximum speed of the car.
Across the generations it's been a stylish choice, while low running costs accompany the relatively low asking price. Though a new Fiesta will set you back almost £17,000, the current generation (which has been on sale since 2017) is available from £8,500, and would make a terrific first car
Find a used Ford Fiesta on AA Cars
Dacia Duster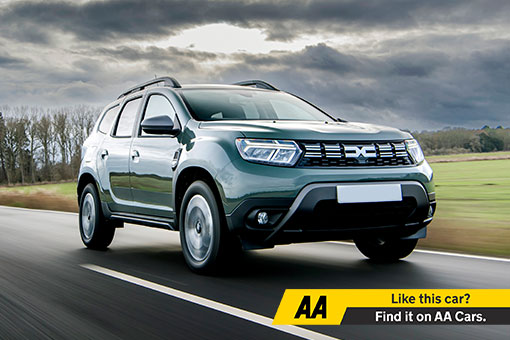 Insurance group range: 5-12
The Dacia Duster might not be the most obvious first car, but if you want something a bit different to your typical Fiesta or Corsa, it's worth a look. Bringing chunkier styling, genuine off-roading ability (if a '4x4' version is chosen) and a roomy interior, it's an ideal left-field option.
With used Dusters starting from £4,000, you get a lot for your money, while the 1.6-litre petrol engine sits in insurance group five, which is low for this type of vehicle. With few creature comforts, there's not too much that can go wrong with it either.
Find a used Dacia Duster on AA Cars
Fiat 500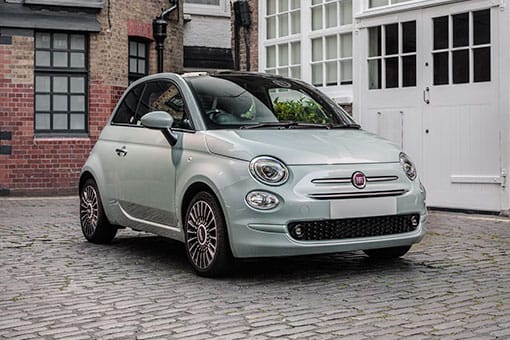 Insurance group range: 5-15
Fiat's 500 has become a popular first car for those that want extra style from their wheels. With its cool retro styling, the 500 looks like no other car on the road, while its potential for personalisation means there's a wide range of options available on the used market.
Small and frugal petrol engines mean it should be affordable to run, while it sits in an insurance group as low as five. Just make sure to choose the standard 1.2-litre petrol engine for the lowest fuel consumption figures. New Fiat 500s start from £14,000, but you can pick up a tidy, low-mileage used model for around £3,000
Find a used Fiat 500 on AA Cars
Volkswagen Polo
Insurance group range: 3-19
The Volkswagen Polo is another model that's proven a popular first car over the years, especially for those wanting something slightly more upmarket from their new wheels. Our vote would go for the sixth-generation model (sold between 2009 and 2017). The cheapest of these start from around £3,000, and prices rise to £15,000 for the latest models. Somewhere in the middle of those figures is where the best value can be found.
With its modern styling, well-built interior and generous amounts of space (for a small car), this Polo ticks plenty of boxes. Stick to the non-turbocharged 1.2-litre petrol engines for the lowest insurance, with groups starting from just 3.
Find a used Volkswagen Polo on AA Cars
Toyota Yaris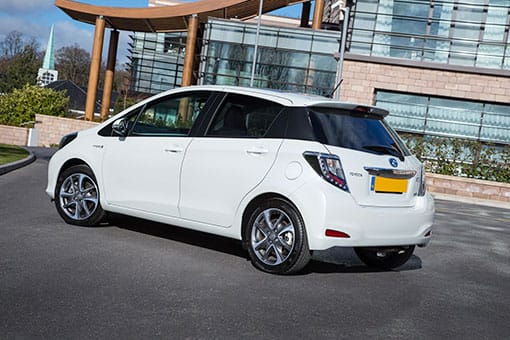 Insurance group range: 2-11
If you want your first car to be reliable, it's hard to go wrong with the Toyota Yaris. It's built up a name for its dependability, while is easy to drive, comfortable and has one of the best safety reputations of any car in this class. If you want to choose something a bit newer, there's also a hybrid model that should be very frugal to run.
Given a new Yaris costs in excess of £20,000, used models are the most appealing. Expect to pay around £7,000 for a well-equipped, low-mileage 7-year-old example
Find a used Toyota Yaris on AA Cars
Skoda Citigo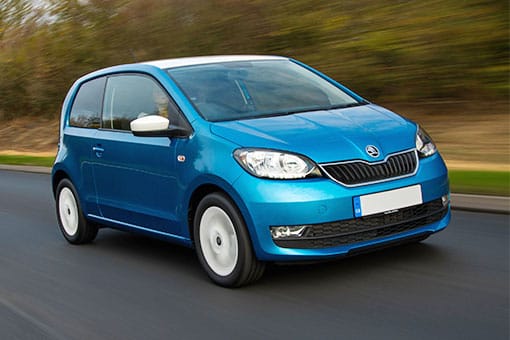 Insurance group range: 1-4
Ever since it launched in 2012, alongside its Seat Mii and Volkswagen Up! siblings, the Skoda Citigo has proven to be an excellent choice for new drivers. Its small engines are perfect for newbies, while also helping to put this city car in the lowest insurance group.
At the same time, the Citigo still feels solidly built, while considering its small footprint, the interior offers a decent amount of space. This Skoda was discontinued in 2020, but there are plenty of used models on the market, with prices for low-mileage models starting from £3,500.
Find a used Skoda Citigo on AA Cars
Nissan Micra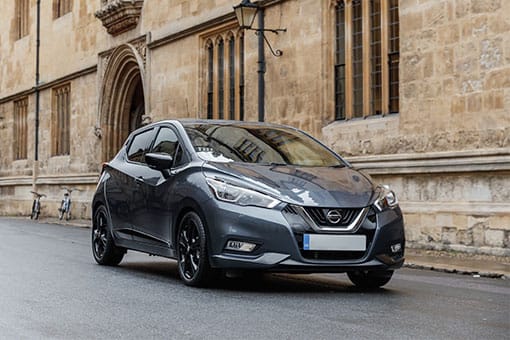 Insurance group range: 1-11
The Nissan Micra might have a bit of reputation for being aimed at older drivers, but the Japanese firm successfully managed to inject some spark into it for its fifth generation, with this model arriving in 2017.
It's far more stylish than its predecessor, and comes with a decent amount of standard equipment too. With plenty of interior space and an insurance-friendly 70bhp 1.0-litre petrol engine, it's certainly appealing as a first car. 5-year-old examples start from around £8,000.
Find a used Nissan Micra on AA Cars
Mini Hatch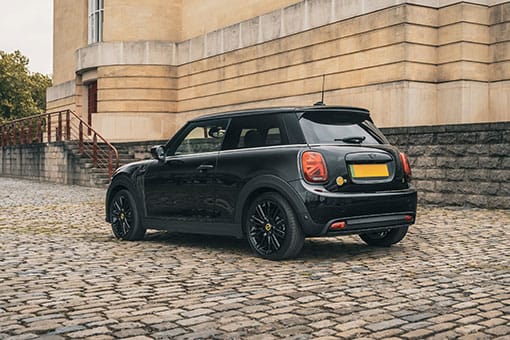 Insurance group range: 11-33
For those with slightly deeper pockets to spend on and run their first car, the brilliant Mini Hatch is always worth a look. Bringing a more stylish design than any car in its segment, it's also got a great interior and is huge fun to drive.
If you're wanting it for your first car, you really need to choose the entry-level One engine, which uses a 1.2- or 1.5-litre petrol engine, depending on age. Insurance groups for these start from 11. The latest generation of Mini arrived in 2014, with tidy, low-mileage versions available from around £7,500.
Find a used Mini Hatch on AA Cars
Prices correct at time of publication [10/2022].