Buying a used car: What questions to ask?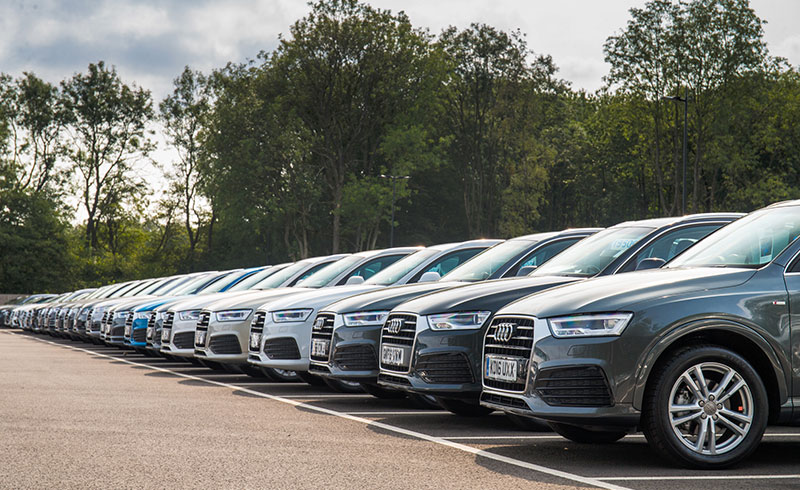 Looking at purchasing a used car? These are the things you need to think about.
Purchasing a car can be one of the biggest financial commitments you make, and it only adds to the complexity of the process.
So if you're putting down thousands of pounds – or spending hundreds of pounds a month – you want to know that you're buying the right car for you. Here's what you should ask yourself when buying a used car.
What fuel type do I need?
Up until a few years ago, there were only really two fuel types that you had to decide on – petrol or diesel. But as we move into an electrified age, there's now far more choice, which can bring both benefits and disadvantages.
If you'd rather stick with a traditional choice, a petrol and diesel is the way to go. Though you could consider a regular 'self-charging' hybrid, which doesn't need to be plugged in, yet can bring fuel-saving advantages.
If you'd rather have more of an electric-like experience, there's the choice of a plug-in hybrid (which can be run on both petrol or electric, when charged up) or a full EV. Even all-electric models can be used by those doing lots of miles and without being able to charge at home, though you may need to adjust your lifestyle.
Will the car meet emissions standards?
As towns and cities are working to reduce pollution, an increasing number are introducing 'low emission zones' or 'clean air zones'. London is the most notable example, with its Ultra Low Emission Zone (ULEZ), but Birmingham and Bath also have them, and they essentially charge non-compliant vehicles for entering such areas.
If you live in a city centre that has one of these, or regularly travel into one, you'll want to make sure your next car is compliant. You can easily check by entering the number plate into the Government's clean air zone checker.
Does the car suit my needs?
The last thing you want to do is buy a car that doesn't suit your needs or lifestyle. If you have a family, for example, a two-seat sports car as your only car wouldn't be a wise decision.
Make sure it's got as many seats as you need, enough space in the rear and a big enough boot without bringing compromise. If you've got limited parking or a garage of a certain size, you want to make sure it will fit too. If you're looking to tow with your next car, check the towing limit to make sure it's capable and safe to hitch up your caravan and trailer. If a tow bar is fitted already, that will save the expense of having to pay for one to be installed afterwards.
Finally, consider if it's got all the equipment on it that you need and want (parking sensors and a touchscreen, for example).
Can I afford the car?
Perhaps the most important question to ask when buying a used car is if you can afford it. While it might be nice to have the newest, flashest model, if it's going to stretch you financially – or mean you might not be able to pay other bills – it's not a wise decision.
It's always best to live within your means, so consider buying a car slightly older or with a higher mileage so that it won't stretch your budget. If you have a vehicle currently and are swapping it, factor in this model's value (whether part exchanging it or selling it privately). It's the 'cost to change' that is more important than the cost of your next car itself.
How will I pay for the car?
Once you've worked out if you can afford the car, you need to work out how you're going to pay for it. If you have the funds available, buying it outright with cash or a bank transfer can be the easiest method, but there are plenty of finance options available.
AA Car Finance works with 31 lenders to find the most suitable and affordable finance option for you. Again, make sure you're able to afford the monthly payments and upfront deposit before agreeing to a deal to buy your next used car.
Has the car been well maintained?
When buying a used car, always ask to see the service history. Don't just take a stamped book as proof either, as it's best to find receipts as further evidence for work done. If a car has major gaps in its history, always ask why and express caution as to why.
If you're serious about buying a used car, you should also get a vehicle check for it. This can show if a vehicle has ever been written off, has an incorrect mileage or has any outstanding finance on it, and is a must when you're purchasing any used car.
Will the car be reliable?
Sadly cars are unpredictable items, and whether you're buying new or used, there's never a guarantee it will be completely reliable.
You can help to alleviate concerns by having a vehicle inspected by a qualified engineer, who will thoroughly go over the vehicle and point out any hidden problems you might not have noticed.
Does the car come with a long MOT and warranty?
If the used car you're looking to buy is more than three years old, it will need an MOT. And if there are only a few months left before a car will need a new MOT, we'd ask a dealer to include a new MOT on it. Not only will this mean you'll get a full year, but it may also flag any issues that will need to be addressed to ensure the vehicle's roadworthiness.
Similarly, also ask about a warranty, as this will help to provide reassurance should anything go wrong. If a car is outside of its main manufacturer warranty period (usually three years, but can be up to seven years in the case of MG and Kia), you'll want to ask what warranty will come with the car. You could also take out an AA warranty, which will also include 12 months of free breakdown cover.