Tesla Model S 100D All-Wheel-Drive
Spacious interior with impressive technology
July 2017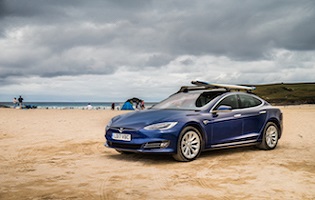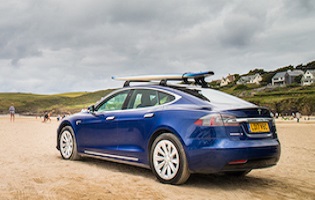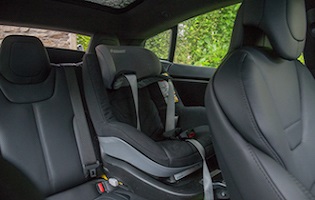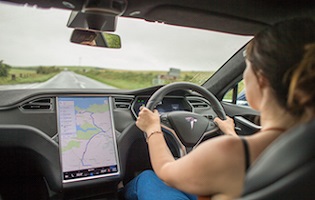 Overall rating

Likes:
Spacious and comfortable interior
Electric power means lower running costs
Electric range is seriously impressive
On-board technology is excellent
Gripes:
Not enough storage in the cabin
Charging won't suit everybody
The looks haven't changed much in five years on sale
Styling is pretty safe and dull
The Tesla Model S is renowned as the top dog when it comes to long-range electric cars, but the new 100D really goes that extra distance. This latest version makes it easy for owners to travel more than 300 miles on one charge without sacrificing on performance and practicality.
There's been plenty of interest generated across the internet for Teslas, with high performance figures and autonomous capabilities, but in today's automotive world most drivers would admit there's little need for this. When it comes to electric motoring the biggest issue is still the dreaded range anxiety.
That's where the Model S 100D comes in. This is the Tesla that focuses on getting you further, rather than how quickly you'll get there. The brand boasts that, if you're really careful, you could achieve more than 500 miles on one charge. For most people though, one charge will cover 300 miles and that's more than enough.
Don't think that means you'll miss out on some seriously impressive performance figures though. The 100D will still carry drivers to 60mph in 4.4 seconds and with 440Nm of torque delivered smoothly from its electric motors.
Being an electric car, there are other benefits when it comes to practicality. With no combustion engine, the location of the motors means you have generous storage space in the boot and under the bonnet. Losing the conventional transmission means that there's more legroom for passengers too, so you'll easily fit an adult in every seat.
Our verdict on the Tesla Model S 100D All-Wheel-Drive
The electric car lifestyle isn't for everyone, but the Tesla Model S 100D makes a competitive case for itself. With more than 300 miles of range, superfast charging and performance figures to match, most owners will find that the Model S easily accommodates for their daily motoring needs. However, price will still be an issue for many drivers. The performance figures may match the German executive brands but it'll cost you far more.
---
Costs
There's no denying, the Model S is very expensive compared to its rivals. This model starts from £90,000 currently and Tesla doesn't offer discounts on its products. If you want more performance, the P100D starts from a shocking £129,000. That said, you'll save over time on petrol and diesel but there's no denying it's a hefty sum to shell out.
Space and practicality
Space is something the Model S has bounds of. From the outside it doesn't appear to conceal more space than your average saloon but, without a conventional combustion engine and transmission, there is far more than you'd expect. The boot is exceptionally spacious for the car's size, but there's the added bonus of extra storage under the bonnet. Interior space is generous too, but when it comes to cubbies and storage pockets the S is lacking. However, the central console has far more space than any rival.
Controls and display
Controls in the Model S are really user-friendly as everything is controlled through one central touchscreen. This can be used as either a full portrait-orientated screen, or divided into two if you wanted to see your maps and music at the same time. There's a digital dash too, which is very cleanly designed and makes it extremely easy for the driver to see directions, speed and music all at once.
Comfort
Because electric cars have no gearboxes, there are no jolts through gear changes. That makes power delivery very smooth. Even on the smaller wheels the ride is pretty comfortable, but there is the option to increase the ride height should the moment call for it. As a driver or passenger, the seats are pretty comfy, although they are a bit stiff. That said, the cabin is spacious and even long journeys for rear passengers are comfortable.
Car security
With Tesla, you get the added bonus of a mobile phone app that will alert you to any issues with your car. If there are any alarms or issues, you'll instantly receive a notification. The car also locks automatically when you walk away from it, which is great if you ever forget to lock your car.
Car safety
The Tesla Model S has a five-star safety rating from Euro NCAP, making it one of the safest cars on the market. It has a high rating for both adult and child occupant, at 82 per cent and 77 per cent respectively. All of Tesla's cars have continued to impress as some of the safest cars around, with the Model X just being named the safest SUV on sale and the Model 3 already making a name for itself in regards to safety.
Driver appeal
Despite its quirks, the Model S doesn't require you to be an enthusiast to want to drive it. It has generated a huge fan base for its on-board technology, forward thinking and green credentials. Its relative rarity in the UK means it continues to turn heads from all walks of life. Performance models such as the P100D, which boasts figures such as 0-60mph in 2.7 seconds, has only added to the brand's appeal.
Family car appeal
The Model S is a great choice for families because of its reputation as one of the safest cars on the market. The electric motors make for near-silent driving; ideal if you've got young passengers in need of a nap. There's the option of two extra seats in the boot of the Model S too. These are only really usable for children, but if you have a large family and occasionally need to transport seven people it'll come in handy. Three Isofix points in the rear only adds to the family appeal.
First car appeal
When it comes to safety and space, this car would likely appeal to young drivers and their parents. However, the price of the Model S will push it out of reach for most drivers on the look-out for a new car.
Quality and image
Although Tesla is well known for its premium image, there are some well-documented issues when it comes to build quality. Generally, though, the interior and exterior quality of Teslas is high. The image remains strong too, despite the Model S being on sale since 2012 with only minor styling changes. Drive it down any street or motorway and it'll still turn heads.
Accessibility
Four doors make it easy to access the Model S, however the rear doors are slightly more awkward. This means loading children into their seats can be tricky but no more than most saloons. As it's low to the ground and there is a completely flat floor both front and back, it'll be easy for most passengers to get in and out.
Stereo and ICE (In car entertainment)
All Tesla Model Ss come equipped with a huge tablet-style touchscreen. This makes it really easy to plan routes using inbuilt Google Maps but it can be very distracting when you're on the road. Music, including the option to login to Spotify, satellite navigation, air-con, sunroof and heated seats are all controlled through this screen. However, the digital dash does allow the driver to easily see all of this information without needing to take their eyes off the road for too long.
Colours and trim
There are seven colours to choose from on the 100D and they're all fairly safe, ranging from burgundy to black. Most will cost you £950 to add, but pearlescent paint is £1,400 extra. The exterior of the Model S is pretty plain, arguably dull, but is quirky and still rare enough to stand out on any city street. The sunroof pack is a great option, although the standard glass roof still keeps the cabin light and airy. There's also the choice of 19-inch or 21-inch wheels, of which the latter looks arguably better but they'll set you back more than £4,000.
Parking
Parking a Model S is simple with the rear view and front facing camera options. Sensors all around the car give you an aerial image of the Tesla, showing how close surrounding objects are. Unlike other cars this is given in inches, so there really is no questioning how close you are to that fast approaching wall.
Spare wheel
Emergency tyre repair kit supplied as standard.
Range information
Engine options: Twin electric motors (100kw). Transmission options: Single-speed. Trim levels: 75, 75D, 100D, P100D.
---
Alternative cars