Car Buyers Guide
McLaren Sport 570GT
July 2016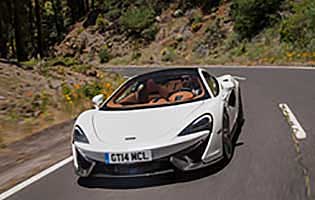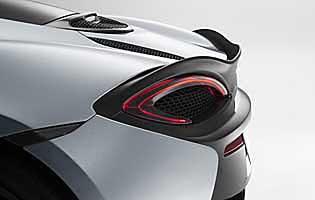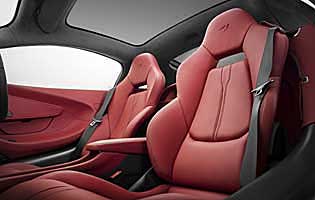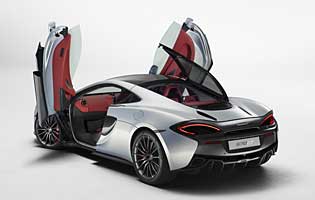 Overall rating
>

Likes:
Immense performance
Luxurious comfort
Perfect handling
Stunning appearance
Gripes:
Bad infotainment system
Still a bit impractical
No back seats
Convertible is on its way
The phrase 'Grand Tourer' theoretically means a car that balances high-performance driving fun with the kind of comfort you need for long journeys. Influenced by heavily romanticised ideas of where people drive, manufacturers have been building cars to this specification for a century. Now, one of Britain's most exciting carmakers has presented us with its interpretation. Enter the McLaren 570GT.

It's based almost entirely on the 570S, which is the closest thing McLaren has to an entry-level model. Both this and the GT are part of the 'Sports' range of cars, which are less insane in terms of speed and price than the rest of the McLaren range. That doesn't mean that they're in any way slow or cheap, though - think 0-60mph in just over three seconds, and a price tag of around GBP150,000.

To make the GT, McLaren identified a need for larger luggage capacity. The 570S already has a modest boot under the bonnet, but the clever design team have somehow squeezed a second boot behind the occupants' heads. This ""touring deck"" is accessed from a side-opening glass panel, which in itself is part of the panoramic roof.

But there's more to the 570GT than just added luggage space. The whole car has been meticulously optimised for longer journeys, with tweaks made to the steering and suspension to reduce fatigue on autobahn blasts and to improve the ride on pockmarked urban streets. There have also been small but important aerodynamic changes to mitigate the effect of the redesigned rear end.

Most McLaren buyers already own several cars, and the addition of a 570GT might even be as an upgrade to a year-old 570S. But out of all the supercars - a definition that McLaren would not apply to this model - the 570GT comes closest to being an everyday car. You could fit a weekly shop into the two luggage compartments of this car, and then could take your partner - and commensurate luggage - away for the weekend.


Our verdict on the McLaren Sport 570GT
All told, it's one of the most compelling cars McLaren has made. While it lacks the focus of the more track and performance-orientated cars, the compromises that make it sane are also the design features that make it such an attractive car to own