January 2010
Lamborghini Murcielago LP670-4 SuperVeloce E-Gear
Lamborghini styling is instantly recognisable
January 2010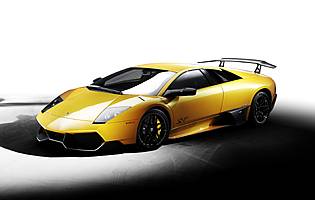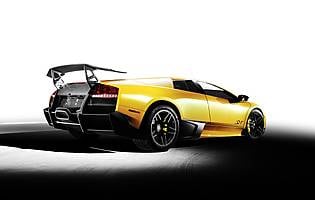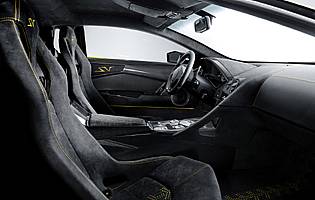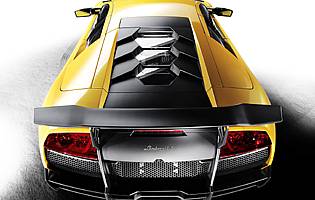 Overall rating

Likes:
Startling grip and performance
Limitless kerb appeal
Height adjustable front proves very useful
Butterfly doors compensate for extreme width
Gripes:
Very unforgiving ride
Interior is prone to squeaks and rattles
Extremely impractical
Suffers from diff wind-up at low speed
Lamborghini has taken its Murcielago supercar and given it a comprehensive overhaul to create the limited edition Lamborghini Murcielago LP670-4 SuperVeloce. Designed to be lighter, faster and more focussed than the standard coupe it will reach 62mph before the driver has finished reciting its name.
More power and less weight is a sure-fire way to extract additional performance from any car, but when starting with a car as potent as the Lamborghini Murcielago the results are likely to be startling. Lamborghini has redeveloped the existing supercar to create the Murcielago LP670-4 SuperVeloce, of which only 350 examples will be produced.
Starting with the engine, the existing 6.5-litre V12 has had its induction system and valve-train modified to produce an additional 30bhp. It's also 26kg lighter thanks to a redesigned exhaust system. 62mph is reached in 3.2 seconds and a top speed of 212mph is attainable with the correct wing settings.
In order to reach these figures the body has also been modified. Redesigned front and rear bodywork allows for better induction and cooling (additional intakes pop-up when required) and offers greater stability at speed. A rear spoiler that creates additional downforce is available - it limits speed to 209mph. Even the eye-catching architecture of the engine cover is designed to aid ventilation performance and aerodynamics.
Carbon fibre is used liberally both inside and out. As a result the Lamborghini Murcielago LP670-4 SuperVeloce is a full 100kg lighter than the LP-640 model. Both versions use four-wheel drive to deliver their power to the road. The LP670-4 delivers 65 per cent of its power to the rear and both axles feature limited slip differentials. An E-Gear paddle operated sequential manual gearbox is standard but a three-pedal manual is also available.
Our verdict on the Lamborghini Murcielago LP670-4 SuperVeloce E-Gear
As the ultimate expression of the Murcielago's abilities the LP670-4 SV is a phenomenal car both to drive and to observe. The adjustments to the chassis, body and power-train make it a superb on-road performer and beautifully stable at speed. Less happy at low speed than some rivals it's not a complete package, but it was clearly the intention to sacrifice some tractability for performance and few could argue the sacrifice was in vain.
Costs
Clearly, the Lamborghini Murcielago LP670-4 SV is an extremely expensive car to purchase and will attract a top level insurance premium. Running costs will also be very high with the V12 engine's thirsty consumption and specialist servicing of the highly strung engine required. However, the transmission and running gear should prove sturdy and reliable and the car comes with a standard three year warranty from the Italian manufacturer.
Space and practicality
The Murcielago is a large car and that translates to a spacious two-seater cabin with plenty of room for the occupants. However, the model features no boot or storage space, save for small trinket trays. In this regard it's an utterly impractical car. One nod to practicality is the nose lifting system present across the Murcielago range that allows the model to straddle speed humps and obstructions without damaging the front end.
Controls and display
Despite its extreme exterior styling the LP670-4 SV's interior conforms to a reasonably traditional format. The binnacle is dominated by the rev counter and speedometer with several smaller gauges relaying further information. A large digital display informs of gear choice in the E-Gear equipped models. Additional buttons are located either in a strip next to the steering wheel or along the transmission tunnel. All fall easily to hand. The chunky steering wheel is fully adjustable and the brake and throttle are large and placed in a race-car-like position. The carbon-fibre shift paddles are also sensibly large and therefore easy to find and use even with steering lock applied. Heating controls are concealed behind a smart, Lamborghini embossed fold-down panel.
Comfort
Despite its light-weight ethos the Murcielago LP670-4 SV retains a suitably plush interior with none-of the exposed welds or bare floors of some of its rivals. The Alcantara, carbon fibre and metal finish is pleasing to the eye and to touch and the shapely bucket seats are surprisingly comfortable. The hard ride is unforgiving and may take a toll over longer journeys, but that's to be expected from a car of this nature.
Car security
The super-high desirability of the car means an alarm and immobiliser are a must. Naturally, there's remote central locking and a tracking device is fitted as standard to enable police to home in on the vehicle should it somehow be taken.
Car safety
Considering the power and performance, it's no surprise that ESP and traction control are standard fit for the LP-670-4 SV, but four-wheel drive and fade-free high performance carbon and ceramic brakes contribute to safety, too. Constructed around a super-strong sectional steel body, the model also benefits from front and side airbags for driver and passenger.
Driver appeal
Breathtaking acceleration is matched by a hugely impressive level of grip from the LP670-4 SV's four-wheel drive chassis. Throttle input is immediately rewarded with a surge of acceleration and the high rev limit of V12 allows time to think between gear changes. Carbon-ceramic brakes offer confidence building stopping power and the four-wheel drive does little to dampen the feel and feedback of the steering. The E-Gear automated transmission responds with sharp changes, particularly in Corsa mode that speeds up the shifts further. It's a less pleasurable experience at low speed or around town, but at speed the LP670-4 SV is a phenomenal package.
Family car appeal
With no boot, one passenger seat and no provision for securing a child seat in the Alcantara covered carbon fibre bucket seat, the LP670-4 SV has little or no appeal as a family vehicle.
First car appeal
The Lamborghini Murcielago LP670-4 SV is far too expensive and fast for a novice driver. Its lack of low speed manoeuvrability and poor rear visibility makes it a more difficult car to manage and it requires a degree of experience to handle competently.
Quality and image
Few cars have the LP670-4 SV's ability to turn heads and the model will reap respect and awe parked up or on the move. A visual treat for car fans, its outrageous looks are backed up by stunning performance and a great sound from the exhausts. The hand built models are clearly but together with a great deal of skill, but that doesn't prevent squeaks and rattles occurring inside. The firm ride does little to help in this regard
Accessibility
The upward opening doors that have become a Lamborghini trademark since their introduction to the Countach model in the 1970s make access to the LP670-4 SV a lot simpler. Its width means that accessing parking spaces is enough of a struggle, exiting with traditional doors would be near impossible. Although very low slung, the bucket seats are not preventative to entry and the long door portals make things easier. Although requiring a degree of dexterity, it's possible to enter and exit with dignity intact.
Stereo and ICE (In car entertainment)
Lamborghini believes the V12 engine note is all the soundtrack you'll need in the Murcielago LP670-4 SV, therefore audio equipment does not come as standard. If desired a sat-nav, radio, CD and DVD player system can be specified. Sound quality is average and rather drowned out by the engine and road noise, but the large screen with touchscreen controls is easily viewed and navigated.
Colours and trim
A total of seven exterior paint choices are available for the range-topping Murcielago model; two blacks, two whites, yellow, grey or orange. The model is unlikely to slip by unnoticed in any of them. The outrageous body kit is what allows the model to reach its 212mph top speed but it also adds a huge amount of flair to an already showy vehicle with a huge rear spoiler and ground-hugging front air-dam. Inside, any surfaces not covered by Alcantara are visible carbon fibre and brushed aluminium details are also present.
Parking
With the addition of the sat-nav sound system and accompanying screen, a reversing camera is a real blessing. Without it, rear visibility is all but non-existent with just the slim, aero-dynamically packaged door mirrors to rely on. Reversing can be a real chore as a result and is not helped by the poor turning circle and differential wind-up the model experiences at low speed due to the four-wheel drive system and huge tyres. The extreme width takes careful manoeuvring into a standard size space.
Spare wheel
Emergency tyre repair kit.
Range information
Petrol engine options - 6.5-litre (631bhp); 6.5-litre (661bhp). Transmission options: Six-speed manual gearbox, six-speed E-gear paddle operated automated manual gearbox. Trim levels: LP640 Coupe, LP640 Roadster, LP670-4 SuperVeloce.
Alternative cars
Aston Martin DBS Rivals Lamborghini for kerb appeal
Bentley Continental Supersports Potent but refined and more understated
Ferrari F430 Scuderia Stripped out coupe features sharper transmission
Lexus LFA Competent but pricey super car