Lamborghini Aventador S
Supreme performance
January 2017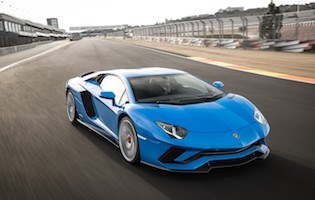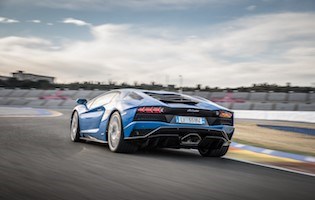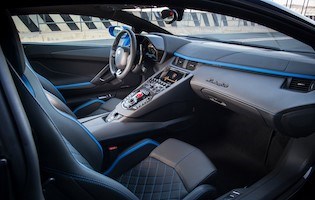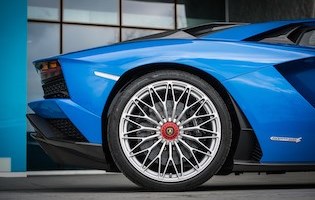 Overall rating

Likes:
Hugely impressive powertrain
Exciting looks
Excellent attention to detail
Supreme performance
Gripes:
Hugely high purchase price
Single-clutch gearbox can feel rudimentaryl at times
Infotainment system feels outdated
Central display is quite small
This car needs very little introduction. The original Aventador was a car that brought Lamborghini bang up to date, offering fighter plane looks with an iconic V12 engine. Now, it's been updated. Thankfully, that amazing powertrain remains, but the addition of four-wheel-steering, as well as an updated interior means that the Aventador S is well equipped to keep up with rivals.
Underneath the new Aventador S sits a 6.5-litre naturally aspirated V12 engine. Now upgraded, it produces a frankly astounding 730bhp – 40bhp more than the standard Aventador. It also puts out 690Nm of torque, with the power sent to all four wheels via a single-clutch automatic gearbox. The race to 60mph is dispatched in just 2.7 seconds, and the top speed is 217mph.
The most notable change to the Aventador S is its four-wheel steering. This has been introduced to give the Aventador S more poise and agility, something that the car it is based on struggled with. It has the ability to virtually shorten the wheelbase by 500mm for easier low-speed movements, or increase it by 700mm at high speeds for better stability.
Another new addition is 'Ego' mode. This gives the driver the ability to chop and change between the various driving modes, giving them the ability to choose individual settings. For instance, you can have the gearbox in the most aggressive setting for faster changes, but with a softer suspension set-up that is better suited for the road. It means that you can get the Aventador S set up just how you'd like it.
In terms of exterior changes, they're subtle to say the least. Refreshed, the front end now has additional inlets, while the side intake design has been refined for a cleaner look. Thankfully, the iconic scissor doors remain and, as a standout feature of the original Aventador, it's a good thing that they do.
Our verdict on the Lamborghini Aventador S
There's no doubt that the Aventador S remains a true event. Fantastic to both look at and drive, it lives up to the Lamborghini name – and then some. The fearsome V12 sits as a jewel in the crown, providing a huge amount of theatre – as well as seemingly limitless performance. Yes, it may not be as poised as a Ferrari F12, but in terms of excitement it's hard to beat.
---
Costs
With a monstrous V12 engine, you're never going to get very good fuel economy. Lamborghini claims that you'll average 16.7mpg on a combined cycle, though expect to see it drop to well below this during spirited driving. Consumables will also be rather expensive, with tyres and brakes costing a fair amount to replace. Any repairs won't be cheap, either.
Space and practicality
As a two-seat, V12-powered supercar, the Aventador S was never going to come out on top in terms of practicality. There's a small storage area in the front of the car, and this is about large enough for two soft weekend bags – but not much else. There's also a small shelf behind the seats in the cabin, which is ideal for a coat or small bag, but again, it won't be taking any larger items of luggage.
Controls and display
This is an area where the Aventador S really excels. The main instruments in front of the driver are very clear, displaying traditional readouts such as speed and revs but via a TFT screen. These readouts also change depending on which driving mode you're using. The infotainment setup does feel a little outdated though, despite being able to offer Apple CarPlay and Android Auto connectivity – though the satellite navigation is simple to use.
Comfort
Though low to the ground and riding on large alloy wheels, the Aventador isn't as uncomfortable as you may think. It's fitted with adaptive dampers, which means that you can easily soften the car off at the touch of a button. It's a system that works well, but make no mistake even in its most comfortable mode it's still exceptionally firm – you'll not want to drop through any potholes, that's for sure.
Car security
As a large, flamboyant and highly sought-after vehicle, the Aventador S is a car that you'll want to keep your eye on. Truly high-end, it'll be the target of thieves so parking it in open areas may need greater thought than with a more conventional vehicle. That said, it is fitted with central locking and an alarm, so you needn't worry about leaving it for short periods of time.
Car safety
The previous-generation Aventador wasn't entered into the Euro NCAP crash tests, so it has no official rating. However, as Lamborghini is owned by parent company Audi, there's no doubt that the supercar is very safe. It's fitted with a range of airbags, as well as all manner of electronic stability systems. Four-wheel-drive also gives it an impressive amount of traction, which will make driving it in difficult conditions a little bit easier.
Driver appeal
There are few cars that are as appealing as the Aventador S. From its wide arches to its deep front splitter, everything about it screams 'drive'. Thankfully, you aren't disappointed once you get behind the wheel, as it certainly delivers on any expectations generated by its exterior appearance.
Family car appeal
With two seats and a small boot, the Aventador S really isn't a great choice if you're looking for a family-ready vehicle. It'll be impractical carrying a child's buggy in the Aventador, while a lack of ISOFIX child seat mounting points means that they won't be able to come along for the journey in the first place. It'll cost a lot to run, and it'll be quite tricky to drive around the school car park at the end of the day.
First car appeal
Though most 17-year-olds would love to get their hands on the keys to the Lamborghini Aventador S, it's unlikely to happen. With such a huge amount of power to hand it's an intimidating car to drive, and something that is likely to make learning to drive a little bit difficult. A lack of visibility will make manoeuvring tricky too. In real terms, the Aventador S isn't the ideal car for a first-time driver.
Quality and image
Lamborghini's image has always been one of quality, craftsmanship and – at times – exuberance. The Aventador S is certainly in keeping with this image, and is going to make an entrance wherever it goes. The quality of the Aventador S is certainly apparent, from the carbon fibre used throughout to the weight of the wheel-mounted gear shift paddles. You'd want that though with a price tag of close to £300,000.
Accessibility
With just two large scissor doors granting you access to the cabin, the Aventador S isn't the best choice for those who are looking to purchase a car that is easy to get in and out of. The driving position is exceptionally low, and the bucket seats place you at the very base of the car. This is exactly what you want for sporty driving, but it does affect accessibility.
Stereo and ICE (In car entertainment)
Lamborghini were keen to impress that the new Aventador's infotainment system has been updated for 2017. You now get Apple CarPlay and Android Auto, which gives easier integration between a smartphone and the car itself. That said, given the quality of sound that the Aventador S's engine produces, there's a better chance that you'll want to listen to that rather than music. The car's main dials are also very clear, and change depending on which driving mode you've selected.
Colours and trim
The exterior of the Aventador S already looks like a true supercar on the exterior – even without any colour changes. That said, if you want to make it your own, then there are plenty of ways to do that. There's a fine range of shades to choose from, as well as an all-new wheel design created specifically for the S. There are also all manner of different leather choices for the interior, too.
Parking
As with any supercar, parking isn't at the forefront of consideration during its creation. With small window apertures, as well as a rather small rear screen means that backing the Aventador S up isn't very easy. However, large wing mirrors do mean you get a relatively good view of the car's exteriors and a reversing camera helps you check for any unseen obstacles behind it.
Spare wheel
No spare wheel.
Range information
Petrol engine options: 6.5-litre V12 (720bhp). Transmission options: Seven-speed automated manual. Trim levels: S.
---
Alternative cars
Ferrari F12 Hugely capable alternative from Ferrari.
McLaren 675LT Lacks the character of the Lamborghini, but incredibly quick.
Noble M600 More home-made than the Lamborghini, but still impressive.
Pagani Huayra Turbocharged, but no less dramatic.