October 2013
Infiniti Q50 S Hybrid
Striking front end styling mimics a bird of prey
October 2013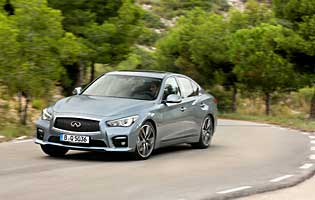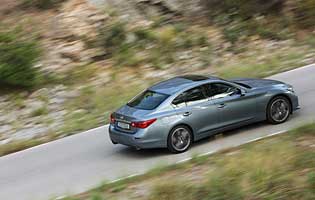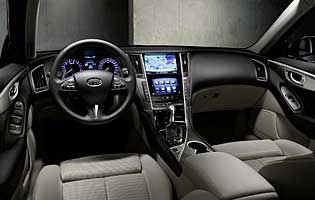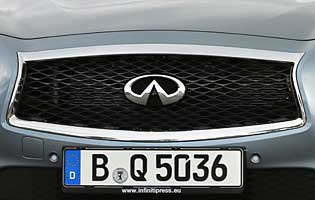 Overall rating

Likes:
Bold, striking styling makes a visual impact compared to sober rivals
Hybrid drivetrain adds performance and efficiency
Clever new steering system allows customisable response and comfort
Nimble and adjustable handling balance
Gripes:
Hybrid system reduces the available boot space
Drain from auxiliary systems can reduce the hybrid system's effectiveness in town
Tilted sat-nav screen prone to glare
Ride compromised over sharp bumps and expansion joints
Infiniti has struggled to give its cars a balance of talents that really works for the important European market, but following a major nomenclature and strategy shake-up there has been a renewed focus on what's really important to premium car buyers. The Q50S Hybrid is the brand's new figurehead, with which it hopes to launch an assault on the upmarket saloon sector.
By Infiniti's own admission its prior efforts in the premium saloon sector were a confusing mix of letters and trims that simply didn't resonate with the European buyers so important to the brand's ultimate prestige. Infiniti has had no problem satisfying the simpler North American car market but the Q50 needed to be something a little more interesting in order to crack Europe.
Technology is the key component in the new model's make-up, with a significant breadth of advanced features including 'steer-by-wire' fully electronic steering, with no mechanical link between the steering wheel and the front wheels unless the electrical systems fail, at which point a mechanical back-up activates. This futuristic approach extends to other forward-looking aspects of the car.
In size it falls between two well-established premium saloon norms, but this is quite deliberate. Infiniti executives believe there are many buyers for whom an Audi A6 or BMW 5 Series is too big, but for whom an A4 or 3 Series isn't big enough. By aiming for this back door the company hopes to establish a clear identity.
With diesel and petrol-electric hybrid drivetrains at its disposal the Q50 has the means to be very appealing to business users and parents looking for something different, technologically advanced and stylish. Where its predecessors are rare sights in the UK, this model aims to do significantly better.
Our verdict on the Infiniti Q50 S Hybrid
Infiniti is a very young brand but is developing its own unique slant on the sectors it chooses to operate in, with some brilliant technological innovations and a new design language that should boost its showroom appeal. Some work still needs to be done on the infotainment interfaces, but much of the car's design and functionality is now good enough to challenge for significant sales figures across the continent.
Costs
With a significantly higher list price and more expensive running costs than the diesel Q50, the Q50S makes a poor case for itself on a purely financial basis. Residual values for the hybrid are likely to be lower than for the diesel, and there is a question mark over just how easy the complex electronic steering will be to maintain after a few years. This shouldn't be an expensive car for a business user to run, but there are cheaper options.
Space and practicality
Key to the cabin's practicality is a large central storage bin, inside which the media input ports are hidden. The door pockets are a little stunted in length but are at least broad. The boot is reduced in size compared to the diesel model's thanks to the intrusion of some of the hybrid drivetrain's components, but the visual impression of reduced space makes it look like a bigger difference than the official measurements say it is.
Controls and display
The basic displays are good, with clear instruments that manage to inject a healthy dose of style without overcomplicating the layout. The controls are also fairly clear, with just a few dials and switches that might require reference to the manual. The problems come with the two centre console screens, in that the upper display screen is tilted back significantly and becomes prone to glare, rendering parts of the image useless. The lower screen, with its glossy plastic cover, quickly gets covered with fingerprints.
Comfort
Behind the wheel the car seems like a slightly more enclosed place to be when compared to the rivals Infiniti is aiming at. It's cosy and definitely not cramped, but some might prefer a little more space around them to feel completely comfortable. The back seats are normally quite spacious, but when the driver's electric seat retracts backwards upon turning the ignition off, it can seriously reduce rear legroom.
Car security
There is an alarm to warn of significant exterior aggression or interior movement, for example if a window is smashed. The system goes hand in hand with an immobiliser that makes it almost impossible to steal the car without the correct key, so the Q50S has the basics covered. There are locking wheel nuts for the alloy wheels, too, to deter opportunist thieves.
Car safety
This model has upgraded brakes that help it to stop with greater urgency. A full complement of airbags is scattered throughout the cabin and provides protection to all occupants to a greater or lesser degree. There is a detailed tyre pressure monitoring system for each individual tyre, and expected gadgets like a speed limiter, stability control and emergency braking assist. An optional Safety Shield package adds a wide array of active safety-enhancing extras for motorway and urban driving.
Driver appeal
The Q50S Hybrid is the star of the range when it comes to driving enjoyment. Using the drive mode select switch the driver can enjoy largely electric-powered silence in urban traffic, while out on the open road the car demonstrates an impressive balance and mid-corner adjustability, made possible by the adjustable Direct Adaptive Steering. It allows the driver to adjust how quickly the front wheels respond to steering inputs, but also completely isolates undesirable feedback from bumps and potholes.
Family car appeal
Infiniti expects that many of the company car users that choose the Q50S will also use the car as family transport, but it suffers a disadvantage versus its diesel counterpart thanks to its smaller boot. The standalone hybrid model is quieter and smoother, though, and has more standard luxury features than lower-specified diesels. Isofix child seat mounts are standard on the outer rear seats and the front passenger side airbag can be switched off.
First car appeal
The Q50S is a great-looking car and might turn the heads of many a youngster, so in respect of its desirability this car might have a lot of appeal to aspiring drivers. Its purchase price is high enough to beyond affordability for most first-time car buyers, though, and the obvious issues connected with managing a vehicle of this size and power make such an idea one that's best avoided. Insurance would also be almost impossible to secure or afford for an inexperienced driver.
Quality and image
Infiniti rarely features at either noteworthy end of reliability surveys, so can't be considered in the same league of build quality as its Japanese rival Lexus. Materials quality, on the other hand, is a tangible quality and in the main the Q50S is very convincing. The leathers are fine, the plastics are generally solid and feel substantial, and the general trim fit and finish is excellent. The brand cannot yet command the sort of badge prestige that it would like to, though.
Accessibility
Here the Q50S's size plays to its advantage. It's big enough to be able to provide four good-size doors and large apertures behind them, allowing front and rear passengers to get in and out of the car with a complete lack of fuss. Even with the driver's seat at its lowest you sit higher than some people will expect, and that is another factor that aids ingress and egress. Getting access to the boot is simple thanks to the ordinary saloon-style letterbox opening.
Stereo and ICE (In car entertainment)
The hybrid Q50S is a model in its own right with a full range of features including a pair of large screens with which occupants can see and control their active media. It's an efficient system, separating the control touch-screen from the display screen, and it allows quick and easy navigation through songs and albums. As standard there is an adequate spread of speakers but there is an upgraded Bose system available as an option, which adds more power and more speakers.
Colours and trim
The colour spectrum for the Q50S is largely muted, after the fashion of those cars from which it aims to steal sales. It's a pity because with such striking lines the car actually suits the one bold red option best, although it does still look very attractive in silver. The interior aesthetics are good, with a pleasant array of materials and finishes depending on specification. Some trim options can look cheaper than others, though.
Parking
This is not a particularly small car and visibility is not brilliant towards any of the four corners, so it's fortunate that an impressive array of parking aids are standard. Front and rear parking sensors give a traditional audible warning, while a selection of external cameras create an 'overhead' image of the car on the display screen to make it even easier to position the car. There is also a standard reversing camera view available if desired.
Spare wheel
Run-flat tyres fitted as standard.
Range information
Petrol engine options - 3.5-litre hybrid (359bhp). Diesel engine options - 2.2-litre (167bhp). Transmission options: Seven-speed automatic or six-speed manual (2.2-litre diesel only). Trim levels: SE, Premium, Sport, Hybrid.
Alternative cars
BMW 3 Series Clinical looks hide a standard-setting all-round package
Audi A4 Excellent choice of engines and unrivalled showroom appeal
Lexus GS Japanese rival majors on comfort, quality and refinement
Mercedes-Benz E-Class Similarly-priced hybrid model available, but less standard equipment