October 2015
Infiniti Q30 2.2-litre D Sport
Brave styling has paid off, making the Q30 one of the best-looking hatchbacks
October 2015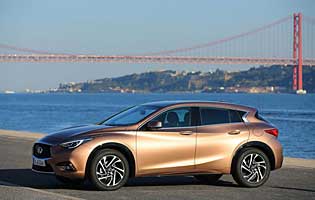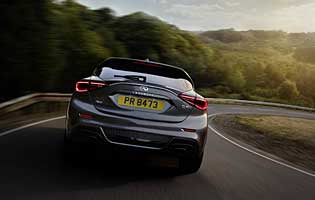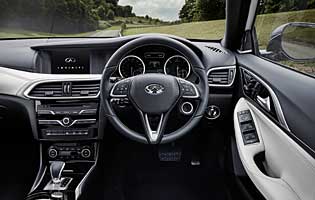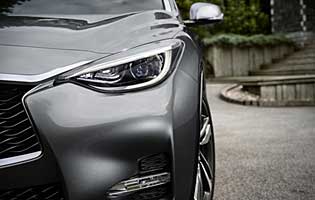 Overall rating

Likes:
Extremely comfortable and quiet at motorway speeds
Tastefully appointed, high-quality interior
Torque-rich engine makes the car very easy to drive
Striking looks and rarity value
Gripes:
Lacks the prestige of the German brands
Rear seats less generous than some rivals
Ride can be bumpy on rough roads at low speeds
Satellite navigation seems easily confused
The Q30 is a premium family hatchback from Infiniti. If you don't know what Infiniti is, you're not alone - it's a premium sub-brand of Nissan, and it makes very good cars, but ultimately it's a bit of an outsider in the UK. Infiniti hopes to change that with the introduction of the Q30.
Squint at the Q30 and you'll see a Mercedes GLA. That's because it borrows a lot of parts from the stocky German hatch, and the silhouette remains largely the same. Unsquint, though, and the styling of the Infiniti is distinctive - it looks like the concept on which it is based. That's unusual, as most exciting-looking concepts become unrecognisably diluted before appearing in showrooms.
The problem faced by Infiniti is that the premium family hatchback market sector is a particularly crowded one, with popular models such as the Audi A3, BMW 1 Series and parent car the Mercedes GLA proving strong sellers in Britain. Many people would argue that these brands have more gravitas, too.
Infiniti has gone a long way to overcome the problems with brand perception. The Q30's exterior design is eye-catching and conventionally very attractive, while the interior is among the best in the class. It drives very well and innovative extras like active noise reduction make it just that bit more attractive. It's easy to see why Infiniti is optimistic.
Engines include an underwhelming but probably popular 1.5 diesel, an adequate 1.6 petrol and a fun 2.0 petrol. The best all-rounder is the 2.2 diesel, though - enough grunt to make motorway driving a doddle, the option for enhanced stability through all-wheel-drive, and active noise cancellation to insulate your lavish cocoon against engine noise. Definitely our pick.
Our verdict on the Infiniti Q30 2.2-litre D Sport
This model meets the needs of many buyers in this premium hatchback segment. The main problem will be promoting the benefits of going off-piste and eschewing the traditional German brands that dominate the sector, but the Q30 is more than just a plucky underdog - it has the quality and reputation of Nissan behind it, which should be enough to lift this 'unknown' brand into prominence in Britain.
Costs
The entry level car is adequate but fails to impress when compared to better-spec, less-premium brands such as Skoda. Where the Q30 really excels is with its all-wheel-drive system and larger engines, which give the car an unequivocally steady feel.
Space and practicality
The boot is 368 litres, which is pretty average but should be enough for most families. The boot's lip is fairly small, but the car is noticeably taller than most of its competition so you do have to lift luggage that little bit further. Stowage space in the cabin is plentiful and there's a large cubby box in the centre console. USB charging points are inside the ash tray, while the 12v cigarette lighter is in the cubby box.
Controls and display
The touchscreen infotainment system is adequate, which is disappointing compared to the rest of the interior. A low-quality resistive touchscreen is laggy and sometimes fails to respond to inputs from the steering wheel buttons. All other controls are pleasing to use and quick to respond though, so it's only the satellite navigation that really suffers. A shame in a car that is otherwise so well-appointed.
Comfort
The Q30 is a relatively comfortable car, competing with the best in its market segment. The most basic seats available are somewhat uncomfortable for long journeys though, and rear legroom is about as constrained as other large hatchbacks. The roof is very slightly low for tall passengers over 6'3"" but again, this isn't unusual for the body type. Active noise cancellation keeps the cabin of the 2.2-litre diesel quiet.
Car security
The Infiniti Q30 is likely to be as difficult as any other car to steal when it reaches the UK. It lacks the security of a saloon car but an alarm and an immobiliser go a long way to preventing thefts, vandalism and break-ins. Locking wheel nuts should also deter opportunist pilfering.
Car safety
The Infiniti Q30 hasn't actually been tested by Euro NCAP, so we don't have a star rating out of five for it. But it's expected to do at least as well as its parent model, the Mercedes GLA - which scored five stars. The SE trim comes with the usual systems (ABS, traction control, TPMS, emergency braking, and seven airbags) while the more expensive ones add adaptive headlights, traffic sign recognition, lane departure warnings and around-view reversing cameras.
Driver appeal
The car has been optimised for comfort and ease of driving, which makes it a very pleasing one to drive. The handling is rewarding at all speeds. The faster and more fun 2.0-litre petrol engine in 'sport' trim is essentially a warm hatch - it lacks the performance of a hot hatch, but still adds entertainment. The steering is adjusted based on the engine and gearbox chosen - this helps mitigate the difference in weight between a 2.2-litre with an automatic, and a 1.5-litre manual.
Family car appeal
The Q30 will make a brilliant small family car. The interior is well constructed enough to cope with family life, though the 'gallery white' interior trim is likely to become dirty very quickly. The boot is large enough to accommodate a reasonable haul of family luggage and there are ISOFIX points in the back. This will be an enjoyable and capable car for most UK families.
First car appeal
The only version worth considering as a first car would be the 1.5-litre diesel, which doesn't really add a huge amount over competitors and is relatively expensive too. The larger engines are quite powerful and insurance premiums are likely to be high. Infiniti prioritises comfort and performance, meaning that this would be an unconventional first car.
Quality and image
Infiniti is an upmarket sub-brand of Nissan, which has a reputation for reliability. The Q30 is based on a Mercedes model but in terms of image, the Infiniti brand is very much an outsider in the UK. Few people have heard of it, and the company is relying on the brand to build itself organically. Until Infiniti becomes more established in Britain, it's unlikely to compete with the conventionally 'premium' manufacturers on this front.
Accessibility
A high 'hip' line for the car is designed to facilitate easier access. The Q30 rides a few centimetres higher than the Mercedes GLA, and it feels like more of a lateral motion to enter the car than a stoop. It can't match a real 4x4 for ease of access though, and 'sport' models lose 15mm of that ride height. All the doors open wide, though the boot does have a lip.
Stereo and ICE (In car entertainment)
The sound system in premium spec cars produces a high-quality sound and is straightforward to use. Premium cars get a touch screen system, though this isn't as pleasing to use as the rest of the car and comes with its own set of glitches and foibles. Controls on the steering wheel are well-placed, and the main controls on the centre console are almost as intuitive as BMW's iDrive.
Colours and trim
Infiniti has put a lot of effort into making the car look good, including the paint, with a selection of upmarket tones complementing the bold design. Pearlescent white becomes grubby quite quickly though, and colours like 'liquid copper' look good in the brochure but may not be to everyone's taste. Interior comes in three main flavours, all of which are understated and interesting, and the standard of upholstery and general finish in the cabin of 'premium' trim level cars is among the best in the class.
Parking
Rear visibility is poor in the Q30, and the unusual shape makes it hard to see the car's extremities. A good reversing camera with clear parking assistance and a clever birds-eye view of the car mitigate this, though, and light steering at low speeds make it easy to use in crowded car parks. The doors can open quite wide but the cabin is still accessible in tight spaces.
Spare wheel
Emergency tyre repair kit supplied as standard.
Range information
Petrol engine options - 2.0 -litre (220bhp); 1.6-litre (118bhp). Diesel engine options - 2.2-litre (127bhp) 1.5-litre (109bhp) Transmission options: six-speed manual gearbox or seven-speed auto gearbox. Trim levels: Q30, Premium, Sport.
Alternative cars
Mercedes GLA The popular premium hatchback on which the Q30 is based takes some beating
Audi A3 A good hatchback with a desirable badge on the front
BMW 1 Series Big premium hatchback ticks a lot of boxes for UK buyers
Seat Leon X-perience Also available in all-wheel-drive, but with a lot more car for your money