July 2012
Infiniti FX 30d S
Slightly revised for 2012, the styling remains distinctive
July 2012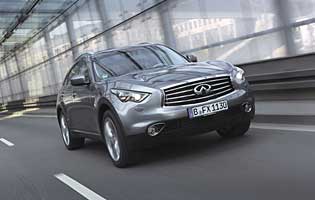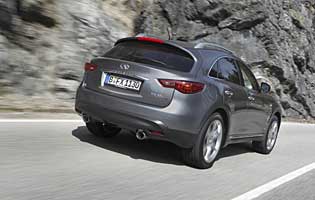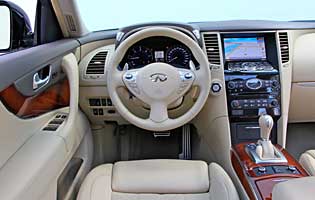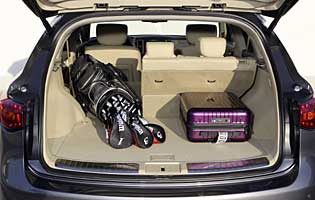 Overall rating

Likes:
Represents an interesting and capable alternative SUV choice
Driver-focused and relatively youthful
Smooth engine offers brisk progress and easy cruising
Huge list of standard equipment provides luxury
Gripes:
Boot floor is quite high and restricts overall luggage space
Gearbox holds onto gears for too long in slow traffic
Gearing could be taller to increase cruising fuel economy
Some cabin materials don't look quite up to the asking price
Infiniti is a small brand by comparison to most, but with cars like the FX it is trying to carve out a unique niche for itself. The company is looking to capture a slightly younger and more vibrant audience profile than its German rivals do, which is why the FX is marketed as a sports SUV.
The FX30d diesel slots into the market against some very high-profile SUV alternatives that have invariably polarised market opinion. The main hurdle the FX faces is getting people to talk about it. To that end its styling is striking, its pricing is competitive and Infiniti has crafted a dealership experience that is second to none.
This is an updated model that includes a very minimal visual refresh and some revised interior materials. Existing FX owners listed the styling and specification as the two main reasons for buying, so the company saw little reason to change too much. In terms of equipment the FX comes in four trim lines but even the lowest of them is very generous.
The engine range has been kept simple, with two petrol options and a diesel. In Europe the diesel is the best-seller and arguably has the stiffest competition, which is why it's marketed in a different way. It's no sports car despite what Infiniti would like drivers to think, but it does have several obviously sporty touches.
In traffic the seven-speed automatic gearbox likes to hold on to each gear much longer than it could, which does minimise turbo lag if a quick burst of acceleration is needed, but uses more fuel. Likewise the suspension systems are set up to manage the weight of the car through corners, not to provide the most comfortable of rides.
Our verdict on the Infiniti FX 30d S
The FX30d is an interesting car with important strengths. The engine is smooth, the build quality is high and plenty of luxury equipment comes as standard. Dealers are trained to offer a level of service that is a cut above the rivals' and in that sense Infiniti is trying to turn its present low volumes into a positive. This is definitely an alternative option it's worthy of a closer look.
Costs
The diesel engine is the most popular in Europe by far, with its increased range and lower running costs. The gearbox doesn't allow the engine to be as efficient as it could be, however, and fuel costs could be better. Carbon emissions are relatively high as well, so road tax and benefit-in-kind isn't in the FX's favour. Insurance is better, because the FX's relative scarcity means very few are involved in accidents.
Space and practicality
All SUVs have to demonstrate a capacity to carry luggage and oddments for long journeys. The boot's high load floor restricts owners' ability to stack cases high, but the load area is still large enough to cope with family or typical corporate demands. Inside the cabin there are covered load spaces for neatness and security, but the door pockets could be bigger. For general use there are few shortfalls in the FX's practicality.
Controls and display
Most of the displays are quite fussy, and the quantity of buttons that are packed into a relatively small space can cause confusion and delays in operation. The central colour screen is high-resolution and clear, and the blue accents on the two main dials on the instrument cluster are a stylish touch. However, as a package the displays and readouts all seem quite incongruous and out of character next to each other.
Comfort
The seats are full and supportive, which is great for cruising and better than many people might expect for cornering. General comfort is boosted by the refined engine and smooth gear changes, while rear passengers benefit from plenty of legroom. The roofline sweeps downwards a little but not enough to significantly impinge on rear headroom. Myriad comfort equipment is available, including a standard electric panoramic roof and dual-zone climate control with vents for rear passengers.
Car security
Privacy glass is standard around the rear of the car, to keep prying eyes out. Headlights that stay active for a pre-set time after turning the ignition off are also standard, which are intended to light the way to owners' front doors. Infiniti only openly defines an 'anti-theft system', but it includes cutting-edge alarm and immobiliser technology. There are deadlocks and the boot can be opened without unlocking the main doors.
Car safety
Six airbags are standard and provide good all-round protection. The brakes are powerful and stop the FX as quickly as most smaller cars can. A tyre pressure monitoring system will alert drivers to any drops in pressure that might be caused by punctures. Automatic headlights, windscreen wipers and an auto-dimming rear-view mirror help FX drivers to see and be seen. Cruise control and a speed limiter can help them to stay at a safe and legal speed.
Driver appeal
Infiniti stresses that its cars are driver-focused, and there is definitely an element of that within this car. The three engines are all strong and willing, despite being hampered by the significant kerb weight. The suspension is set up to be quite stiff, which gives good body control around sweeping bends and at high speed where the law permits, but it can compromise the outright ride quality at low speed. The gearbox is a weak link, with changes coming too late and happening too slowly.
Family car appeal
Leather seat facings are standard and more costly than cloth to replace if it should ever be ripped. The cabin isn't built especially to accommodate rowdy children but the spacious rear passenger area does make it easy to install child seats. The flat load area makes it easy to drag things like pushchairs out, while a power tailgate is a huge benefit when coming home from a holiday or shopping trip.
First car appeal
While the high seating position, commanding road presence and wealth of luxury equipment would no doubt seem tempting to a first-time car buyer, the purchase price would be prohibitive to the vast majority. With the automatic gearbox and good visibility the FX is actually very easy to drive, but its size would be intimidating to someone without much driving experience. Insurance and running costs are other reasons why this is perfectly unsuitable as a first car.
Quality and image
Infiniti is a growing brand, but one that finds itself competing against the major German premium brands that have much more history and heritage. Infiniti is still a relative unknown in the sector and, while some buyers may be turned off, that can actually add to the FX's appeal. The actual build and engineering quality is very high, so it's a shame that some of the interior materials are not so upmarket.
Accessibility
The seats can be adjusted within a perfect height range for stepping in and out of the car, making it very easy to access with dignity. Buyers with any sort of restricted movement in their legs or backs will appreciate the FX's dimensions. The boot has a flat load lip, and although the floor is quite high because of the raised suspension and four-wheel-drive system, loading and unloading luggage is comfortable.
Stereo and ICE (In car entertainment)
Accessing the stereo functions and using all the functions needs to be learned, because it's not as intuitive as it could be. There are a great deal more buttons on the centre console than would be ideal from a design standpoint, and certainly from a usability perspective the stereo's major functions are best operated while stationary to avoid distractions from the road. There is, however, plenty of in-built music storage space and iPod connectivity.
Colours and trim
The colour choice is largely muted and low-key, with the exception of a vivid electric blue. The FX is a large car and suits dark colours that have the effect of shrinking its road presence, although it has a certain appeal in white or pale silver. The interior trim is stylish, but there are a number of areas that don't look up to the standard of quality that customers might expect for the asking price of the car.
Parking
A rear-view camera is standard on all FX models and makes reverse parking much easier. Visibility is limited so reverse parking with the aid of the camera might be a preferred option for many buyers. As with all large SUVs, parking is made more difficult by the sheer size of the car, but the high seating position does make it easier to get in and out when space in bay spaces is restricted.
Spare wheel
Space saver fitted as standard (petrol models). Diesel models have an emergency tyre repair kit.
Range information
Petrol engine options - 3.7-litre (316bhp); 5.0-litre (385bhp). Diesel engine options -3.0-litre (235bhp). Transmission options: seven-speed automatic gearbox. Trim levels: GT, S, GT Premium, S Premium.
Alternative cars
BMW X6 Bold styling splits opinion but offers confident driving dynamics
Porsche Cayenne Has all the badge appeal the Infiniti lacks, but has less standard equipment
Audi Q7 Sensible enough and luxurious enough to generate significant appeal
Mercedes ML Has its own unique charm and high Mercedes materials quality