Tesla Roadster Sport
April 2010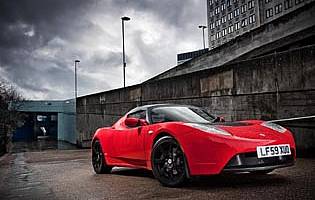 Roadster's striking looks are sure to turn heads
Ratings
Overall rating
Value for money
Costs
Space and practicality
Controls and display
Comfort
Car security
Car safety
Likes
The technology behind the car is unobtrusive and works well
High performance levels rival that of established petrol-powered cars
Visually car is striking and attractive
Surprisingly practical for a two-seat roadster
Gripes
Purchase price is high and the creature comfort count is low
Heavy steering around town can make parking hard work
Low dealer presence could be off-putting, although a mobile technician service is offered
For maximum practicality you'll need garage access for charging the car
The early adopter is a well-known consumer stereotype. The person who must have the latest and best technology is not averse to spending over the odds for the privilege - or bragging rights. With the gradual appearance of more credible electric cars, the trend is continuing. Tesla, a bold American high-tech start-up company, is tapping into the early adopter mentality with its Roadster model.
There's no question that car technology is evolving. Petrol-electric hybrids are now commonplace, while cars offering 'range extender' technology - battery power supported by an onboard engine generator - are starting to make progress. The pure electric car has, in contrast, been around much longer. The barrier to widespread acceptance has, predictably, been performance and miles per charge.
Tesla hopes its technology can overcome what has been dubbed 'range anxiety.' Although its Roadster relies on conventional lithium ion batteries, the power pack is liquid cooled to enhance performance reliability. The result is a claimed range of around 200 miles - more if driven gently. Also, the car's powerful and efficient electric motor boasts a 284 horsepower equivalent output. Crucially, with a torque value of 295lb/ft from zero revs, the Roadster's ability to out accelerate all but a few supercars is what Tesla hopes will attract the early adopters.
Looking like a fast sports car doesn't harm the Roadster's cause, either. In collaboration with Lotus, Tesla adopted the famous Norfolk firm's basic chassis, which is shared with the popular Elise. It's longer and wider, and this is reflected in the more accommodating cabin and the Roadster's more stable ride and handling characteristics. It's also heavier than a typical Elise, although this doesn't hamper the car's real world performance.
As you'd expect, the Roadster delivers a thrilling driving experience. Acceleration is supercar-quick, while the regenerative brakes are powerful and effective. Despite the steering feeling heavy around town, the Roadster is easy to drive at modest speeds. It excels on the open road though, proving rapid, agile and hugely enjoyable. The single-speed transmission allows you to devote full attention to the road ahead. Even when driven hard, 100-plus miles per charge are possible - plus at least double if driven conservatively. Charging is straightforward using a household mains outlet; overnight returns a full charge, with faster options available. Overall cost is pence, not tens of pounds.
Our verdict on the Tesla Roadster Sport
On the surface Tesla's Roadster appears to satisfy the cravings of the tech-savvy motorist. Crammed full of technology, boasting rakish looks and able to out perform most supercars, the Roadster ticks all the right boxes. The enjoyable and surprisingly practical experience comes at a price though, as the car's sticker price is a whisker under six figures. A favourable tax status and low cost charging options go some way to redressing the balance. As a first step it bodes well for the future.
Costs

Yes, it's asking price is high, but the trade-off is low 'refueling' costs in the shape of paying for mains electricity - a few pounds, not the tens or hundreds that you'd pay in petrol for a comparable supercar. Business users benefit from favourable tax rates, too. On maintenance, with few moving parts and having some in common with the Elise, this is where costs should be low. Factor in a long life for the battery - 100,000 miles/seven years - and it's not hard to build a case for the Roadster.
Space and practicality

Even though the Roadster is a fraction larger than the donor Elise, the Tesla car's cabin boasts modest levels of oddment storage. The glovebox is a good size, though. The real surprise is the car's boot - located aft of the battery pack, which will easily swallow a few soft bags or plenty of grocery shopping. And while best enjoyed with the roof off, roof-up motoring is civilized so long as you're of average height.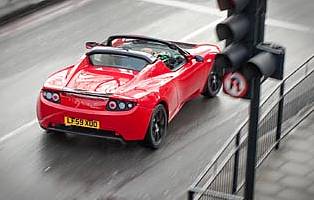 Despite performance, it's also easy to drive around town
Controls and display

The minimalist nature of the Elise has been carried over into Tesla's Roadster. This makes for a refreshingly simple cabin. Only the car's centre console has been changed, as it houses the push-button gear selector and touchscreen display, which controls the various driving modes. The logical transmission layout apes that of a conventional auto gearbox (N, R, D) and is easy to use. The display not only offers range and car status information but is also your way of switching to and from the regular, economy and performance driving modes - each allowing you more power and a less conservative energy conservation mode.
Comfort

Clearly you don't buy a car like this if comfort is your main focus. That said, the Roadster's seats are very supportive and the driving position requires minimal adjustment for the average person. Only the distant whine of the transmission is obvious when on the move - there's more chance of you hearing tyre noise from poorly surfaced roads. Roof down the car is surprisingly civilized up to the legal maximum speed.
Car security

The car's bespoke nature shines through here, as there's no limit as to what you can have fitted. Over and above the basic remote locking and alarm package, the only barrier is available funds. And with something this desirable, a tracking device and service subscription is recommended.
Car safety

For all the Roadster's high-tech kit, the safety provision is pretty basic. This shouldn't be a surprise, given that the car owes much to the Lotus Elise. There's little over and above the modest airbag and traction control provision, but there's a good chance only experienced drivers will be behind the wheel and will treat the car with respect in changing conditions.
Driver appeal

Being realistic, the Roadster is longer, wider and heavier Lotus Elise. Therefore the driving fundamentals are very similar. In reality, the electric motor's significant power advantage over the Elise's petrol engine is what changes the experience dramatically. There's still no ESP so you do have to drive with skill and care, but the Roadster's blistering speed, powerful brakes, tuned handling and accurate steering make for a hugely rewarding experience. After that, the heavy steering and firm urban ride can be forgiven.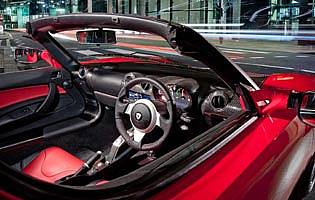 Basic cabin looks and feels well built
Family car appeal

With only one spare seat available, Tesla's Roadster will never be more than the other car in the family garage. There's a surprising amount of boot space available, but that will never compensate for the lack of seats up front.
First car appeal

This is one of those cars that will appeal to anyone with the means to acquire one. Sadly, novice drivers would be advised to work up to something this potent - its high performance, sensitive steering and chassis and generally poor rearward visibility make it a car for experienced drivers only.
Quality and image

As a company, Tesla has come out of nowhere. Mirroring the behaviour of many Californian technology start-ups, the firm's rise to fame has been meteoric. It helps that it has significant financial backing and, crucially, a product that delivers on its makers' promises. The car itself does come with a few rough edges, although these are cosmetic. For a first attempt it's a good effort, and Tesla has already been quick to improve mechanical reliability after a slightly bumpy start.
Accessibility

Getting in and out of the Roadster requires practice, as the car is very low to the ground - the roof, when attached, is at waist height on most people. Once mastered it is less difficult, but still much more taxing than an ordinary car. The situation improves greatly when the car is in open-top mode. Access to the boot is simple, although it is a two-handed operation to raise and lower the rear deck.
Stereo and ICE (In car entertainment)
Being a high-end sports car, you can have pretty much any system you want in the Roadster. From a basic audio unit to a full-on sat-nav system plus mobile phone and MP3 player integration, the only limit is the size of your budget.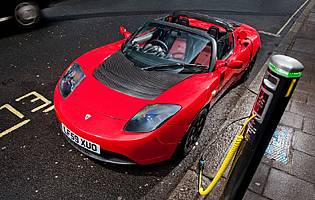 Charging is straightforward
Colours and trim
The modest palette of exterior colours offered focus on bright hues, which help flatter the car and ensure you get noticed. The option of carbon trim is an attractive one, and helps advance the car's high-tech appeal.
Parking
Like with any small convertible, rearward vision is restricted. It's much improved with the roof down, however. Forward vision is much better, but the steering is heavy at parking speeds.
Spare wheel
Emergency inflation kit supplied.
Range information
Engine options: 375v AC induction air-cooled electric motor (284bhp) plus lithium ion battery pack. Fitted with single speed, fixed gear transmission plus reverse direction for reverse mode. Trim levels based on performance: Roadster and Roadster Sport boast higher torque limit for improved acceleration.
Alternative cars
Porsche 911 Cabriolet Turbo model is performance rival and boasts more luxurious cabin. Similar range on petrol, too
Lotus Elise Donor car to the Tesla is a fraction of the price but conventionally powered
Caterham Seven Another stripped out petrol roadster. Tesla offers more weather protection, however
Honda CR-Z Affordable hybrid coupe offers mild performance but can't match the Tesla's pace
Over 1,200 more car reviews online
All the reports since 1990 are available on this site, just search by make and model below.
Other products & services
Related information
April 2010