Used Volkswagen Tiguan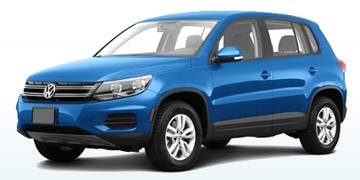 AA Cars works closely with thousands of UK used car dealers to bring you one of the largest selections of Volkswagen Tiguan cars on the market. You can also browse Volkswagen dealers to find a second hand car close to you today. All used Volkswagen Tiguan on the AA Cars website come with free 12 months breakdown cover.
Expert Opinion
Like many of its competitors in the crossover market, the VW Tiguan is a car which is best suited to driving on the road, despite it being a 4X4 and having the rugged capabilities of an SUV. Yet, the advantage of not being designed as a full multi-surface vehicle is that it is swift, sporty and responsive while on the road, at the same time offering good grip and a comfortable ride. It shares a large portion of its engineering with its VW label mate the Golf, which is never a bad thing, but with extra space and four wheel drive, the Tiguan is a more practical and versatile car. While it might not be as exciting a choice as the Golf, it is perhaps a more logical one.