Used Mercedes G Class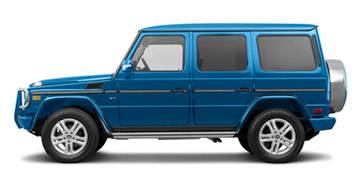 AA Cars works closely with thousands of UK used car dealers to bring you one of the largest selections of Mercedes G Class cars on the market. You can also browse Mercedes dealers to find a second hand car close to you today. All used Mercedes G Class on the AA Cars website come with free 12 months breakdown cover.
Expert Opinion
The Mercedes G Class is an SUV from an age when all 4X4s were rugged, uncomfortable, and laughed in the face of steep inclines, river crossings and uneven terrain. While the purposes of the SUV may have come a long way, the G Class remains steeped in its utilitarian past. There have been updates over its fifty year history, but none have changed the fact that on the road the G Class is borderline atrocious - unrefined, uncomfortable and unrelenting. Off road however, it humbles both the Land Rover Defender and Toyota Land Cruiser, which - as any 4X4 enthusiast would know - is, by no stretch of the imagination, an easy feat.