Volkswagen Phaeton 5.0 V10 TDI 4MOTION
May 2005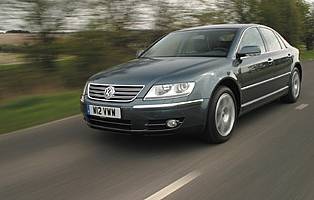 Unfussy lines hide the Phaeton's considerable bulk effectively
Ratings
Overall rating
Value for money
Costs
Space and practicality
Controls and display
Comfort
Car security
Car safety
Likes
More affordable than one might imagine
Genuine luxury build quality throughout
Identifies the owner as a free-thinker
Well-specified with superb range of engines
Gripes
Very steep depreciation when bought new
Concierge service a pointless item on specification list
Badge still lacks kudos of established luxury marques
Carbon dioxide emissions far from eco-friendly
Along with the Touareg 4x4 the Phaeton signals Volkswagen's first serious effort to crack the lucrative luxury market. On paper it is easily a match for its main competitors, but the VW badge has yet to gain full acceptance as a luxury brand, so the Phaeton remains a relatively rare sight on UK roads.
No-one could accuse Volkswagen of going off half-cocked with the Phaeton, which exhibits the full range of essential luxury saloon attributes. It is big - over five metres long even in short wheelbase form - powerful, opulently appointed and exceptionally well constructed. And it is a car with undoubted presence, despite its rather too-close resemblance to the latest generation Passat.
Though they may seem expensive by familiar Volkswagen standards, Phaeton prices are extremely competitive. Since the car's launch, VW has regularly added extra standard features such as satellite navigation to further bolster value-for-money credentials. A like-for-like comparison with the Phaeton's direct competitors makes highly illuminating reading.
One of the key attractions is the clever line-up of engines. 3.0-litre diesel and 3.2-litre petrol models are affordable, while at the other end of the range the V10 diesel and W12 petrol models offer staggering amounts of power. They may be rather less practical and emit flower-wilting levels of carbon dioxide, but they give the Phaeton glamour and show that it is no lukewarm imitation of a high-grade saloon. It's the real deal.
There's something special about buying a Phaeton, too. Each car is hand-built at an extraordinary factory in Dresden to the customer's exact specifications, providing a level of individuality that is usually reserved for buyers of Bentleys, Rolls-Royces or Maybachs. Indeed the Phaeton itself manages to capture some of the same elusive quality possessed by those evocative marques, a quality that can only be described as 'class'. Less than 50 UK retailers sell the Phaeton, each with its own Luxury Car Manager, specialised workshop equipment and licensed Luxury Car Technician.
Interior build quality is marvellous with the finest materials, impeccable fit and finish and tasteful, understated design. It is reminiscent of Audi's A8 - another Volkswagen Group product with which the Phaeton is competing against. Yet Audi has earned its spurs as a luxury brand while Volkswagen remains suspect - which perhaps explains why a Phaeton loses far more of its value over three years. Second-hand it's an absolute steal, and that's unlikely to reinforce its premium status.
Our verdict on the Volkswagen Phaeton 5.0 V10 TDI 4MOTION
Whatever its qualities, the Phaeton is destined to remain a niche vehicle. Luxury buyers tend to be conservative in their tastes and are simply too loyal to the traditional brands or too unimaginative to be seen driving a Volkswagen, no matter how good it is.
Costs

This is not a cheap vehicle by any means, but when compared on a like-for-like basis with its rivals, the Phaeton is a relative bargain thanks largely to its superior specification and industry-leading engines. It's a lot of car for the money. However, it's not nearly as good a deal as used buyers will enjoy. The Phaeton loses value much more quickly than its competitors.
Space and practicality

Luxury saloons are never the most practical vehicles. As well as paying a premium purchase price and suffering at the pumps, they are really only designed to transport people in comfort and are poor at load-lugging. A fixed rear seat - unless the two individual rear seats are specified - means you can forget about carrying anything longer than a pair of skis unless you want to make the car look ridiculous with a roof rack. A bulky central transmission tunnel eats up a good deal of interior space.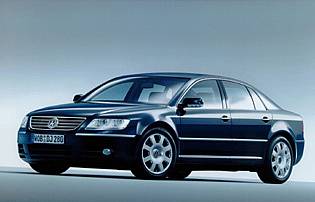 Resemblance to humble Passat is a little unfortunate
Controls and display

Anyone expecting to see a jazzed-up Golf dashboard transplanted into the Phaeton is in for a shock. Though still recognisably a Volkswagen treatment with its perfectly aligned symmetry and underlying sense of order, the Phaeton's dash is characterized by beautiful wooden inlays, alluring chromed dials and some subtle lighting effects that simply ooze class into the cabin.
Comfort

For the Phaeton V10 TDI and W12, and optional on the V6 and V8, an 18-way electric adjustment system is fitted to the seats. Apart from the functions of the standard 12-way system - which is surely enough for the vast majority of us - the upper support, the head restraint and the length of the seat area (the front part of the thigh rest) can be electronically adjusted. In versions with two individual rear seats, the Phaeton offers 10-way electrical seat adjustment system with lumbar support and memory function; heated and air conditioned front and rear seats. The longer version adds 120mm which translates directly into rear legroom.
Car security

The Phaeton is one of the most secure vehicles on the market, scoring a maximum five stars in both categories of Thatcham's New Vehicle Security Register (NVSR). These two categories are 'theft from a vehicle' and 'theft of a vehicle'. One highlight that makes the Phaeton particularly resistant to a break-in is its side laminated glass. In addition, Volkswagen has fitted an alarm with interior protection; inclination sensors to prevent the vehicle from being towed away; an electronic immobiliser; deadlocks; and anti-theft wheel bolts. All in all, a top-notch package.
Car safety

Every Phaeton is fitted with eight airbags - two in the front, four in the side, plus two curtain airbags as well as active front head restraints, ABS; ESP; and HBA. The aluminium doors are also exceptionally rigid, and contain side impact bars for further protection. There are numerous more minor but no less ingenious safety features such as washer jets for the headlights that clean each unit one at a time to minimise loss of illumination of the road ahead.
Driver appeal

With the range-topping V10 and W12 engines aboard, the Phaeton is almost frighteningly quick. It is a very heavy vehicle - the V10 diesel has a gross weight of nearly 3,000kg - but can reach 62mph in less than seven seconds. The more modest engines may not deliver quite such extreme performance but have more respectable fuel economy and don't feel sluggish. Even the entry-level model has over 220bhp and the 4MOTION all-wheel-drive system.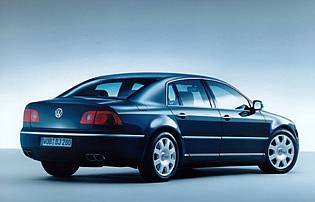 Circular LED rear lights are a distinctive feature
Family car appeal

The Phaeton has little or no family appeal. As well as being too big for many a modern suburban driveway, the interior is simply too nice to subject to the rigours of family use. In its favour, it is exceptionally safe.
First car appeal

The idea of a Phaeton as a first car is patently preposterous.
Quality and image

There's no denying that the Phaeton is a top-quality car, but despite Volkswagen's best efforts it is perceived as having an image problem. Whereas the Touareg off-roader has been accepted as a luxury 4x4 - partly because it shares its underpinnings with the Porsche Cayenne - the Phaeton is still regarded with some suspicion in the executive car park. But choosing a VW over a more obvious BMW or Mercedes at least proves the owner is independently minded. That the latest Passat bears such a resemblance is good for the Passat but bad for the Phaeton.
Accessibility

A clever easy-entry system works in conjunction with memory functions in the front seats so that steering wheel and seats stay out of the way as the driver gets in, then move back into place once he or she is seated and ready to go. Boot access is achieved using an effective powered system. When a finger is placed across the base of the 'V' on the rear VW badge, the lid is electronically released and rises automatically. It can also be activated by either the key or by a button on the driver's door. A button on the inside of the boot lid allows the process to take place in reverse.
Stereo and ICE (In car entertainment)
Sound quality of the standard stereo system is magnificent. With ten speakers developing 190 watts and an eight-channel amplifier, the system produces sound quality comparable to that of home hi-fi systems. A six-disc CD autochanger is fitted as standard, and is located in the glove compartment. It is possible to upgrade to a digital 12-channel amplifier with twelve loudspeakers, 270 watts music performance, digital sound processor (DSP) with six-band equalising per channel, and plenty more features to make audiophiles purr with pleasure. All Phaeton models are fitted with a navigation/radio system with seven-inch colour screen, which can have an integrated TV tuner.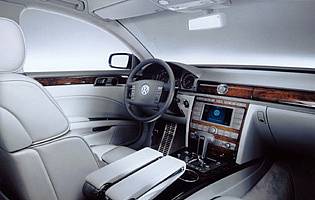 Cabin is luxuriously appointed
Colours and trim
Engine choice determines exact trim level, though all models are very well specified with standard features including 4Zone electronic climate control; leather upholstery; CDC (Continuous Damping Control) suspension; cruise control; 12-way adjustable electric front seats; and Xenon headlights. Long wheelbase models come with extra equipment such as a rear console for operation of the climate control system and an electrically operated sunroof and rear screen sunblind.
Parking
It was not the case with early models, but since May 2005 all Phaetons possess ultrasonic parking sensors, which operate at both the front and rear of the vehicle. They do make parking, as well as navigating crowded environments such as city streets, far more reassuring in a vehicle that is rather larger than it sometimes feels. Even so slotting into most parking spaces remains challenging.
Spare wheel
Full size alloy spare. An electronic tyre pressure monitoring system is an option.
Range information
Engine choice consists of 3.0 V6 TDI diesel (222bhp); 5.0-litre V10 TDI diesel (309bhp); 3.2-litre V6 petrol (236bhp), 4.2-litre V8 petrol (330bhp) and 6.0-litre W12 petrol (414bhp). There are standard or long wheelbases and four or five-seat versions. 6-speed tiptronic auto standard on all except 5.0 V10, which has five-speed equivalent due to its staggering torque output.
Alternative cars
Audi A8 Lovely interior and holds its value well
Jaguar XJ Hides sporty ride under conservative styling
Mercedes-Benz S-Class Classic luxury saloon formula
BMW 7 Series Styling flawed but technologically impressive
Over 1,200 more car reviews online
All the reports since 1990 are available on this site, just search by make and model below.
Other products & services
Related information
May 2005