Used Volkswagen Phaeton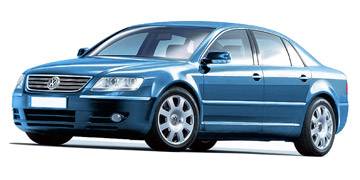 AA Cars works closely with thousands of UK used car dealers to bring you one of the largest selections of Volkswagen Phaeton cars on the market. You can also browse Volkswagen dealers to find a second hand car close to you today. All used Volkswagen Phaeton on the AA Cars website come with free 12 months breakdown cover.
Expert Opinion
Volkswagen may have been founded on the idea of creating cars for the people and the common man, but the Phaeton shows that the German manufacturer can make cars for the top end, too. From the outside it might look little more than simply an enlarged Passat, but inside it is decorated in leather upholstery, wood finish and comes well equipped with heated seats, sat navs and plenty of leisurely room. Its 3.0 litre V6 engine (there was a 6.0 litre option in the older models), is confidently smooth and powerful, and pushes the Phaeton's hulking form to a top speed of 147mph. It can't quite compare in its handling and ride ability to some of its more prestigious rivals however, but with good run costs and VW's ever reliable engines it makes for a relatively more affordable option to the usual luxury limos on offer.