Best low insurance cars
Looking for a new car that will be more affordable to insure? Here are 10 top picks.
One of the most expensive costs when it comes to running a car can often be insurance.
Particularly for younger or newly-qualified drivers, insurance premiums can sometimes be more than the value of the car itself. It's why a car's insurance group is so important if you're wanting to keep your costs down.
Insurance groups range from 1 to 50, with the lowest number being the models that will cost you the least, and the higher number the most. If you're looking for a cheaper-to-insure model, you really don't want to be shopping around for anything higher than a group 10, and preferably less than 5.
Let's take a look at 10 used cars in the lowest insurance groups.
Volkswagen Up!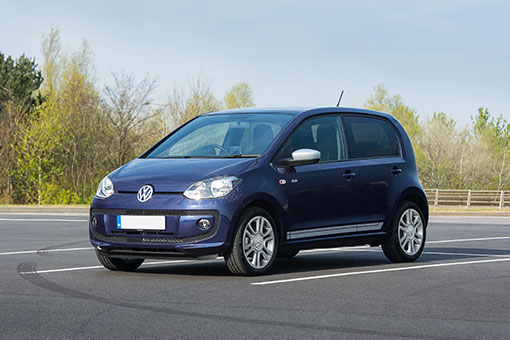 The Volkswagen Up! arrived in 2012 as the German firm's next-generation city car. Bringing a sense of fun, it's available with the choice of three or five doors and offers a smart and modern design that certainly doesn't feel its age.
It's also an ideal choice for new drivers or those looking to cut their insurance premiums, with the majority of models sitting in insurance group 3 or less. The 59bhp version in particular is the one that will be the most affordable to insure. Prices for the Up! start from around £3,000 for a 2012 car with 100,000 miles on the clock.
Find a used Volkswagen Up on AA Cars
Smart Forfour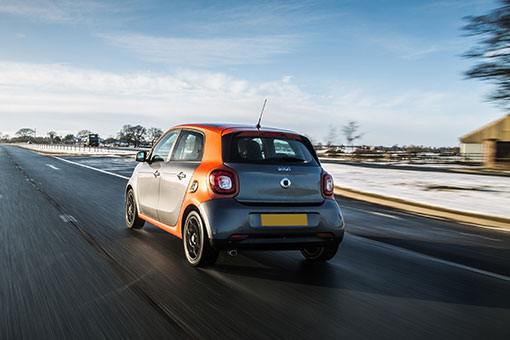 Smart is best known for its dinky ForTwo but the firm also offered a more practical ForFour version for a number of years. As its name suggests, it adds some extra seats, along with another pair of doors - improving its practicality. Based on the Renault Twingo, the Forfour is ideal for new drivers thanks to its small dimensions and low running costs.
If you're looking to keep your insurance premiums down, you should look out for versions fitted with the small 1.0-litre petrol engine (not to be confused with the turbocharged 0.9-litre unit) as these sit in insurance groups 1 to 3. Prices for a ForFour of this age start from around £5,500 for a 2015 example with 50,000 miles on the clock.
Find a used Smart Forfour on AA Cars
Dacia Logan MCV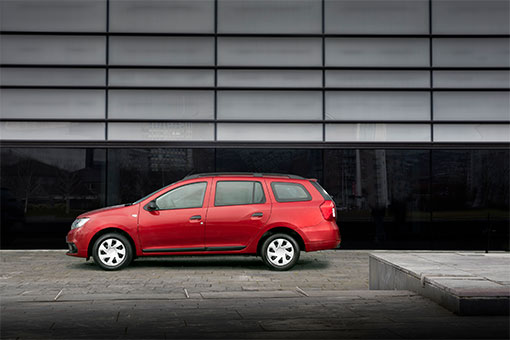 Just because you want to keep your insurance premiums down, it doesn't mean you necessarily want a really small car. Particularly if you have a family or need lots of boot space, a city car likely won't fit the bill. If that applies to you, it's worth taking a look at the Dacia Logan MCV.
This low-cost estate car, based on the Sandero, offers a huge 573-litre boot, while small engines also make it cheap to insure. The other advantage to these small engines is that it makes the Logan MCV quite affordable to insure. Look out for the 'SCe 75' unit or the '1.2 16v' engine to take advantage of the lowest groups, as these sit in 2 to 4. Around £5,500 will buy a 2014 example that's covered 75,000 miles.
Find a used Dacia Logan MCV on AA Cars
Ford Ka+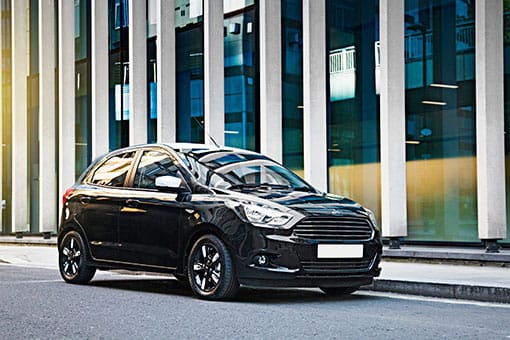 Ford's Fiesta might seem the obvious choice for new drivers, but when it comes to obtaining lower insurance premiums, it might be worth looking at the Ka+ instead. Not to be confused with the regular Ka, this Plus model was sold between 2016 and 2020 and offered a lot of cabin space and plenty of standard equipment for a city car.
Stay clear of the diesel, and all versions also sit in insurance group 5 or less, but it's the 69bhp 1.2-litre petrol engine that attracts the lowest premiums. Expect to pay around £7,000 for a 2017-registered example with 70,000 miles on the clock.
Find a used Ford Ka on AA Cars
Seat Ibiza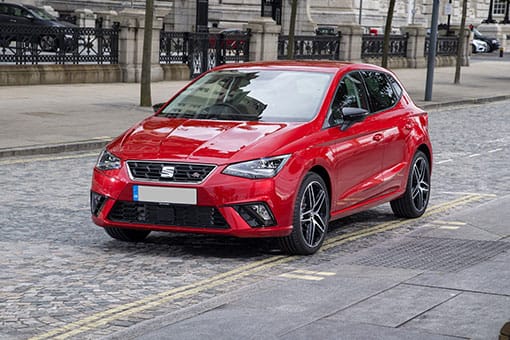 Seat's Ibiza supermini has become a very popular choice with young drivers in recent years, with its stylish design inside and out making it a big hit. But, with the right engine under the bonnet, it's also good value to insure too.
If your budget will stretch to it, we recommend the latest generation Ibiza, introduced in 2017. Offering more space and equipment - all versions get Bluetooth, and all but the entry-level 'S' get a touchscreen too - it's one of the best small cars on the market. When it comes to lower insurance, look out for an 'MPI' model and not a turbocharged 'TSI' car, as these sit in much lower insurance groups (2 to 4, depending on trim). Used Ibizas of this age start from £7,500.
Find a used Seat Ibiza on AA Cars
Fiat 500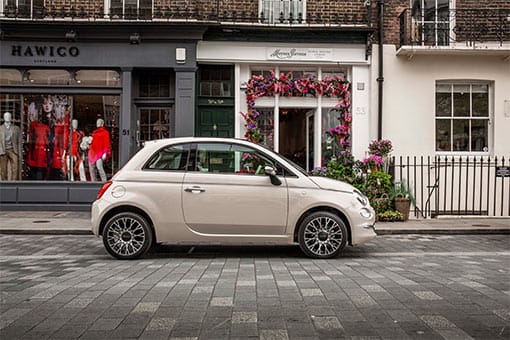 If you want a stylish small car, you'll struggle to find anything better for the price than the Fiat 500. It's become an iconic piece of design, famed for its personalisation and cutesy looks. However, there's more to it than just its looks, as it's also easy to drive and offers affordable running costs.
You will pay slightly more for the Fiat 500 when it comes to insurance though, as the lowest grouping for the 500 is 5. Stick with the entry-level 1.2-litre petrol engine too, and seek out a 'Pop' or 'Lounge' model too. There's a vast range of used models on the market, though, with prices starting from around £2,500 for a car with 100,000 miles on the clock.
Find a used Fiat 500 on AA Cars
Vauxhall Adam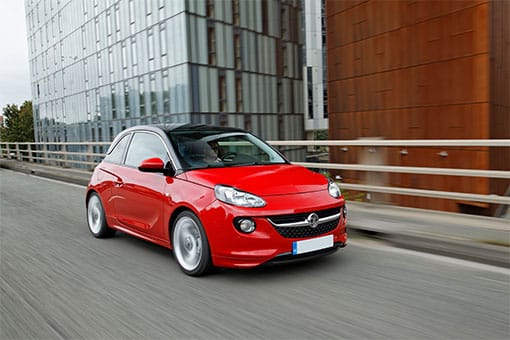 Sticking with the stylish city car theme, if you want something that looks the part and won't cost a comparative fortune in insurance, the Vauxhall Adam is worth a look. An alternative to the popular Corsa, the Adam gets a more fun personality thanks to its youthful design and plentiful personalisation. Vauxhall says more than a million configurations were available.
Sold between 2013 and 2019, the Adam also sits in low insurance groups of 2 and 3 when you choose it with the 1.2-litre petrol engine - making it an ideal choice for new drivers. Prices for used models start from £4,500 for a 2013 model with 100,000 miles on the clock.
Find a used Vauxhall Adam on AA Cars
Renault Captur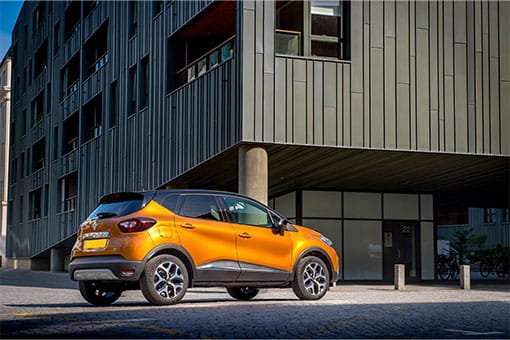 The rise of the crossover and SUV segment has been huge, and though these models are typically more expensive to insure, there are models available for those wanting more affordable insurance. Though perhaps not the best choice for a young or recently-passed driver, the Renault Captur is ideal for those with a small family, with plenty of interior space offered alongside a good reputation for safety.
We'd go for a first-generation Renault Captur (sold between 2013 and 2019) and the TCe 90 petrol engine, which sits in insurance group 8 or 9. Used Capturs start from around £5,000 for a car with more than 120,000 miles on the clock.
Find a used Renault Captur on AA Cars
Skoda Fabia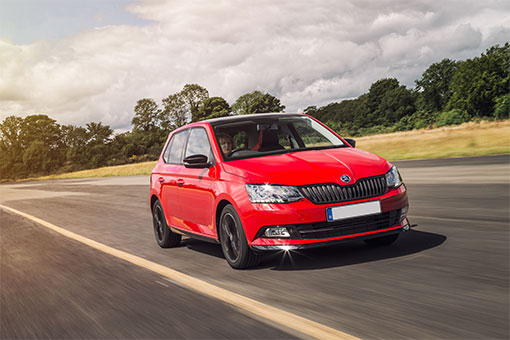 Skoda's Fabia is one of the most well-rounded small cars on the market, offering a smart design combined with plenty of equipment and decent levels of space as well. Various generations of Fabia are available, but our vote would go for the last-generation car, sold between 2015 and 2021.
With Skoda's 1.0-litre (non-turbocharged) petrol engine under the bonnet, it can sit in the lowest insurance group 1, and is an ideal and safe option for new drivers. Prices for a Fabia of this age start from £5,000.
Find a used Skoda Fabia on AA Cars
Toyota Yaris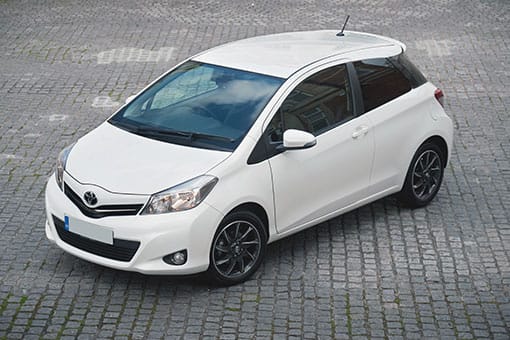 If you want a car to choose from a reliability point of view, it's hard to beat the Toyota Yaris. Renowned for its dependability, it might not be the most exciting car in its class, but if you want something safe and sensible, it's a terrific choice.
Our choice is the third-generation Yaris, sold between 2011 and 2020. The Hybrid version might be the more desirable option, but these sit in higher insurance groups. So if you're wanting to keep this to a minimum, the 1.0-litre VVT-i petrol engine is the version to go for. You'll pay around £4,500 for a 2012 example that's covered 80,000 miles.
Find a used Toyota Yaris on AA Cars
Prices correct at time of publication [11/2022].