Best cars for camping holidays
Camping has always been a popular pastime, but in recent years there's been a real growth in the number looking to get away on this more cost-effective and explorative type of holiday.
It's a great way of being able to switch off from the world, with almost limitless opportunities when it comes to the places you can go camping, both in the UK and further afield.
So if you've got one or several camping holidays lined up, you want to know you've got the right car for the job. Let's take a look at the best cars to go camping with.
Dacia Sandero Stepway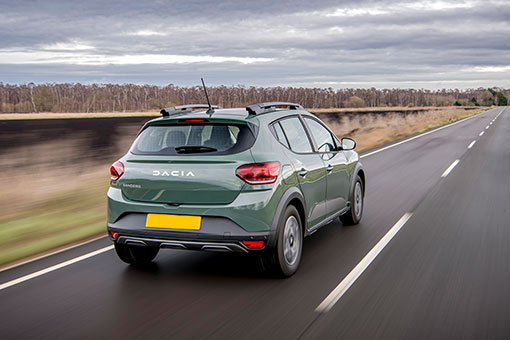 Just because you want to go camping, it doesn't necessarily mean you want a large car. So if you're happy with something smaller, we highly recommend the Dacia Sandero Stepway – the more rugged-looking version of one of the UK's most affordable new cars.
The trick with the Sandero, though, is that its roof rails can transform into roof bars with only an Allen key needed to change them. It means you can more easily attach a roof box, bikes and other items safely, helping to free up interior space. It's worth noting these were only introduced on the second-generation Sandero Stepway, introduced in 2021. Used prices start from £12,500.
Search for used Dacia Sandero Stepways on AA Cars
Land Rover Defender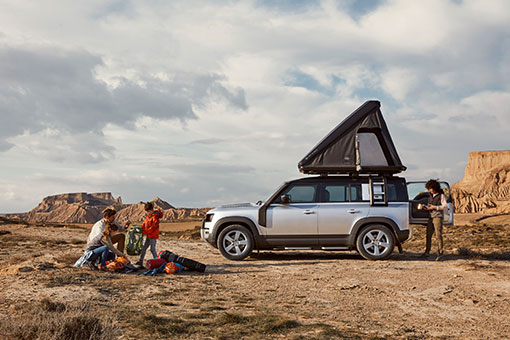 At the opposite end of the spectrum is Land Rover's Defender, which has moved upmarket since it was reincarnated in 2020. It's got bigger too and now comes in three guises – 90, 110 and 130, with the latter coming with eight seats thanks to its '2+3+3' configuration.
Impressively capable on and off-road and with a wipe-clean interior, the Defender is also available with an optional roof tent that easily and simply folds down when not in use. Used Defender values are remaining strong, with the current generation available from around £50,000, though it's worth exploring your finance options.
Search for used Land Rover Defenders on AA Cars
Audi A4 Allroad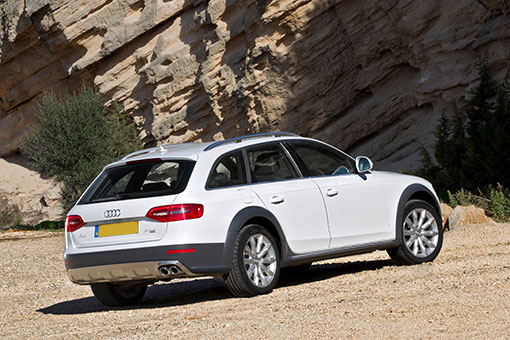 A raised estate car makes for a great choice when it comes to camping, owing to their already impressive practicality combined with the greater ability that's supplied with their four-wheel-drive systems. One of the best is the Audi A4 Allroad.
While it might be a more compact estate car, the boot still offers a generous 490 litres, while the raised ride height is ideal if you're staying in somewhere a little off the beaten track, with Audi's quattro all-wheel-drive system included as standard. Used A4 Allroads start from around £5,000, though it might be worth having a warranty in place due to the expensive cost of replacement parts.
Search for used Audi A4 Allroads on AA Cars
Citroen Berlingo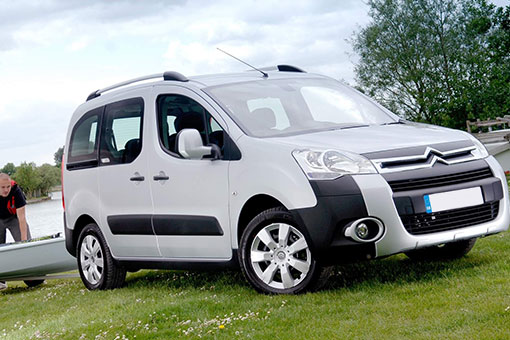 If you want outright practicality when it comes to camping, it's hard to beat a van-based MPV like the Citroen Berlingo. Known for its versatility, it's available with a choice of five or seven seats and brings masses of space, along with features like a separately opening rear window and storage throughout the interior.
In more recent years the Berlingo has been offered as an EV, but we reckon a previous generation diesel model still makes a great, affordable camping companion, with prices starting from as little as £3,000.
Search for a used Citroen Berlingo on AA Cars
Skoda Kodiaq
Skoda is renowned for its spacious family cars, and any of its vehicles would be ideal for camping. But for the most space, we've chosen the largest of the lot – the Kodiaq SUV. This seven-seater is a terrific all-rounder, with its superb comfort making it ideal for continental holidays. On any longer trip, it's always worth having breakdown cover in place too.
Available with a range of petrol and diesel engines, it's the latter that suits the Kodiaq's character the best, especially on longer runs. Despite being on sale for a number of years, the Kodiaq has held its value well, though you can now pick up a 2017 example for around £16,000.
Jeep Renegade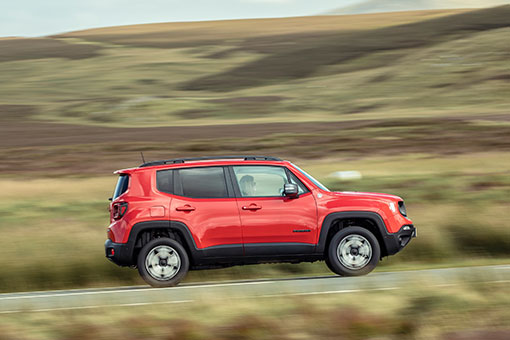 The Renegade is sometimes a forgotten model in Jeep's line-up, but despite its compact size, we reckon it makes a great camping car. With a towing capacity of 1,500kg, you can easily hitch up a smaller caravan.
The Renegade's boxy shape means that the cabin feels roomier than it is, while Jeep also offers a host of accessories, from roof tents to expandable roof boxes. It's decent value for money as well, with 2015 examples costing from £7,000.
Search for used Jeep Renegades on AA Cars
Ford Puma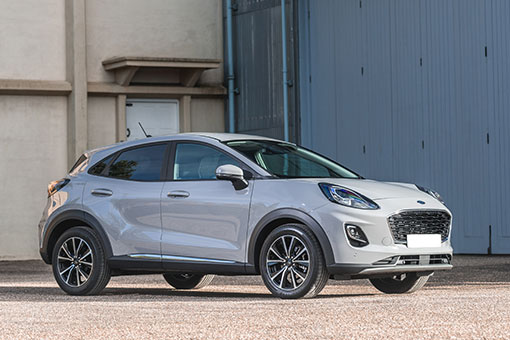 Ford's Puma has a hidden trick under its sleeve, and this is its 'MegaBox' – essentially underfloor storage that allows you to keep muddy boots out of the way. A more creative use is that because it's completely sealed, and with its own plug, you could use it as an icebox when camping.
The Puma has plenty more to offer as well. Being based on the Fiesta, it's great to drive, while has a smart design that's made it one of the UK's most popular cars. There's a plentiful number for sale, with used prices starting from around £16,000 for a 2020 car.
Search for used Ford Pumas on AA Cars
Hyundai Ioniq 5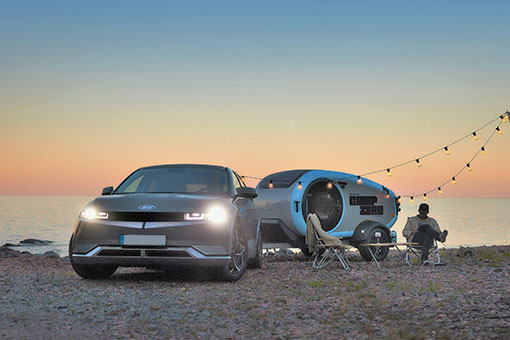 If you're escaping into the countryside, the zero driving emissions that electric cars produce make them a great choice. With cars like the Hyundai Ioniq 5, which boasts a range of up to 315 miles, you don't need to worry about range either.
But when it comes to camping, the Ioniq 5's best feature is its vehicle-to-load (V2L) capability, which lets you use the charge of the battery to power other electrical equipment, such as fridges and extension leads. As this Hyundai hasn't been on sale for too long, prices are still quite high however, and cost from around £30,000.
Search for used Hyundai Ioniq 5s on AA Cars
BMW 5 Series Touring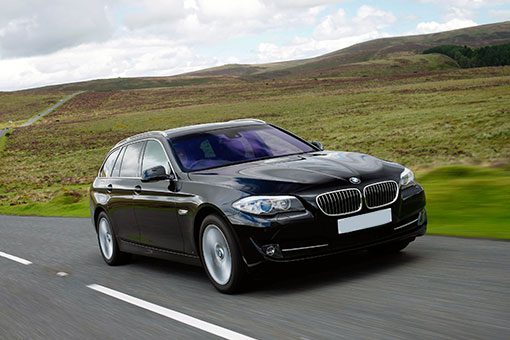 BMW is widely known for its estate cars, and the best of the lot is the 5 Series Touring. Renowned for its long-distance comfort and refinement, the boot also measures a significant 560 litres – ideal for a camping holiday. It's also one of the few estate cars with a rear window that can separately open from the rest of the boot.
The 5 Series Touring is great to drive, while has a high-quality interior that helps to make it feel a step above other more mainstream estate cars. For around £8,000 you can pick up a well-maintained example from 2012.
Search for used BMW 5 Series Tourings on AA Cars
Mini Countryman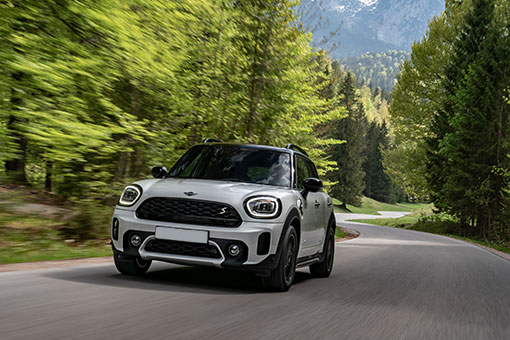 The Countryman was Mini's first SUV, and has now become synonymous as a lifestyle vehicle, with Mini even offering several solutions for camping, including roof bars and tents. In recent years the Countryman has grown in size too, becoming more family-friendly with a decent boot and plenty of rear seat space.
We'd recommend this second generation of Countryman for this reason, with prices starting from around £13,000 for a 2017 example. There's the choice of petrol, diesel and plug-in hybrid models too.
Search for used Mini Countrymans on AA Cars
Prices correct at time of publication [06/2023].