Best used cars for dog owners
Looking for a car that can comfortably accommodate your dog? These are 10 great options.
For many of us, a dog is a huge part of the family, joining us on day trips out and holidays away, and on regular journeys in the car day by day.
With an estimated 10.2 million pet dogs in the UK, according to pet charity PDSA, that's a huge number of households that have a pooch in the family. If your dog joins you in the car regularly, you want to make sure they can travel comfortably and safely too, and it's important not to have a car too small for your needs - a Great Dane in a Fiat 500, for example, would be a bit of a squeeze.
Here we look at some key considerations to make when looking at a car for your dog, and 10 great options for dogs and budgets of all shapes and sizes.
Things to consider
There's no 'one size fits all' when it comes to picking the right car for you and your dog, which is why it's important you buy a vehicle that suits your particular requirements. There are some general things to consider when looking for a pet-friendly car.
Space: The car must have enough boot or back seat room for your dog to comfortably sit, lie down and turn around.
Suspension: Dogs, just like humans, can get travel sick, so choosing a car with good suspension and a steady ride is important. You should get the dog used to the car before undertaking any longer trips.
Safety: Your dog must be restrained while travelling in your car (see below) so make sure that you can fit a pet harness or dog guard into the car. Alternatively, make sure that there's space for a pet crate.
Boot height: If you plan to load your dog into the boot, make sure it's not too high off the ground for them. They can easily damage their legs by jumping out. Alternatively, make sure you can easily lift your dog in and out of the car. Aftermarket ramps are available too.
Windows: Electric windows which can be operated from the driver's seat are essential to provide air for your dog.
Legal requirements
Rule 57 of the Highway Code states: "When in a vehicle make sure dogs or other animals are suitably restrained so they cannot distract you while you are driving or injure you, or themselves, if you stop quickly. A seat belt harness, pet carrier, dog cage or dog guard are ways of restraining animals in cars."
Drivers that fall foul of these laws can also incur steep penalties, and face on-the-spot fines of up to £1,000 if they're deemed to be driving carelessly.
Skoda Superb Estate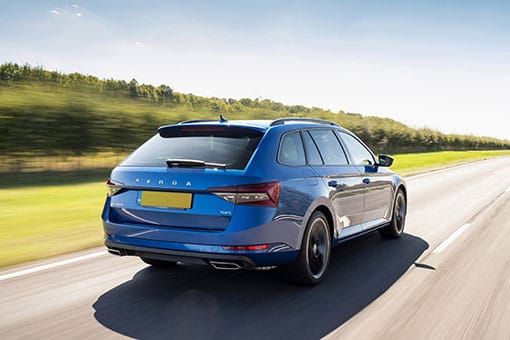 Skoda excels at making incredibly useful and practical cars, and the Superb Estate is its finest example. An excellent family car thanks to its vast amount of cabin space and impressively comfortable ride, both of these factors also make it a great choice when it comes to transporting dogs.
With a huge 660-litre boot, it's the largest of any estate car on sale today, and ideal if you have a huge dog or two or three smaller pooches. We'd recommend a second-generation model, introduced in 2015, which is available with some fantastic diesel engines that are ideal for those doing plenty of miles. Prices for these start from around £9,000.
Find a used Skoda Superb on AA Cars
Honda Jazz
Just because you have a dog, doesn't necessarily mean you want a huge car. A small car with a big boot could be a great option, and one of the best ones on the market is the Honda Jazz.
Though not the most exciting choice, its practicality is very impressive, with the second-generation model (sold between 2015 and 2020), offering a large 354-litre boot, which is a similar size to cars in the class above. A low boot opening makes it easy for dogs to jump in and out while it has an impressive reliability record too. Expect to pay from around £7,500 for a third-generation Honda Jazz.
Find a used Honda Jazz on AA Cars
Mini Countryman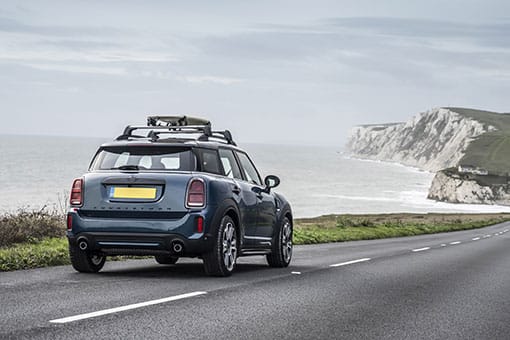 As the largest model in Mini's range, the Countryman is immediately the best model from the brand to appeal to dog owners. But Mini also has a unique asset in the fact that its network of dealers all welcome dogs into showrooms, with the brand being the first car retailer to be supported and approved by Dogs Trust.
But back to the Countryman, which impresses with its surprisingly practical interior and 450-litre boot. It also looks the part, is great to drive and gets a very pleasant interior. Used Countrymans start from around £4,000, but if budgets can stretch to the second-generation model (introduced in 2017) that starts from around £12,500, it's well worth the money.
Find a used Mini Countryman on AA Cars
Citroen Berlingo Multispace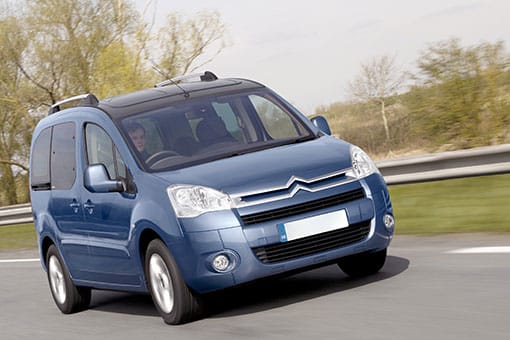 If space and practicality matter above all else, it's hard to beat a van-based people carrier, and one of the best choices over the years has been the Citroen Berlingo Multispace. What it loses in the design stakes, it makes up that with its vast roominess.
Packed with storage areas that are ideal for keeping dog leads and treats out of the way, the boot of the second-generation Multispace (sold between 2008 and 2018) measures a huge 675 litres, even with the seats upright. You'll pay around £4,000 for a 2009 car with 100,000 miles on the clock, and get a lot of car for the money.
Find a used Citroen Berlingo on AA Cars
Toyota Corolla Touring Sports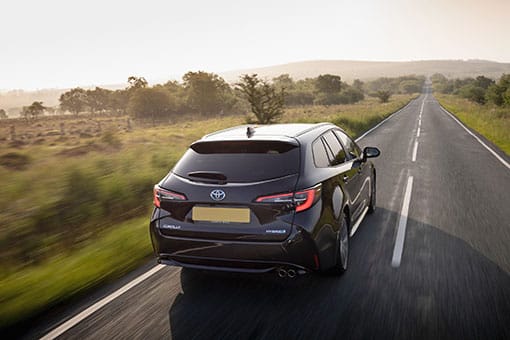 If you're looking for an electrified car to take you and your pets around, it's worth taking a look at the Toyota Corolla Touring Sports. Essentially an estate version of the hugely popular Corolla, the latest car is sold exclusively with a hybrid powertrain, capable of returning up to an impressive 61.4mpg, with CO2 emissions as low as 103g/km.
Yet it remains a very practical model that's ideal for carrying pets, with the boot measuring up to an impressive 598 litres. With all versions coming with loads of equipment and a very comfortable ride, it's a great choice. As it wasn't introduced until 2019, prices remain on the steeper side; starting from £17,000.
Find a used Toyota Corolla on AA Cars
Skoda Yeti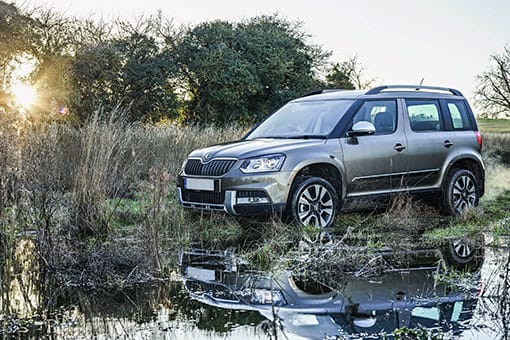 The Yeti was Skoda's first SUV, and even several years after it was discontinued, it remains a very appealing option with a very loyal following. With its funky and boxy design, it stands out on the road, while is also very practical considering its relatively compact (for an SUV) size.
The boot measured a respectable 416 litres, but this can increase to 510 litres once the rear seats are slid forwards. With plenty of glass around the boot, dogs will have a great view out, while you won't have to worry about scratches on the rear bumper thanks to the thick plastic cladding. Used Yetis start from as little as £4,000.
Find a used Skoda Yeti on AA Cars
Dacia Logan MCV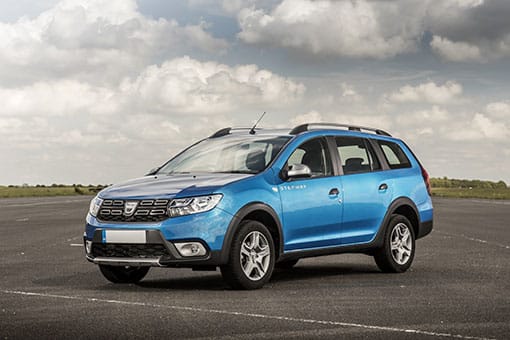 Estate cars don't have to be expensive, and if you're wanting a practical model on a budget, Dacia's Logan MCV is well worth a look. It's another car that won't appeal to those wanting something stylish, but with a huge 573-litre boot, it's an ideal dog-carrying mobile.
With its no-frills interior and exterior, you won't be too worried if it gets a few scratches on it either, while with prices starting from around £4,000 for a 2014 model, it really is terrific value for money.
Find a used Dacia Logan MCV on AA Cars
MG5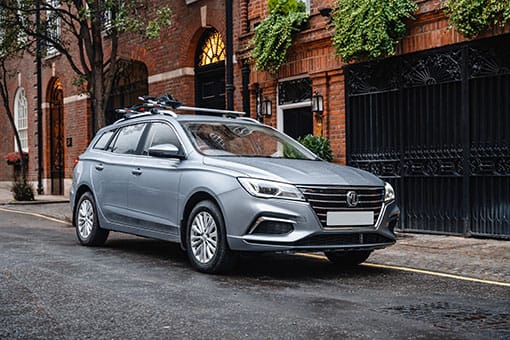 If you want a practical electric car at a more affordable price, the choice is surprisingly limited. One of the best options, however, is the MG5 estate car. Bringing generous levels of equipment, a seven-year warranty and an electric range of up to 250 miles, there's plenty to like.
Though it's not the largest estate car on the market, its 464-litre boot is more than big enough for an average-sized dog. Despite only being introduced in late 2020, the MG5 is available at a fantastic price, with used versions starting from £18,000 – £10,000 less than the price of a new model.
Find a used MG5 on AA Cars
Land Rover Discovery Sport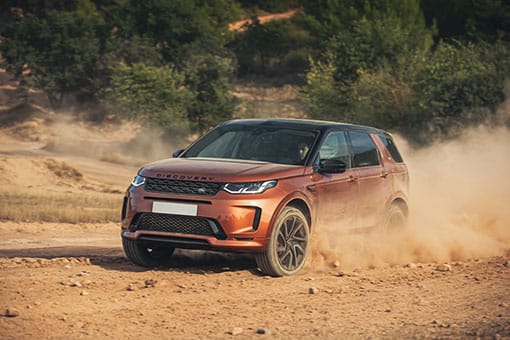 Land Rovers often make fantastic dog-carrying transport, and though you might be tempted by one of the brand's larger models, we suspect the Discovery Sport is more than practical enough for most.
This mid-size SUV still offers a big boot, though the 829-litre load area is exaggerated as - unlike other manufacturers - Land Rover measures up to the roof, rather than the load cover. With a well-built cabin and the brand's impressive off-roading capability, it's ideal if you're wanting to go dog walking away from the beaten track. The cheapest Discovery Sports start from around £13,000.
Find a used Land Rover Discovery Sport on AA Cars
Volvo V60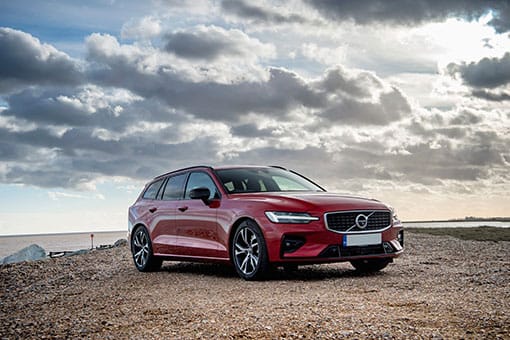 For years Volvo estates have made fantastic cars for dog owners, and though the brand's cars might have moved up the ranks for style and quality, cars like the V60 estate remain very practical. Though this might be the Swedish manufacturer's most compact estate car, the boot still measures an impressive 529 litres.
We recommend the second-generation V60, which was introduced in 2018, as it offers a far sleeker design and a more upmarket and modern interior. It's also very good value for money compared to rivals, with a 2018 car with 80,000 miles on the clock costing from around £15,000.
Find a used Volvo V60 on AA Cars
Prices correct at time of publication [10/2022].