Best affordable convertibles
Looking for a summer drop-top that won't cost a fortune? Here are some great choices.
With the ongoing cost-of-living crisis, the last thing you might be thinking about is splashing out another car.
But if you've got a little surplus – perhaps what you might have spent on a summer holiday – you could put that into a convertible car to use and enjoy over the summer. That's right, while you might consider a drop-top to come with an inflated price, that doesn't have to be the case, with a number of affordable used options available.
Here are the best affordable used convertibles to use this summer, and beyond.
Mazda MX-5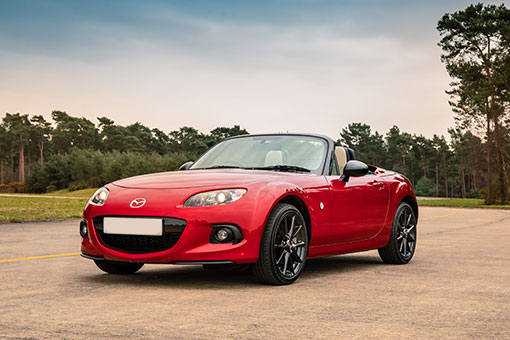 If you're looking for something fun to enjoy over the summer months, it won't get much better than the Mazda MX-5. This is the best-selling two-seat roadster around, so there are plenty for sale.
Renowned for its fun rear-wheel-drive layout, the MX-5 has a good reputation for its reliability and will deliver fairly cheap running costs, at least by convertible standards. Used prices start from around £2,500, but we'd recommend doubling that to get a low-mileage, third-generation model, sold between 2005 and 2014.
Search for used Mazda MX-5s on AA Cars
Audi TT Roadster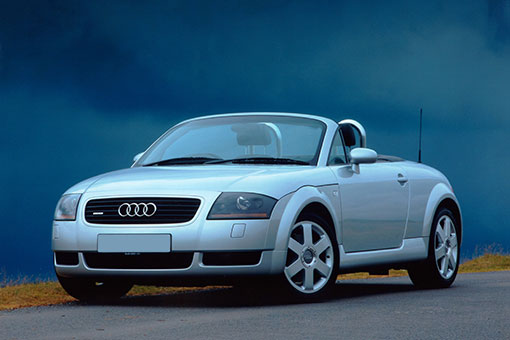 Audi's TT will go down as a design class, and with the production of new models just about to come to an end, now is a great time to buy an example of the original, and arguably best, TT of them all.
Almost 25 years after it first debuted, it still looks modern, while the interior quality is better than plenty of new cars. Used TT Roadsters can be picked up for around £3,000.
Search for used Audi TT Roadsters on AA Cars
Fiat 500C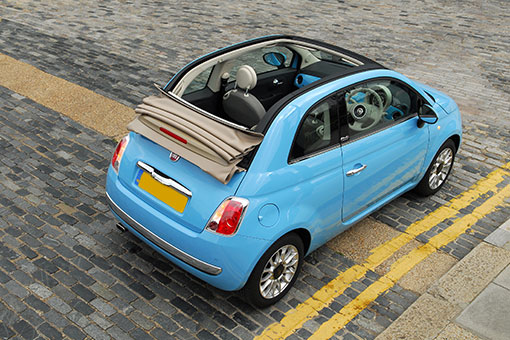 If you want to buy a convertible purely for style purposes, we strongly recommend the Fiat 500C. This small city car is available with an electrically retractable roof, and though it doesn't fold away entirely, you can still get that 'wind in your hair' feeling.
With so much personalisation available when new, there are plenty of vibrantly-specced cars on the market too. Used prices come in from £3,000 for a 2009-registered example, while its small petrol engines will be frugal to run.
Search for used Fiat 500Cs on AA Cars
BMW 6 Series Convertible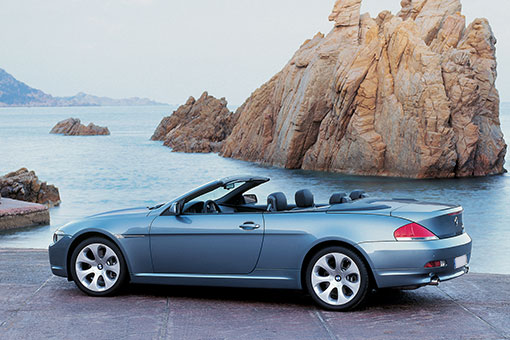 BMW has one of the widest choices of convertibles of any car firm, but here we're focusing on the large 6 Series. When new, this glamorous four-seater would have set you back for more than £50,000, but these days used examples can be bought for just £5,000.
Packing some brilliant engines, the 6 Series is great to drive, a wonderful long-distance cruiser, and is surprisingly roomy by convertible standards. Just be aware that, though cheap to buy, running and maintenance costs will be rather steep.
Search for used BMW 6 Series Convertibles on AA Cars
Mini Convertible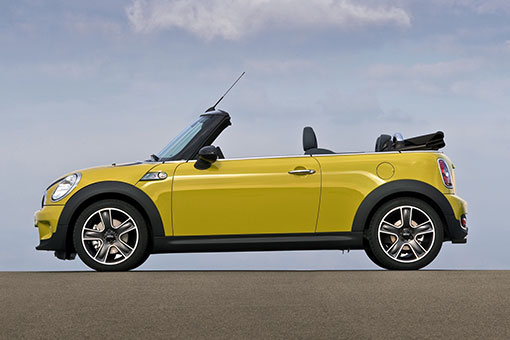 The Mini is another very popular choice when it comes to top-down motoring, with plenty of used Convertibles on offer. If you want something fun to drive and stylish, this is a brilliant choice.
The Cooper S and John Cooper Works models deliver punchy performance, though more sensible diesel engines are offered if you want something a bit more frugal. The cheapest Mini Convertibles start from as little as £2,000.
Search for used Mini Convertibles on AA Cars
Volvo C70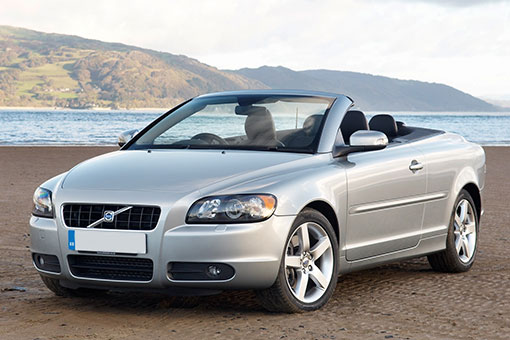 Volvo might be best known for its SUVs these days, but just a decade ago you could buy a convertible from this Swedish manufacturer. Majoring on comfort and refinement, the second-generation C70 (sold between 2006 and 2013) offers a stylish design both inside and out.
It uses a metal-folding hard-top, rather than a soft-top, and – as with any convertible – it's worth checking the roof works and folds as it should. Used prices for a C70 start from an attractive £3,000.
Search for used Volvo C70s on AA Cars
Mercedes SLK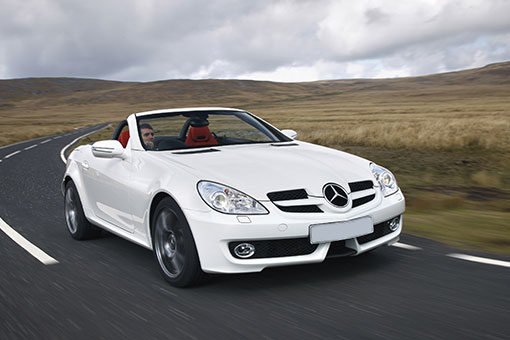 Mercedes is another firm that offers a huge range of convertibles, but the one that gets our vote is the SLK. It's a bespoke two-seat drop-top (with a metal roof) that is good to drive and also remarkably refined, even with the roof lowered.
It's well made and is also available with a broad choice of engines, from efficient diesels to powerful AMG versions. The cheapest first-generation SLKs can be bought for just £1,500, but we prefer the second generation, introduced in 2004. Tidy, low-mileage examples of these start from a reasonable £5,000.
Search for used Mercedes SLKs on AA Cars
Porsche Boxster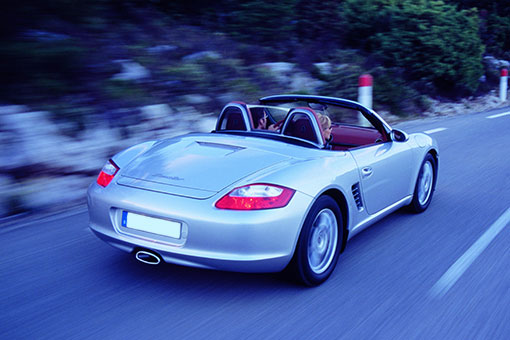 It's quite impressive how cheap you can pick up an example of the used Porsche Boxster roadster, with used prices starting from just £4,500. This Porsche is superb to drive, with its six-cylinder engines really adding to the character. You can also have it for a snip compared to what you'd pay for a 911.
While you'll need to allocate some funds for inevitable maintenance, the good news is that the Boxster is generally fairly reliable by sports car standards.
Search for used Porsche Boxsters on AA Cars
Peugeot 207 CC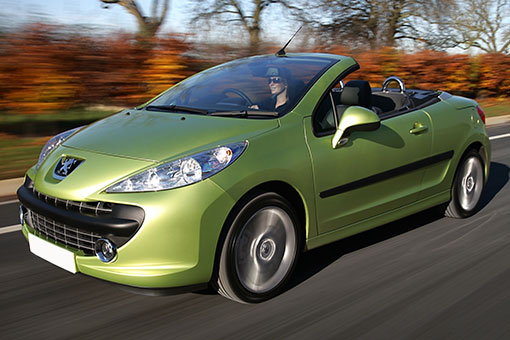 But not every convertible needs to be about outright performance or handling thrills, and if you'd rather have something sensible that you can still enjoy that roof-down feel with, we'd recommend a look at the Peugeot 207 CC.
It still looks quite modern by today's standards, while top-spec GT models come with a full leather interior. If you opt for a diesel 207 CC, it will bring low running costs too. A tidy Peugeot 207 CC can be bought for around £2,500.
Search for used Peugeot 207 CCs on AA Cars
Volkswagen Eos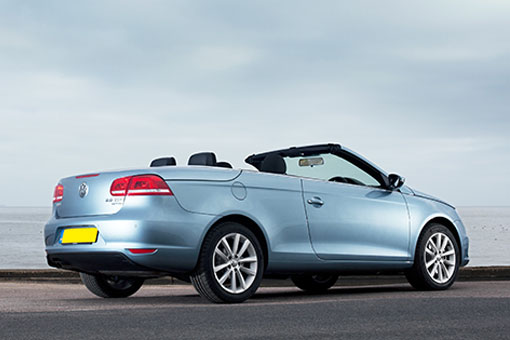 Last but not least we have the Volkswagen Eos – another convertible angled towards more sensible motoring. Sold between 2006 and 2014, it's essentially a drop-top version of the Golf of the time.
The styling is smart, while the metal convertible roof has a built-in sunroof, meaning even when the weather takes a turn for the worse, you can still have an element of a convertible. A wide range of petrol and diesel engines are available too. The cheapest used examples start from just £2,000.
Search for used Volkswagen Eos on AA Cars
Prices correct at time of publication [05/2023].