Best used cars for a road trip
The summer is an exciting time of the year, not least if you're wanting to get out and explore.
There's nothing quite like a summertime road trip for exploration, either, and it's why it's worth planning a trip during the warmer months. Whether it's within your area, further afield in the UK or even overseas, it's something that is definitely a good one to get booked.
But depending on the trip in question, you want to make sure you have the right car for the job. So what are the types of cars you should be looking at for a road trip? Here we take a look at some great options to suit a whole range of buyers.
Mazda MX-5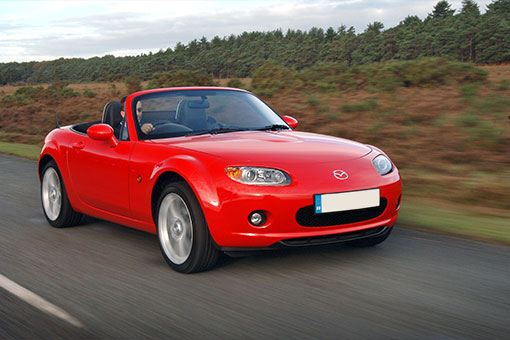 If you're looking for a fun car for a road trip, they don't come much better than the Mazda MX-5. This lightweight, two-seat roadster is an ideal car to use and enjoy over summer, with its agile handling, roof-town appeal and brisk performance really enhancing the appeal.
You'll have to pack lightly with the MX-5, though, as there's really not a lot of room on offer, but with reasonable running costs and a good record for reliability, this Mazda is a sports car that doesn't need to cost a fortune. With used prices starting from around £3,500 for a third-generation MX-5 (sold between 2005 and 2015), it really is a brilliant choice.
Search for a used Mazda MX-5 on AA Cars
Skoda Superb Estate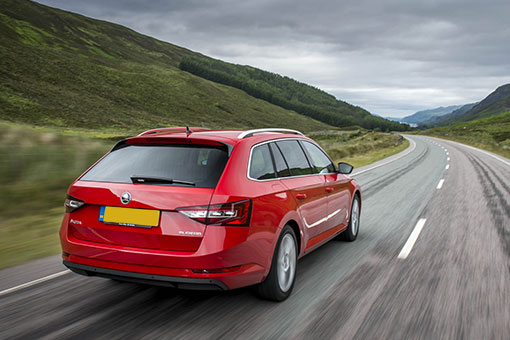 If you're going away on an extended road trip with your family, having plenty of space is a must. In that respect, Skoda's Superb Estate is hard to beat, with its huge 640-litre boot being suitable for most.
It's an ideal car for taking abroad as well, with its comfortable ride and generous equipment allowing the miles to pass by with ease. Diesel versions are also capable of around 1,000 miles from a single tank if you drive carefully. We'd recommend a second-generation Superb, introduced in 2015, with high-spec examples available from around £10,000.
Search for a used Skoda Superb Estate on AA Cars
Volkswagen Caddy Life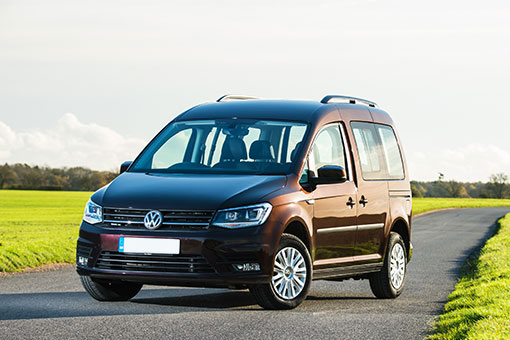 If you want a 'lifestyle' vehicle suitable for a whole range of needs and activities, you can't fault a van-based MPV. One of our favourites is the Volkswagen Caddy Life, a model that's especially popular with surfers.
Available with up to seven seats, the Caddy Life's interior offers a huge amount of space and flexibility, with features like sliding side doors making it a great model for families. It's a popular choice to be wheelchair adapted for those with additional mobility needs as well. Used prices are holding firm, with around £10,000 buying a 2014-registered example of the Caddy Life.
Search for a used Volkswagen Caddy Life on AA Cars
Hyundai Kona Electric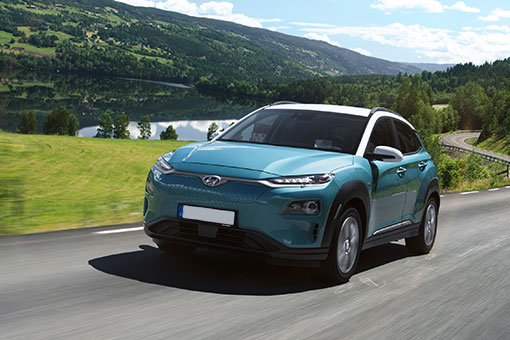 You might think that an electric car isn't really suitable for longer trips, but thanks to improvements in battery technology in recent years, that's no longer the case. One of the most affordable EVs that boasts a long range is the Hyundai Kona Electric, which can travel an impressive (claimed) 300 miles on a charge – enough to get you from London to Newcastle.
With used Kona Electric starting from around £16,000 for a three-year-old example, this Hyundai gets you plenty for your money. The equipment levels are generous too, while you'll still; while the Kona is good to drive and has a smart interior.
Search for a used Hyundai Kona Electric on AA Cars
Jeep Wrangler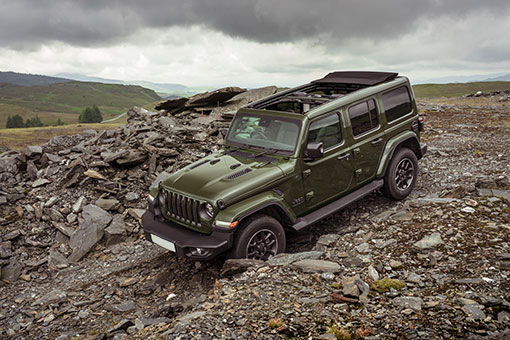 If you're looking for a road trip that takes you off the beaten track, it's worth a look at Jeep's rugged Wrangler. One of the most capable 4x4s available, it's ideal for green laning, which are essentially designated unpaved roads that are completely legal to drive on.
The Wrangler's funky styling makes it one of the most recognisable cars on the road, while it has a whole host of roof options and even a fold-down windscreen for that open-air feel. This is strictly for off-road use, though. This Jeep does hold its value well, though, so a 10-year-old example will still be worth £20,000.
Search for a used Jeep Wrangler on AA Cars
Mercedes-Benz S-Class Coupé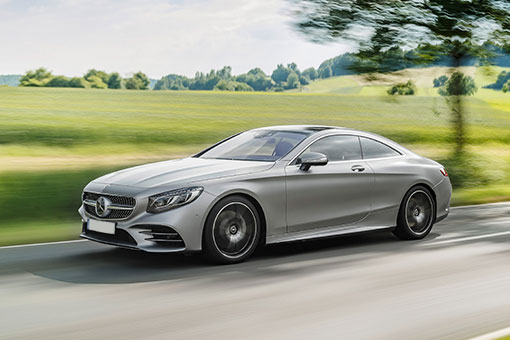 If you're looking to do a cross-continental road trip as quickly, comfortably and effortlessly as possible, the Mercedes luxurious S-Class Coupe is a great option. Bringing an opulent interior, terrific refinement and a silky-smooth V8 engine, it's a fantastic GT car.
While a 2015 S-Class Coupe will cost from around £30,000, this is a fraction of what it would have cost new. We'd just recommend taking out a warranty as any bills could end up being significant.
Search for used Mercedes S-Class Coupes on AA Cars
Land Rover Discovery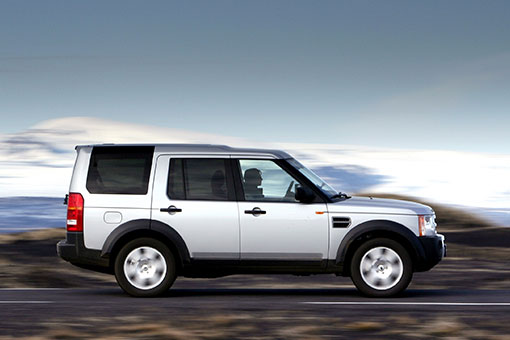 If you want a seven-seat SUV that can take you and your family on a road trip, then you'll want the Land Rover Discovery. Bringing huge practicality (and seating space for seven adults), the Discovery is as accomplished on the tarmac as it is off it.
Whether it's a Discovery 3, 4 or the latest '5', all are especially accomplished models. Prices for these models start from £4,000, £9,000 and £25,000 respectively. Land Rovers don't have the best reputation for reliability, however, so we'd recommend having any vehicle independently inspected before buying.
Search for a used Land Rover Discovery on AA Cars
Volkswagen Golf R Estate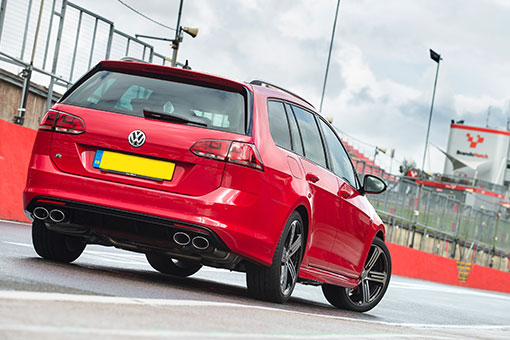 If you want a practical road trip car but don't want to sacrifice driving enjoyment, a fast estate car makes a lot of sense. We're particular fans of the Volkswagen Golf R Estate, which takes this acclaimed hot hatch, but combines it with a bigger boot that makes it ideal for families or if you've got a dog, for example.
Using a 2.0-litre turbocharged petrol engine, it develops 300bhp and enables a 0-60mph time of under five seconds – there's also four-wheel-drive fitted as standard. Prices start from around £16,000 for a 2015 example.
Search for a used Volkswagen Golf R Estate on AA Cars
Mini Convertible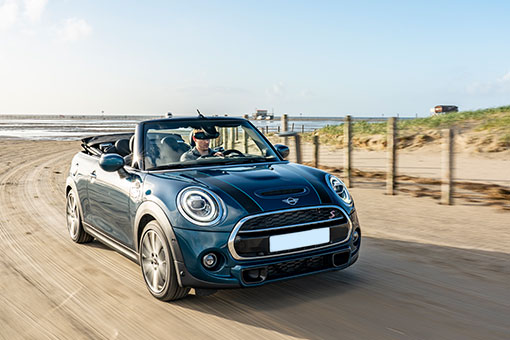 Convertibles often make for great road trip cars, especially over the summer months or if you're heading to a sunnier climate. Another great option is the Mini Convertible – a model that majors on fun and style.
It's great to drive and is also available in a wide variety of engines, from efficient diesels to sporty John Cooper Works petrol models. It can seat four too, though the rear seats are tight of space. A third-generation Mini Convertible, introduced in 2016, is available from around £11,000.
Search for a used Mini Convertible on AA Cars
Ford Mustang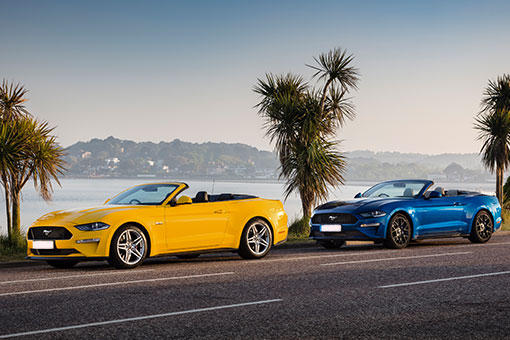 The Mustang is the quintessential American muscle car, and often a favourite hire car for anyone holidaying in the United States. But you can have a slice of America with your road trip in the UK by buying this iconic Ford.
Since 2015 you've been able to get it in right-hand-drive form, and you really want the Mustang with the characterful 5.0-litre V8 engine under the bonnet. Running costs for it will be high, but there's nothing quite like this brutish Ford. You'll pay from around £26,000 for a 2015 example, but this is half the cost of a new Mustang.
Search for a used Ford Mustang on AA Cars
Prices correct at time of publication [05/2023].