Green number plates: What you need to know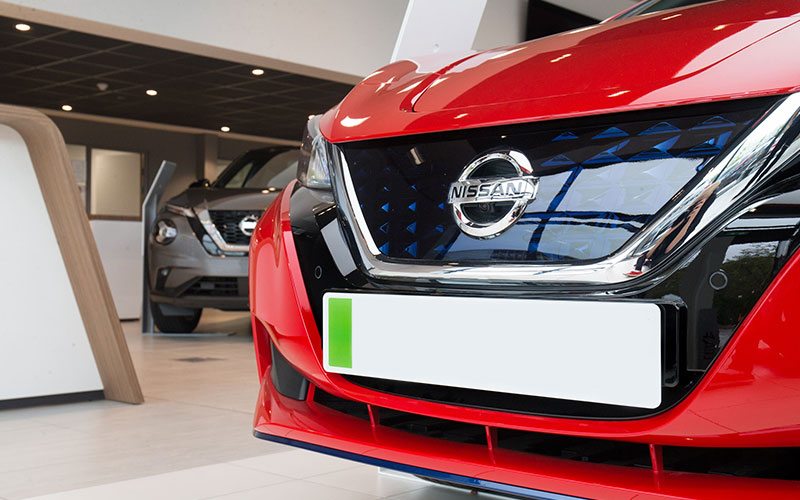 Electric cars are becoming popular in the UK, with the latest figures from the Society of Motor Manufacturers and Traders (SMMT) showing that almost 1 in 6 new cars registered are now electric.
That's only set to keep rising as we race towards 2030 – the date when the government has said that no new petrol or diesel cars can be sold.
Drivers and owners of electric cars are now able to choose a 'green' number plate for their cars. But what are they, and what's the benefit of having one? Let's take a look.
What do green number plates look like?
Despite the name, these number plates remain white at the front and yellow at the rear – just like all number plates used today.
But they feature a green 'flash' at the side of the plate, in the place where you often find a blue 'GB' or 'UK' marker.
Why were green number plates introduced?
You might think they're just for show, but there are a number of key reasons behind them – including raising awareness for drivers, and opening up the possibility of EV-only benefits in the future. These might include free parking and access to low-emissions zones, for example.
When introduced, the government said: "The plates will make it easier for cars to be identified as zero emission vehicles, helping local authorities design and put in place new policies to incentivise people to own and drive them."
When can green number plates be displayed?
The government permitted them for use from December 8, 2020.
Can green number plates only be used on new EVs?
No. Although they've only just been announced, the government has said that drivers of all zero-emissions vehicles are eligible to have a green number plate – so whether your electric car is brand new or 5 years old, you'll still be able to retro-fit the plates. Also, they're not mandatory.
Please note that they are only available for purely-electric vehicles, and should not be fitted to hybrid models, no matter the zero-emissions capability.
Where can I get a green number plate?
If you're buying a new EV, you might be asked by the dealership if you'd like one instead of a conventional number plate. If not, you could ask them to provide one.
If you're an existing EV owner, there are many number plate companies out there, such as Halfords, that are able to produce them. Just make sure that they meet legal standards.