November 2006
Land Rover Freelander 2 HSE TDV6
Bold-looking Freelander takes many design cues from the successful Discovery 3
November 2006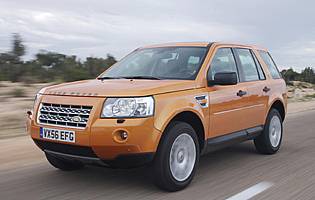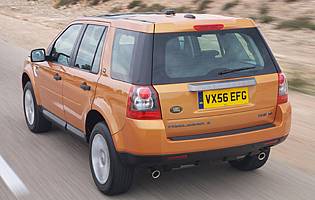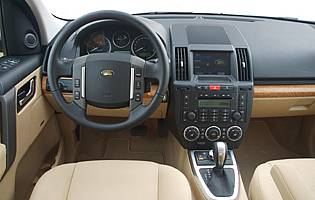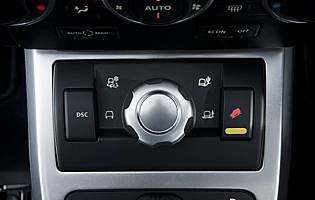 Overall rating

Likes:
Bold styling makes the Freelander 2 stand out from the crowd
Welcome increase in cabin room and boost in quality of materials used
Strong performance from engines, especially the diesel unit
Off-roading ability much improved, Freelander would also make a great tow car
Gripes:
Move upmarket has meant an increase in the asking price
Light coloured cabin wood trim is less than convincing
Steering is a little too light and lacks sufficient feedback at the straight ahead position
Real world fuel economy of the 3.2 petrol engine is disappointing
Although pitched as the entry-level model in Land Rover's line-up, the first Freelander was far more capable off-road than any close rival. It was also good on road, but near the end of its life it lacked the premium, well built feel of the competition. This second-gen car is a distinct step up the premium ladder, and rivals the likes of BMW's X3 for class and build quality. It performs better in every way, and so it should given it's elevated status within the Land Rover fold.
The begining of the 21st century marked a significant change in direction for Land Rover. Its products became more overtly premium in their fit, finish, appearance and asking price. Thankfully this wasn't at the expense of on and off-road performance. If anything, the cars further improved on their already impressive reputations.
And so it is with the second generation Freelander. Now with a '2' at the end of its name, the car might look roughly like the model it replaces but the familiar silhouette is all that remains. A little bigger inside and out and a lot more upmarket, the Freelander 2 moves closer to the bigger Discovery 3 in terms of market position.
New engines, an new all-wheel drive system and the clever use of electronic driving aids should keep the serious Land Rover enthusiasts happy, while the better appointed cabin and wealth of options should appeal to people trading up from conventional compact premium cars.
The result is a car that drives better than of old, feels closer to something from BMW or Mercedes in terms of cabin ambience, and boasts enough street cred to see off the rapidly advancing competition. And best of all, it is more than capable of transporting you safely across challenging terrain in a way that only a Land Rover product can.
Our verdict on the Land Rover Freelander 2 HSE TDV6
The Freelander 2 is certainly bigger than its predecessor, and thankfully it's also better. The move upmarket has been a successful one in terms of the car's performance and cabin ambience and overall levels of refinement. It doesn't fail to impress off-road either, thanks to strong engines and a clever transmission system. The move upmarket has seen a price increase, though.
Costs
An increase in size and a significant boost in quality and standard equipment has meant a rise in the Freelander's asking price. Choosing your optional extras carefully - few will greatly influence the car's residual value - and opting for the more frugal diesel varaint will help matters. Quality improvements should see servicing as nothing more than routine, and not unexpected and expensive as was sometimes the case in the past.
Space and practicality
The car's slightly larger cabin dimensions are welcome, as head, leg and elbowroom all round is good - especially so in the now more comodious rear. There are also a useful number of storage areas in the cabin, especially the capacious box under the front armrest. At the rear, the back seats fold flat to further extend the load space and the tailgate opens high and wide for easy access, although it does require a hefty pull to shut.
Controls and display
Much of the Freelander's controls and displays are similar to those found in the Discovery 3 and Range Rover Sport. Classy, minimalistic dials and lots of black plastic combine to promote a 'utility-chic' appearance. The car's mainly black central area houses the audio and ventilation controls - the former located higher than the former. Topping these is the colour display that can double as the touch screen sat-nav - itself an object lesson in clarity and ease of use.
Comfort
Once you've got into the Freelander's cabin, the car's seats are pleasingly supportive - especially so if you ever decide to venture off-road onto rough ground. Back on the road, the only obvious noise is a small amount of wind and tyre noise. The diesel engine can clatter a little when cold, but this disapears once it's warmed up.
Car security
You get the usual security measures with the Freelander: remote central locking plus and alarm and imobilisor package. While likely to be more than adequate, a visible device such as a steering lock or even a tracking device if you plan on owning a high-spec varaint would increase peace of mind and, in the case of the latter, could reduce your insurance premium.
Car safety
All the major systems are present in the Freelander, such as traction and stability controls. Remember, these have also been tuned to provide assistance off road, along with the car's full-time all-wheel drive system. The Terrain Response facility could also be viewed as a safety device in extreme off-road conditions. Elsewhere, the cabin boasts seven airbags - including one for the driver's knee area.
Driver appeal
Save for BMW's X3 and X5 models, 4x4s are rarely famous for their on-road abilities. The BMWs sacrifice off-road capability but this is not something Land Rover can obviously do. Although the Freelander boasts a high ground clearance, it resists pitch and roll well when driven on road. Both petrol and diesel engines are good, though the diesel makes the most sense financially thanks to its superior fuel economy. Grip levels are high thanks to the car's intelligent permenant all-wheel drive system, and the inclusion of a cuto-down version of the Discovery's Terrain Response control means different conditions (mud, gravel, sand etc) can be dialled in to improve off-road performance. And for a 4x4 without a traditional low-range gearbox, the Freelander never feels out of its depth.
Family car appeal
While no people carrier, the Freelander works well as a family car. More of a spacious, high-rise hatch, the car boasts plenty of room for the average size family. The optional rear audio system will be a boon on long journeys, and the car's go-anywhere appeal with no doubt attract buyers with an active lifestyle.
First car appeal
In simple terms the Freelander is an easy car to drive, its controls are light and visibilty is good from the lofty driving position. It's not a cheap car to buy and, in petrol form, cheap to run. Parking and manouvering the Freelander in tight spaces is likely to challenge a novice driver.
Quality and image
Brand image has always been a Land Rover strong point, but of late build quality hasn't been as strong. This second generation Freelander aims to address this, and there's no question that what you can see and touch is better than before. Time will tell if mechanical reliability is as robust although initial impressions are good.
Accessibility
As with any 4x4, you will have to climb up to gain access to the cabin. The Freelander is a little less car-orientated than some because it remains a 'proper' off-roader, which will mean more of a stretch for less able bodied occupants. The same is true when you get out - there's more of a pronounced step down than with certain rivals. At the rear, the car's high ground clearance pays off as the boot floor is near waist height, making loading and unloading heavy items easy.
Stereo and ICE (In car entertainment)
The standard fit radio and CD player combination works well and the unit is placed high up for ease of use - the steering wheel controls are most welcome. Numerous options exist, include CD changers, better amplification, rear seat audio connections and a full-colour touch screen sat-nav. The latter is very impressive, is easy to programme and quick to respond to route changes.
Colours and trim
The car's trademark bright metallic orange exterior colour certainly helps it stand out, but the various other darker hues suggest a more premium feel and will no doubt better asssit the Freelander come trade in time. Inside, numerous trim combinations exist, and again it's the darker options that work the best, be they leather or fabric - that also goes for the fascia trim, as the light wood option isn't terribly attractive.
Parking
Although a big car by family hatch standards, the Freelander is no more difficult to park. The lofty driving postion helps, as does the light steering. The car's large side mirrors prove very useful, while the spare wheel has moved from the tailgate to give a better view rearwards. Predictably, parking sensors are also a big help.
Spare wheel
Spare wheel is located at the rear underneath the car.
Range information
Engine range: 2.2-litre TD4 diesel (160PS); 3.2-litre i6 petrol (233PS). Six-speed manual fitted as standard to TD4, six-speed auto fitted to i6 petrol - optional on TD4. Trim levels: S, GS, XS, SE, HSE (diesel); GS, XS, SE, HSE (petrol).
Alternative cars
Honda CR-V Latest CR-V is well built and refined but no match for the Freelander off road
BMW X3 Boasts powerful brand image and welcome revised exterior styling. Not bad off road but pricey
Hyundai Santa Fe Cut price alternative is well built and good on road. Boasts spacious cabin and is well equipped
Toyota RAV4 Another upmarket Freelander alternative but obviously biased for road use. Styling is a little unadventurous