August 2014
BMW X4 30d M Sport
X6-inspired styling gives impression of size and substance
August 2014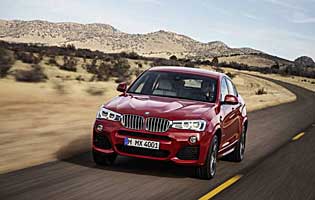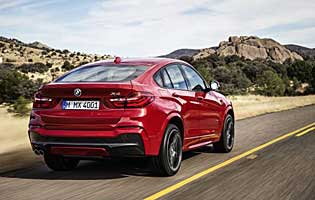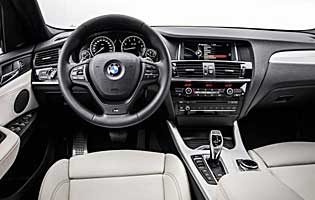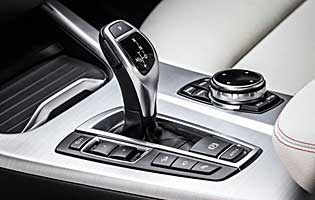 Overall rating

Likes:
Chunky feel to the seats and control points emphasises bulk and substance
Smooth diesel engine and automatic gearbox provide relaxed driving manners
Good level of standard equipment on all models
High-quality interior materials
Gripes:
Reduced rear headroom compared to the X3
Boot lip is high and makes loading heavy objects harder
Dull steering and uninspiring handling characteristics spoil sporty image
Switchable driving modes don't influence the experience as much as hoped
Following the extended success of the X6, which fused a large SUV body with a coupe-style roof line and a bias towards performance and handling prowess, BMW has brought the same formula to a smaller model; the X4. It is designed not just to be smaller, but easier to drive while directly transplanting the X6's visual appeal.
The recipe for designing the X4 was simple. The X6, which is based on the X5's chassis, has been even more popular than BMW had dared hope, so a smaller, more financially accessible model should also sell well. The X4 takes the mid-sized X3's platform and then echoes the X6's looks with imposing panels and a sloping roof line.
In a sector where the German manufacturers and their rivals are focusing a lot of attention at the moment, the X4 finds itself with stiff competition in the form of Porsche's Macan and the Range Rover Evoque. Its sporting bias is evident in its two trim lines; xLine and M Sport, but its driving dynamics will come under scrutiny.
It attempts to separate itself from the X3 not just by looks, but in equipment and price, too, costing several thousand pounds more but coming as standard with several high-value extras as standard, like a powered tailgate. The changes are designed to make it as easy as possible for BMW to market the X4 as a more premium choice.
The X4's more socially acceptable proportions will open up a new spectrum of buyers, for whom the X6 may be just too much. A lower entry price is also important for buyers looking for this kind of style. BMW predicts very little cannibalisation of X3 sales and sees the vast majority of buyers as new to the brand.
Our verdict on the BMW X4 30d M Sport
The X4 takes a proven formula and introduces it to a sector that is rapidly expanding. It cannot match the levels of handling and driver involvement set by the X6, and actually falls quite short in those areas, especially compared to certain rivals, but ultimately the slightly reduced practicality of the X4 when compared to the X3 will be a price many buyers are willing to pay.
Costs
Despite being more expensive, the extra standard equipment the X4 gains over the X3 makes it worth the money for buyers who simply prefer the looks. There is little need to add much from the options list, either, which keeps the purchase price lower. Fuel economy will not be particularly good, despite the official figures, but should be acceptable to most people who have previously owned a similar car.
Space and practicality
The X4 suffers a 50-litre loss in boot space compared to the X3. Its boot floor is raised further up, which cuts down on potential stacking space and makes it more difficult to lift large items in and out. Space for drinks in the cabin is initially hidden, but is revealed with the sliding or folding of trim elements.
Controls and display
A large central control screen is standard, linked to BMW's iDrive controller on the centre console. It's a very neat and intuitive system for the most part, and prevents the problem of fingerprints on touch-screen interfaces. The BMW-typical indicator stalk, which automatically returns to its 'off' position even when given a full press, may take a little time to get used to for people not familiar with the brand's cars.
Comfort
The X4's large and supportive front seats provide excellent comfort, partly thanks to the huge array of adjustment on offer. Lumbar support, seat base angle and all the more typical settings are provided with wide movement ranges. Rear passengers might feel a little too enclosed for comfort as the roof and narrow glass elements draw the space in, but in truth there's plenty of leg and shoulder room.
Car security
The remote central locking locks the fuel filler cap and the boot, helping to prevent theft of fuel or personal possessions. A Thatcham Category 1-certified alarm is standard, and BMW's latest immobiliser technology is among the most advanced in the automotive industry.
Car safety
Every item of safety kit that BMW could add to the X4 has been, so as well as the more typical systems it has automatic brake drying technology for wet weather, heated windscreen washer nozzles for better screen clearance and active systems that can brake individual wheels in the event of a destabilisation on the road.
Driver appeal
The X3 is not known for any particular dynamic acuity, and the X4 inherits the same numb steering, unresponsive handling and sometimes-unpleasant sense of mass while cornering. The muscular engine and smooth-shifting gearbox make relaxed driving enjoyable, but the relatively small perceptible differences between the four driving modes are frustrating.
Family car appeal
The intricately trimmed leather seats may trap spilled food and drink in hard-to-reach places, which is bad news for parents. Child seats can be installed safely, though, thanks to Isofix child seat mounts on the outer two rear seats, and the front passenger side airbag can be switched off for when carrying a rear-facing child seat. The broad boot area could be considered family-friendly, but ultimately the X3 is a better choice for parents.
First car appeal
While a BMW might well be on the dream shopping lists of many first-time car buyers, this is a poor choice for a number of reasons. It is large compared to a typical learner supermini, much harder to park accurately and, with a prolonged press of the accelerator, much faster. Financial considerations, though, will put the expensive X4 well beyond reach for most new drivers.
Quality and image
In no way does the X4 feel like a cheap alternative to an X6. The materials quality, particularly of the leathers and interior plastics, is outstanding. It is likely to benefit from its larger cousin's attention-grabbing image, and while some people may be put off by that, others will be won over by the new availability of a sportier, sleeker alternative to an X3.
Accessibility
Stepping up into the front of the X4 is easy and requires little in the way of bending at the knee. There is also plenty of room to get settled in the back, but the lower roofline does impinge on headroom when getting in and out. Tall adults may want to stick to the front seats, where even people of seven feet tall should find enough room. An automatically opening powered tailgate is a useful addition for when carrying bags.
Stereo and ICE (In car entertainment)
As standard all X4s have CD/radio, DAB digital radio, USB and Bluetooth capability, including audio streaming compatibility. The 'BMW Professional' media system is controlled through the central iDrive controller. The company can also provide specially made brackets for full-size iPad models, which allows them to be set up directly behind the front seats as viewing screens for rear passengers.
Colours and trim
BMW offers a predictable range of colours for X4 buyers to choose from, centring on black, silver, grey and white but with dark blue and red as well. Dark grey and blue look good on its shape, while on the inside there is a very appealing spectrum of colours for the leather upholstery, spanning white, black, grey, beige and brown, sometimes with contrasting stitching. The fit and finish is excellent.
Parking
The rising shoulder line and high window level in the X4 do count against it in terms of rearward visibility, and it's sometimes tough to know where the front corners are. The X4 includes parking sensors at the front and the rear to help drivers judge distances, but a reversing camera is not present. The body is large, but in car parks it feels somewhat smaller and wieldier than the X6.
Spare wheel
Run-flat tyres fitted as standard.
Range information
Diesel engine options - 2.0-litre (187bhp), 3.0-litre (255bhp, 309bhp). Transmission options: six-speed manual gearbox (2.0-litre engine only), or Steptronic auto gearbox. Trim levels: SE, xLine, M Sport.
Alternative cars
Range Rover Evoque Polarises opinion and suffers from terrible outward visibility, but good to drive
Porsche Macan Diesel version combines impressive handling with acceptable fuel economy
Audi Q5 Straightforward SUV provides practicality and understated style
Mini Paceman Smaller and cheaper, but features broadly the same ethos as the X4