May 2005
BMW 7 Series 730d Sport
On the road the Seven is a surprisingly agile performer
May 2005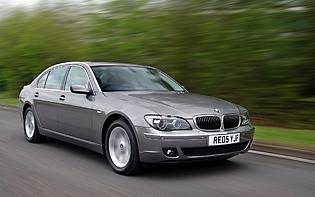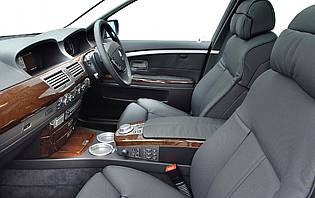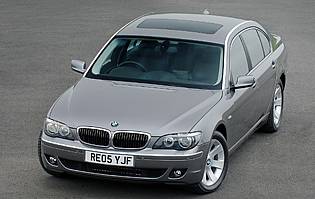 Overall rating

Likes:
Surprisingly sporty for its size
730d variant delivers strong acceleration and decent fuel economy
Level of standard equipment is higher than you think
Roomy cabin offers a relaxing environment for long drives
Gripes:
Rear legroom could be better in the standard wheelbase car
iDrive remains an acquired taste and could be simplified further
Electric seat controls are less than intuitive
Although revised, exterior styling is still controversial
It caused jaws to drop and babies to cry when it was first launched in 2002, but since then BMW's radical 7 Series has made a lot of friends. If you can steal yourself to look past the car's challenging styling, you'll find an executive car bursting at the seams with high-tech engines, sports saloon-like handling and a level of standard equipment that's very un-BMW-like.
For a car that many people profess to not liking, BMW's 7 Series has done rather well since its launch. So well, in fact, that you probably no longer give them a second glance when you're out. Oh all right, maybe just one glance - it is rather striking after all.
There's more to BMW's flagship saloon than meets the eye, however. This is a car that stays true to its maker's 'ultimate driving machine' ethos despite its size and role in life, and one that packs some of the most fuel efficient engines in the upper premium sector. Combine all with a cabin chock-full of buttons, gadgets and that controversial iDrive controller, and it's hardly surprising the car has remained a talking point long after its launch.
And while other cars in this class display more conservative faces, BMW should be applauded for sticking with its trend-bucking motor. Backing out was never an option considering that subsequent models received similar treatments. It took until 2005 before the German firm decided to soften the Seven's stern looks, but the fruits of BMW's labour goes further just than skin deep.
More powerful diesel and petrol engines highlight BMW's commitment to being the performance champion in this class, while detailed improvements to standard equipment levels and the way the car drives have helped to make the Seven appeal more to an even wider audience. Some things never change, though: the list of optional kit is still longer than your arm and the iDrive system still requires a substantial chunk of your grey matter.
Our verdict on the BMW 7 Series 730d Sport
Despite the 2005 model improvements, BMW's 7 Series remains a car that you either love or loathe. If you like gadgets you'll like the Seven. Its operation depends on you being more than a little techno savvy. Take the time to learn its quirks - of which there are many - and the rewards are there for the taking. Keen drivers will love the way it responds with a level of enthusiasm that belies its size. You can also do the regular limo 'thing' and just waft about. Proof, then, that there's more to this car than meets the eye.
Costs
The Seven is never going to be a cheap car to own and run, but opting for the excellent diesel option will help matters considerably. Insurance costs aside, maintenance should comprise only routine servicing - something that can be done through a fixed price scheme. You might be slightly disappointed by the resale values though, as few cars in this sector manage to retain large chunks of their original asking price for long periods of time.
Space and practicality
The good bits include plenty of room for front seat occupants and a mind-boggling range of seat and steering wheel adjustments. The car's boot should prove plenty big enough for most excursions - even those to the golf club - while the front centre armrest doubles as a cavernous cubby. The only real gripe is the relatively modest amount of legroom in the back of a standard car - in contrast, the long wheelbase versions are positively palatial. However, the Seven is no family car in the real world sense and its boot won't swallow awkward items and the interior fittings are too good to be abused by boisterous children.
Controls and display
A subject that has provoked both positive and negative comments, the car's various controls do take some getting used to. The now infamous iDrive has been further improved, but still comes with a steep learning curve - the colour screen is very nice, though. That said, once you've set up the car's basic functions you don't have to use it day-to-day. The basic ventilation controls are pretty straightforward, although the bulk of the audio controls are accessed via the iDrive. The car's column-mounted gearshifter could be less fiddly, as could the various buttons for the electric seats. At least some minor controls are duplicated on the steering wheel, even if the various column stalks prove confusing at first.
Comfort
The 7 Series and can waft along if you want it to, but the ride quality can't quite match that of a Lexus LS or jaguar XJ. That said, the Seven won't roll as much as the Lexus, ensuring occupants are better catered for around town and on A-roads. Noise levels are very low, with only the diesel making itself heard when pushed hard. The cabin is big enough to accommodate four large adults with ease, although a long-wheelbase car will do an even better job. Getting comfortable isn't difficult thanks to the supportive seats, although figuring out the various controls can take a while.
Car security
Standard fit on the Seven is remote central locking plus a comprehensive alarm system. The usual options - blinds and privacy glass - will help to shield you from the gaze of undesirable onlookers, while a keyless access and ignition option means you won't have to spend time fumbling for the remote fob on a dark night. Highly recommended is a dealer-fit tracking device, which will help the authorities recover you vehicle after a theft.
Car safety
A vast number of electronic aids ensure that the Seven will rarely step out of line, although when it does the resulting corrections can feel jerky and harsh. It's still better to have the features on board, though. Inside, the cabin gains driver and passenger airbags plus fore and aft head and side airbags. From early 2005 all Sevens also gained as standard powerful Xenon headlamps. Isofix child seat mountings are, surprisingly, optional across the range.
Driver appeal
BMWs have always been pitched as sporting vehicles and the 7 Series is no different. Despite its size, it's one of the most agile and rewarding to drive cars in the luxury saloon sector. Unlike Jaguar's XJ and Mercedes' S-Class, BMW sacrificed a little of the 'magic carpet' sensation as it pursued perfection, but the overall experience is noticeably more refined than Audi's sometimes harsh-riding A8. In the real world, the Seven dispatches motorways with ease and feels exceptionally nimble around town. The smooth-shifting auto gearbox and exceptional engines help its cause, with the gusty 3.0-litre diesel and 5.0-litre petrol V8 both proving impressive. Handling packages include sports suspension and a computer controlled set-up that reduces roll.
Family car appeal
You won't find swivelling or folding seats in the 7 Series, but you will find levels of refinement and equipment that can't be found in even the most expensive of people carriers. And, if you don't want to join the 4x4 set on the school run, the Seven can make a surprisingly sensible alternative. This car is really more for the grown up family, as you wouldn't want to let pre-school children loose in a car boasting leather upholstery.
First car appeal
In a word, no. The 7 Series is a big, expensive car that requires more than a few minutes of acclimatisation before you can set off. It's no slouch, either. The car's considerable running costs should be enough to put off all but the richest of novice drivers.
Quality and image
As a company, BMW possesses a strong positive brand image. It's worked hard to cultivate a loyal following, and previous Sevens have helped to reinforce the company's conservative outlook. When first launched, the current model changed all that and not everyone was impressed. That said, the initial shock subsided and it has sold in significant numbers. For some the car's high-tech side has proved more than a little off-putting, though. Build quality is good - as you'd expect - but some critics have noted that selected cabin materials could be better. That's certainly true of some the light coloured plastics.
Accessibility
There are no problems getting into the front part of the cabin - the car's doors open wide, the seats are wide and accommodating and, when programmed, the steering wheel moves out of your way when you exit the vehicle. Rear seat occupants don't quite get the same experience, but it's rare that a passenger would feel short-changed. Of course, choosing a long-wheelbase car will change all that, as the difference is considerable.
Stereo and ICE (In car entertainment)
Standard fit on the entry-level Seven is a radio/single CD package with six speakers. This is controlled largely though the car's iDrive - which can be a little tedious at times - or via buttons on the steering wheel for the basic functions. SE/Sport spec cars add voice control, a telephone handset, sat-nav and a larger iDrive screen. V8 petrol models gain a better quality audio unit and a CD changer located in the glovebox. V12 petrol variants gain further improvements to the audio set-up, while options include a digital-ready TV tuner, DVD entertainment system and separate screens and audio provision for rear seat passengers.
Colours and trim
It's a predictable observation, but an astute one nevertheless; the 7 Series really does look good in BMW's trademark metallic silver hue. The lighter colours help show off the car's complex lines, while black gives the Seven a more sinister personality. Choices for the interior are varied, with an all black cabin feeling the most oppressive. Lighter fabrics, wood trim and upholstery emphasise the car's roomy cockpit, but some materials don't look that expensive in isolation.
Parking
The Seven is a big car, but with the help of the its generous side mirrors and the standard - yes, standard - parking radar, it's not long before you become confident slotting the car into parking spaces. BMW should be applauded for including parking sensors, as not all cars in this price bracket are similarly equipped. At slow speeds the Seven's steering requires little effort, and the smooth gearbox makes manoeuvring almost stress-free. Almost fuss-free because the car's stubby column-mounted gearlever doesn't like shifting between Drive and Reverse in a hurry.
Spare wheel
Full size spare fitted as standard.
Range information
Four petrol variants: 730i (258bhp); 740i (306bhp); 750i (367bhp); 760i (445bhp) and one diesel variant: 730d (231bhp). All cars come with a six-speed automatic gearbox. Trim levels are base and Sport, with SE reserved for the 730i model. Petrol variants can also be had in long wheelbase trim.
Alternative cars
Jaguar XJ Conservatively styled but built from high-tech aluminium - good to drive, too
Mercedes-Benz S-Class Remains a popular choice and is a great all-rounder
Audi A8 Over-firm sporty bias takes the edge off an otherwise well executed luxury saloon
Lexus LS430 Outstanding levels of refinement, but not a great looker. Well equipped, though