BMW 3 Series Saloon 320d Sport
Updated interior pleases the eye
March 2012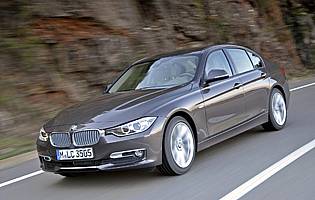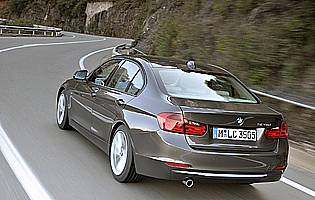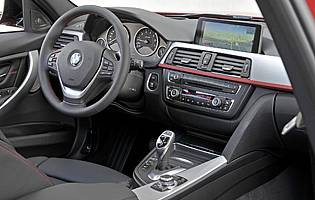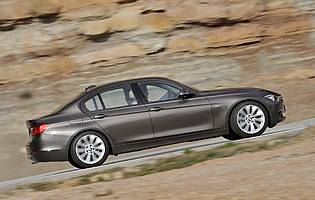 Overall rating

Likes:
Updated interior layout is more pleasing to the eye
Cabin ambience and overall refinement is impressive
Balanced handling and ride comfort is hard to beat in this sector
Engine developments make for a rewarding and wallet-friendly experience
Gripes:
Entry-level models could do with an equipment uplift
Electric power steering will be an acquired taste for some keen drivers
Light exterior colours are not that flattering
Purists will bemoan the switch to turbo four-cylinder petrol engines
No one could have predicted how important the 3 Series would be to BMW's bottom line when it first appeared over three decades ago. Times have changed, and the latest incarnation is being touted as the most refined and desirable variant to date. The competition is tough, ensuring that the 3 Series has a fight on its hands.
It's a rare thing for a specific model to reach such a ripe old age, but such is the staying power of the 3 Series that it's become a staple of BMW's line-up. A favourite with company car users, recent advances have seen considerable cuts in fuel consumption and emissions performance.
As is the case with so many new cars, this 3 Series is bigger, more refined and generally better equipped than the model it replaces. BMW has addressed criticism over the lack of rear legroom while the inclusion of fuel-saving electric power steering will, predictably, be viewed cautiously by keen drivers.
Be under no illusions though, as to the pressure the 3 Series is under, as competition in this market segment has never been so tough. Mercedes, Audi, Lexus, Volkswagen and others all want a slice of the action. In its favour, the 3 Series continues to offer the much-vaunted rear-wheel drive layout, plus a continually improving premium cabin ambience and an impressive range of frugal yet powerful engines.
As a result of this progress, the 3 Series is a hard act to follow. For some, the car's increase in size makes it more appealing as a premium family saloon, while for others the new generation of diesel engines will result in a lower company car tax bill.
Our verdict on the BMW 3 Series Saloon 320d Sport
It's true that keen drivers might sense a 'rounding off' of the old car's corners as BMW moves to broaden the appeal of its compact premium saloon. The result is a more neutral handling car that requires a concerted effort to unlock its full potential. What is clear, though, is that this balanced character, combined with BMW's latest family 'look' is proof that the German firm continues to produce class-leading executive cars.
---
Costs
The 3 Series occupies the middle ground in the premium saloon class. With its broad range of engines and trim levels there's something for everyone's budget. High mileage users opting for diesel power benefit from low consumption and emissions plus the resulting tax savings. And despite the car's popularity it remains a good investment, although that does depend on what cost options you select.
Space and practicality
Like an increasing number of cars, this 3 Series has grown slightly over its predecessor. The result is a welcome improvement in rear legroom, and the car's boot is also a good size. In the cabin there's sufficient oddment storage space, and some of it is covered for added peace of mind.
Controls and display
BMW's various instrument and displays have steadily evolved over the years, and this 3 Series presents occupants with a classy set of intuitive controls. The infamous -Drive controller remains for the heavily lifting, but like the rest of the car it's much improved. If selected, the widescreen sat-nav option does make life much easier for navigation duties.
Comfort
Along with a more premium-focused cabin comes improved refinement and comfort. That latter is thanks in part to a little more room for rear seat passengers. Supportive seats and minimal noise intrusion from the outside – tyres, wind – also helps.
Car security
The default set-up for the 3 Series is very much like most other cars in this class. The remote locking function is a simple and discrete one, while the car's saloon body ensures that your valuables can be locked out of sight for added peace of mind.
Car safety
Like pretty much every car in this sector the 3 Series comes with a generous array of standard fit safety kit. The car's electronic stability and traction controls are unobtrusive but work well when required. And with enough airbags to fill the whole cabin, the level of occupant safety is reassuringly high.
Driver appeal
With the option of user adjustable suspension settings as part of a more comprehensive dynamic mode function, the 3 Series can easily be tuned to a driver's individual tastes. Whoever, even in plain vanilla specification, the 3 Series is a balanced and impressively polished performer, be that on twisty B-roads or coping with poorly surfaced urban streets. The switch to electric power steering is obvious, but rarely detracts from the driving experience. Engine-wise, BMW has replaced many six-cylinder units with, in petrol form, turbo four-pot motors. The aural satisfaction might be missing, but there's no denying the efficiency gains. It's business as usual for diesel fans, as the engines are both more powerful and frugal than before.
Family car appeal
The traditional four-door saloon is not best placed to rival the more practical MPV class of cars. Isofix mounting points are present, but the modest rear door aperture can make life difficult. Boot space is also particularly rigid, and can't compete with, say, an X1 or X3. That said, for an undemanding mature family the five-seat arrangement does work.
First car appeal
At first glance the 3 Series would be an easy car for a novice to handle. The various controls and displays are easy to comprehend and visibility from the driver's seat is good, making it s a straightforward machine for first time company car drivers. And for a premium class car running costs are manageable, too.
Quality and image
BMW has worked hard on its image over the years, with the main focus on its cars' driving performance. This approach has softened of late as the firm seeks to broaden the appeal of its products. An increased focus on fuel economy and reduced emissions has earned it praise and helped boost sales at a time of rising car ownership costs.
Accessibility
In four-door saloon form this 3 Series has grown slightly over its predecessor, with the most obvious improvement being easier access to the rear seats. Up front it's much the same as before, while the car's rear load lip is of a reasonable height not to hinder the loading and unloading of heavy or bulky items.
Stereo and ICE (In car entertainment)
As the 3 Series has evolved so has its audio kit. These days the default unit does a good job on all fronts – usability and sound quality. Move up to sat-nav and you can have a car with a wide screen display and a much improved i-Drive controller. Bluetooth phone functions are straightforward, as is the ability to connect an Apple device.
Colours and trim
Predictably, even with its new clothes, the 3 Series looks best in sombre, metallic hues – it's all part of that executive image. Taking a restrained approach with the cabin is also the best option, as BMW's efforts to attract the youth vote have resulted in some interesting wood-related trim options that are probably more at home in a Volvo.
Parking
Being a saloon, it's always necessary to take care when reversing due to the added unseen length of the car's boot. Parking sensors, where fitted, will make life easier. Elsewhere, the car's steering delivers plenty of assistance at low speeds, while forward visibility is good.
Spare wheel
Run flat tyres fitted as standard.
Range information
Petrol engine options – 320i (184bhp); 328i (245bhp); 335i (306bhp) petrol. Diesel engine options – 316d (116bhp); 318d (143bhp); 320d Efficient Dynamics (163bhp); 320d (184bhp). Transmission options: six-speed manual transmission plus eight-speed auto transmission depending on engine choice. Trim levels: SE, Sport, Modern, Luxury, Efficient Dynamics (320d only).
---
Alternative cars
Mercedes-Benz C-Class Not overtly sporting but a good all-rounder
Volkswagen Passat Punching above its weight in this class – keen drivers should look elsewhere though
Audi A4 Fierce rival and constantly improving alternative to the 3 Series
Lexus IS Left-field choice for some but offers good value although diesel could be better