ULEZ expansion: What it means for car dealers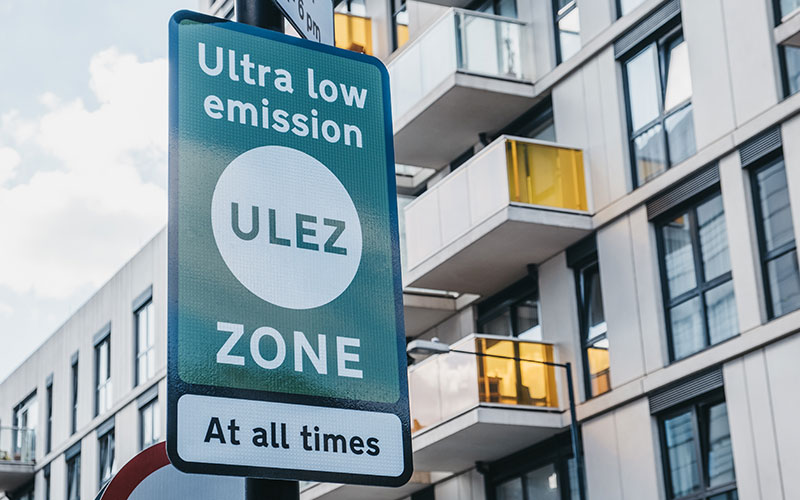 While London's Ultra Low Emissions Zone (ULEZ) might have been in operation since April 2019, it has previously only targeted the more central areas of the capital.
But on August 29, 2023, ULEZ expands to include all of London boroughs, covering the majority of areas within the M25 motorway. The full map can be seen here. It means that no longer is ULEZ just something for 'Londoners' to worry about, but also those drivers in other parts of the country that regularly travel to these areas. It now includes places such as Heathrow, Twickenham and Wembley, which all soon will be within the zone.
Whether you're a car dealer located in London, or much further afield, it's important to understand ULEZ and what it means for your customers, as well as the knock-on effects of it. Here's what you need to know.
What is ULEZ?
London's ULEZ aims to crack down on air pollution and improve the city air's quality. In order to be able to drive in the area, cars and vans have to meet certain emissions criteria, based on their age and fuel type. We'll explore more on this later.
While Transport for London (TfL) says that 94% of vehicles in the current zone already meet the relevant standards, drivers of the vehicles that don't are required to pay a daily £12.50 charge to be able to keep using their car. It applies penalty charges of £180, reduced to £90 if paid within the first 14 days, and are issued if drivers do not pay.
ULEZ matters because, for drivers who don't have a compliant car, it can soon get very expensive. For example, if someone drives their car five days per week, it will cost £62.50. Over a month this will be £250, and over the course of a year, it adds up to an additional £3,000 in running costs. It's easy to see why those living or driving in the ULEZ zone are keen on changing their vehicle if it's not compliant.
How do I know if a car meets the ULEZ requirements?
In order to not pay the daily ULEZ charge, a vehicle has to meet certain emissions standards. These are:
Petrol vehicles: Euro 4. This has been mandatory since 2006, so any petrol car sold since then will certainly be exempt.
Diesel vehicles: Euro 6. This wasn't introduced until September 2015, but any diesel car first registered after this date will be compliant.
Hybrid vehicles: This will be based on the fuel you put in the vehicle, whether petrol or diesel. Most hybrids will be exempt, but some older diesel hybrids will still require the charge to be paid.
Electric vehicles: All EVs meet the ULEZ requirements.
You can check if a vehicle is ULEZ compliant by entering its number plate into TfL's website here.
Should I not buy cars that aren't ULEZ compliant?
This very much depends on where you are based. If your forecourt is within the ULEZ zone, or anywhere nearby, it will certainly make a vehicle that isn't ULEZ compliant much harder to sell, or it will likely be bought by someone not living much further afield.
If any test drives are carried out in the zone, and the vehicle isn't compliant, you (or your customer) have to pay the daily charge. Note that ULEZ only applies if the vehicle is driven; if the car is parked within the zone, even on the road, the charge doesn't need to be made.
Unless it's a rare, or special edition model that will be used infrequently, someone living within ULEZ is highly unlikely to buy a vehicle that isn't compliant, and therefore if you live close to London, we wouldn't recommend specifically buying non-ULEZ-compliant stock, though.
But if you live away from London, only stocking ULEZ vehicles should not be as great a concern. Many consumers further afield will likely be unaware of the scheme altogether, so it's only worth bringing it up if it's mentioned. But being educated, and educating your team, if the question is asked is paramount.
Will the values of non-ULEZ-compliant cars be affected?
Again, this very much depends on where your dealer is based. Any vehicle within the ULEZ area that isn't compliant will have minimal value to anyone living in London, but will always appeal to those from outside the area. Dealers can offer Vehicle Delivery to non-ULEZ compliant stock for consumers purchasing from areas outside of the M25.
A recent study showed that there could be as much as £3,500 difference in price between compliant and non-compliant versions of the same car, even if there is only a few months between the vehicles. Similarly, a ULEZ-compliant vehicle (especially if close to the cut-off date) is likely to be worth slightly more.
Will ULEZ increase the demand for electric cars?
Though there are thousands of petrol and diesel cars that are exempt from ULEZ, an easy way of making sure you won't have to pay the charge is by choosing an electric car, as every model of this type escapes the charge.
However, the expansion of ULEZ is likely to make more people consider an EV. Not only does the issue of air quality raise environmental concerns, but of the thousands of car owners that are having to sell their current vehicle because of ULEZ, many are likely to consider an electric car. It's unlikely to have a particular impact on their values, however.
My dealership isn't based anywhere near London, why do I need to worry about ULEZ?
Even if you don't live anywhere near London, it's worth remembering that almost 10 million people will soon live within the expanded ULEZ area. That's a big audience, and many will travel further afield to buy a car.
It's why you should consider marketing cars as being compliant, even if just including the word 'ULEZ' in your advert listing, it will help to make it more noticeable for those searching specifically for this. In fact, around 10% of the cars listed on AA Cars currently have the word 'ULEZ' as a keyword.
It's worth noting that while London's ULEZ is by far the biggest scheme of its type, similar schemes based on the same emissions standards are also in operation in Bristol and Birmingham, and more are expected soon as cities look to clean up their air.
Scotland also has low emission zones, including in Glasgow and Edinburgh. Though relatively small areas, these are different because you can't pay to enter even if your car isn't compliant. Vehicles that don't meet the relevant standard are banned altogether.
Search for the best ULEZ-compliant cars
To find out more about our Vehicle Delivery Solution to help your customers to buy unseen please call 01920 877750 or email [email protected].