Best used all-wheel-drive cars… which aren't SUVs
Want that extra capability but don't want to buy an SUV? Here are some great used options.
SUVs have grown hugely in popularity in recent years and around half of all new cars sold are these higher-riding models.
An SUV can bring many advantages, including easier accessibility and improved visibility, as well as enhanced capability if four-wheel-drive is fitted. However, not everybody wants an SUV, so are there options if you want greater capability in wet or wintery conditions, but without having to buy an SUV? Let's take a look.
Audi A3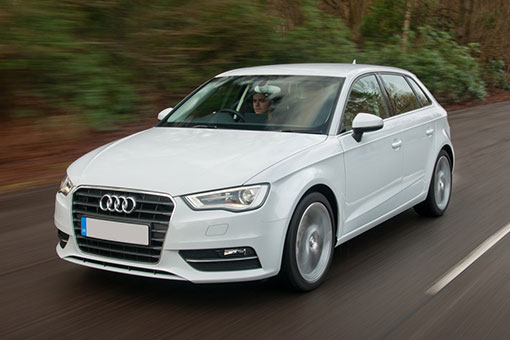 Audi is renowned for its quattro four-wheel-drive system, and has been using it for decades. But not only is quattro fitted to many of its SUVs, but also to plenty of its more ordinary models. These include the brand's compact A3, which is one of its best-sellers.
Various A3 quattro models have been sold over the years, but the best option is to go with a third-generation A3, sold between 2013 and 2020. On the 181bhp 2.0-litre TDI diesel engine (the same as that found in the Volkswagen Golf GTD), quattro is included as standard, giving greater traction and stability in poor weather conditions. This generation of A3 is practical, good to drive and offers a fantastic, well-built interior. You'll pay from around £10,000 for a 2014 A3 quattro with 100,000 miles on the clock.
Search for an all-wheel-drive Audi Audi A3 on AA Cars
Subaru Impreza
Subaru is a brand that almost exclusively sells all-wheel-drive cars, and has done for some years, whether that be on SUVs, saloons and hatchbacks. And perhaps the best all-wheel-drive icon from this Japanese firm is the Impreza.
Subaru showed the effectiveness of its all-wheel-drive Impreza in rallying, where the model had a huge amount of success and it continues to have a very loyal following, even if it's no longer produced. Prices are even on the up these days, but you can find a tidy and usable WRX example from around £7,000. It's worth having a mechanical check carried out on one of these specialist models, too.
Search for Subaru Impreza cars on AA Cars
BMW 3 Series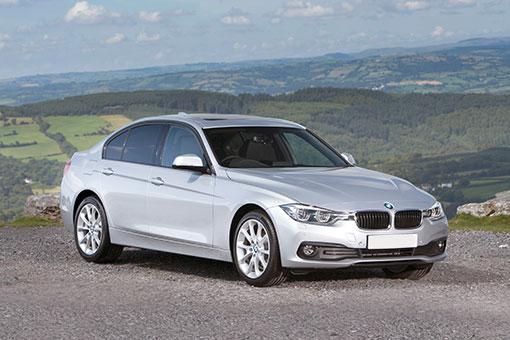 BMWs have traditionally been offered with rear-wheel-drive, but in more recent years the brand has started to offer its xDrive all-wheel-drive system onto its more normal cars. These include the best-selling 3 Series, which launched with this greater capability in 2013.
You can choose petrol and diesel versions of the 3 Series with xDrive, but the 320d and 330d diesels are our preferred choices thanks to their impressive efficiency. Combined with an enjoyable driving experience – just with greater everyday usability – there's a lot to like about this BMW. Prices start from around £7,500 for a high-mileage example.
Search for used BMW 3 Series xDrive models on AA Cars
Volvo XC70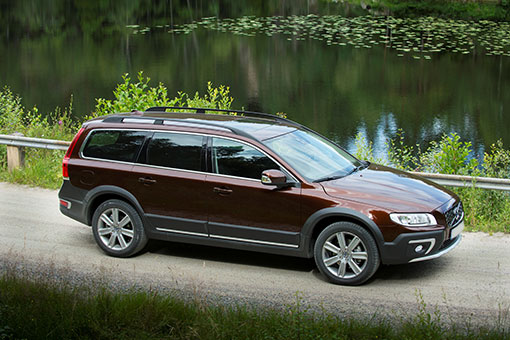 If you want the SUV capability but without the SUV looks, it's worth looking at an off-road-focused estate car. Volvo has long been a leader in this area, with its XC70 proving a hit with those that like outdoor pursuits.
Essentially a jacked-up version of Volvo's V70 wagon, it brings a raised ride height, chunkier styling and impressive levels of capability. The build quality is also excellent, while they're impressively comfortable. Used XC70s are impressively good value for money too, starting from just a few thousand pounds.
Search for used Volvo XC70s on AA Cars
Jaguar F-Type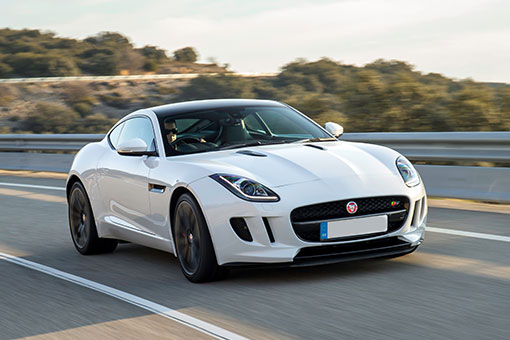 Just because you want additional traction in the rain or wintery months, it doesn't mean you have to sacrifice on driving pleasure. It's why an increasing number of sports cars come with all-wheel-drive, meaning they can be more comfortably used all year round.
One of the top choices is the Jaguar F-Type. First arriving in 2013, a couple of years later the British firm introduced an AWD model, giving it greater traction and usability. The F-Type is also one of the best sports cars to drive on the market, and offers a particularly glamorous design. Prices for an all-wheel-drive model from 2015 start from £34,000, though that's less than half the price of a new version. F-Types can be expensive if anything goes wrong, so having a used car warranty is a worthy investment.
Search for used Jaguar F-Types on AA Cars
Volkswagen Passat Alltrack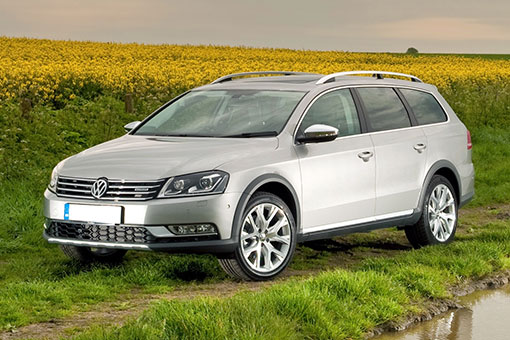 Volkswagen is another firm that also sells rugged estate cars, and it's the Passat Alltrack that is our highlight here. Based on the brilliantly practical and sensible Passat Estate, these rugged models bring chunkier looks, standard-fit 4Motion four-wheel-drive and raised suspension.
Efficient diesel engines and standard equipment levels are further appealing factors to the Alltrack, while this Passat's relative rarity is a plus point. Thanks to the 4Motion system, the Alltrack can tow up to two tonnes – 200kg more than a regular Passat. Prices for a car with 100,000 miles on the clock start from around £8,500.
Search for used Volkswagen Passat Alltracks on AA Cars
SsangYong Turismo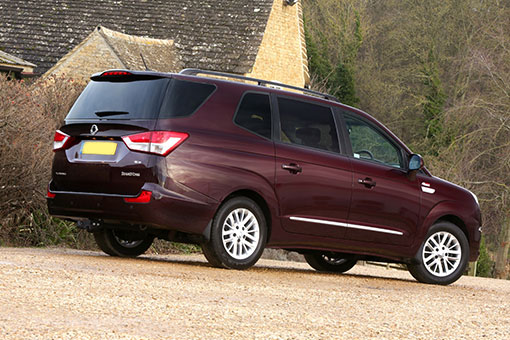 A SsangYong Turismo is most certainly not a car you'll see on the road and lust after, but if you value spaciousness and value for money above all else, this large MPV has plenty to offer. The interior is quite simply huge, offering seating for seven with room and boot space to spare.
When equipped with the 2.2-litre diesel engine (which interestingly uses a Mercedes gearbox), you can also have selectable four-wheel-drive, which makes this MPV impressively useful in trickier conditions. Standard equipment is very generous across the line-up, but not least in the flagship ELX, which came as standard with four-wheel-drive. You'll pay from around £10,000 for a five-year-old model, which is exceptional value considering the amount of space on offer.
Search for used SsangYong Turismos on AA Cars
Mercedes-Benz E-Class Estate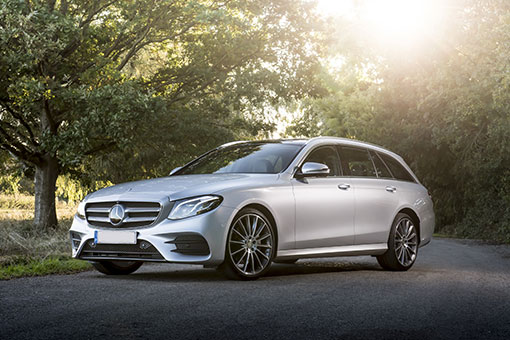 The Mercedes-Benz E-Class Estate is one of the most practical and spacious cars of this type, with its boot measuring a huge 640 litres. It's ideal for those needing a vast cargo space, or that have several large dogs, for example.
The latest generation of the E-Class Estate, which arrived in 2016, was also the first to be fitted with Mercedes-Benz' 4Matic four-wheel-drive system, offering greater traction than the regular rear-wheel-drive car. Available on the E220d diesel model, Mercedes-Benz says it can return more than 60mpg. Prices start from around £24,000 for a car with 50,000 miles on the clock.
Search for used Mercedes-Benz E-Class Estates on AA Cars
Suzuki Swift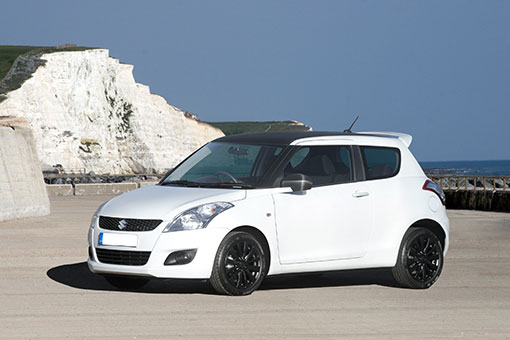 Suzuki is another brand that offers all-wheel-drive across much of its line-up, even in its smallest hatchbacks. These include its Swift supermini – a rival to cars like the Nissan Micra and Vauxhall Corsa.
The four-wheel-drive models to look out for are called 'AllGrip', and use a lightweight system that offers minimal impact on fuel economy and performance, yet with surprising off-road capability. The Swift is also good to drive, well-equipped and has a great reliability reputation as well. Prices for a Swift AllGrip model start from around £5,500.
Search for used Suzuki Swifts on AA Cars
Skoda Superb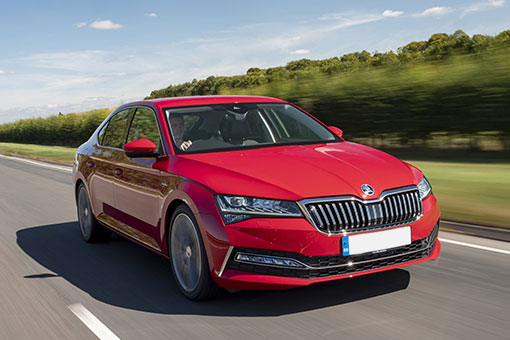 Skoda's Superb lives up to its name, with its vast levels of interior space and affordability making it a brilliant used car choice. Four-wheel-drive versions might not be as popular as the standard front-wheel-drive cars, but if you can find one, it's worth making the punt.
You can choose a four-wheel-drive Superb as both a large hatchback or an estate car, depending on your needs. It's the latest generation (which went on sale in 2015) that's our pick. It gets a much more modern interior and is better to drive as well. Used prices for the current model start from around £11,000.
Search for used Skoda Superbs on AA Cars
Prices correct at time of publication [01/2023].