January 2009
Volvo S40 2.0D R-Design SE Sport Powershift
Sportier looks boost visual appeal
January 2009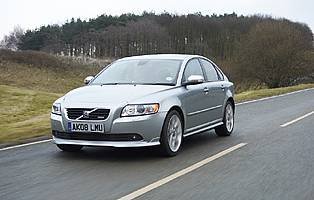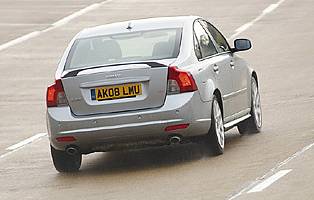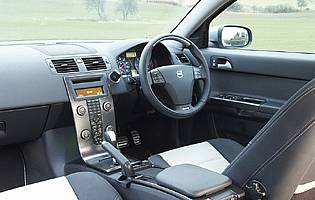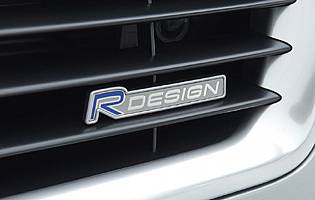 Overall rating

Likes:
Stylish exterior
Beautifully tailored interior
Refined ride
Strong emphasis on safety
Gripes:
Real world fuel economy less impressive than some
Not particularly agile
Reverse gear sometimes slow to engage
Headroom lacking in the rear
Occupying a rare niche in the UK car market, Volvo's S40 compact saloon sits in a position somewhere between the C and D segments. This gives it few direct rivals in the UK. Add into the mix Volvo's status as a premium manufacturer and the S40 becomes an even rarer proposition, but one with an appeal all of its own.
Traditionally a hatchback market, genuine compact saloons are a rare sight on UK roads. Despite this, the S40 remains one of Volvo's most popular products. The model is designed to appeal to younger drivers who seek the practicality and affordability of a compact C-segment family car, but the sophistication and high standards of quality of a premium D-segment saloon.
Adding to that air of sophistication are the recently introduced R-Design trim levels, which attempt to enhance the sportiness and comfort levels with equipment and trim additions inside and out. Building on the previous Sport and SE Sport equipment levels the R-Design badge adds a distinctive colour coded sports body-kit, large diameter alloy wheels, two-tone black and cream interior, leather and aluminium trim, blue instruments and sports pedals amongst other items. The result is a genuinely upmarket feel inside and a stylish, sporty but businesslike exterior.
Naturally, there's a strong emphasis on safety with the S40 in keeping with the rest of the Volvo line-up. Standard equipment includes a raft of airbags, whiplash protection and a strong, impact resistant body, noticeable in the thickness of the doors. A general feeling of solidity and quality runs through the model, helped by a smart, stylish and well-crafted interior.
A comprehensive range of petrol and diesel engine options is available including a 1.8-litre petrol unit capable of running on bio-ethanol. Although the smaller capacity engines offer frugal performance, more power is to be found in the larger capacity engines including the powerful D5 diesel and T5 petrol units. In between sits the 2.0-litre diesel engine which can be coupled to the slick twin clutch Powershift transmission - an excellent combination for motorway use and one that's tractable around town, too.
Our verdict on the Volvo S40 2.0D R-Design SE Sport Powershift
It may occupy what seems like an odd position for UK car buyers, but the combination of compact car tractability and premium saloon styling is one that quickly wins out. A refined driving experience is enhanced by the Powershift transmission and the interior and exterior styling benefit greatly from the R-Design additions. The down side is a lack of rear space but when compared with C-segment, rather than D-segment, rivals it's adequately spacious.
Costs
Despite its premium status, the S40 manages to retain reasonably low insurance ratings thanks in part to its high safety levels. Strong build quality should ensure there are few problems with reliability, however the low profile tyres on the larger alloy wheels of the R-Design model may be a little more expensive than usual to replace. Fuel economy looks better on paper than in the real world, however the 2.0D diesel is reasonably efficient.
Space and practicality
A compact but well designed bodyshape means the S40 interior makes the most of the room available. Two adults can be accommodated in the rear but the particularly tall might find the rear seats lacking in head and legroom. Storage facilities are plentiful and the deep boot can accept a healthy load.
Controls and display
The S40 shares one of the neatest and most ergonomically pleasing interior layouts available with its Volvo stable mates. Some of the buttons may be on the small side, but all are stylishly incorporated into an extremely simple to use floating-stack centre-console design. Cruise control and sound system controls are present on the steering wheel and the dials are neat and easily read.
Comfort
An extremely comfortable car in which to travel, the S40 features an agreeable ride that's smooth and quiet and, in R-Design form, a respectable array of equipment including two-stage heated seats, cruise control and climate control. Seats are easily adjusted although not electric.
Car security
An impressive security system includes an alarm and immobiliser, but there's also a panic button built into the chunky remote key fob for additional security. Security settings such as headlight timers, window closing and auto door locking can be individually adjusted on the menu based onboard computer. The glovebox can also be manually locked, along with the boot door from inside the car.
Car safety
Passive and active safety systems are a Volvo forte, so it's little surprise that the S40 features a raft of safety equipment. A full quota of airbags, a whiplash protection system and an advanced traction control system are all present. The safety inherent in the S40's shell is noticeable in the width of the doors and the vehicle transmits a real feeling of solidity to the occupants.
Driver appeal
The S40's driving appeal, particularly in 2.0D Powershift form, is in its ability to cruise in the refined manner of a larger vehicle. Even on large alloys and thin tyres the ride is well-honed and quiet. The S40 is less comfortable with high speed cornering and, although body roll is less controlled, it has a propensity to under-steer if pushed too hard. The sharp shifting gearbox makes it a delight to use around town, although it can be slow to shift from forward to reverse gear.
Family car appeal
Able to comfortably switch between stylish business car and family transport roles, the S40 makes a perfectly sensible family car. An impressive array of safety features means parents will have few qualms about carrying children and the leather interior of the R-Design model is easy to wipe down and feels durable. The four door layout makes getting small children in and out of the rear simple, but it might be wise to check that a pram can fitted through the saloon boot door before committing.
First car appeal
The S40 features many virtues suitable for the novice driver, among them strong safety criteria and a reasonably compact size. However, as a premium model, it's unlikely to fall into the budget of the majority of first time car buyers.
Quality and image
With impeccable build quality inside and out, the Volvo S40 is among the best in class in terms of fit and finish. The only downside is a boot lid that requires a slam to be sure it is shut properly. Volvo's traditionally have an image as cars for the senior driver, however the R-Design's stylish exterior and interior will appeal to style conscious younger drivers too.
Accessibility
The S40 poses few problems in terms of accessibility with decent size doors front and rear that open to a generous angle. Both front seats are height adjustable and can easily be set to a position for easy entrance and exit. The boot door offers reasonable access and is both deep and wide, at the top at least.
Stereo and ICE (In car entertainment)
The S40 R-Design's single slot CD player and radio is stylishly integrated into the ski-slope centre console, with the controls easy to navigate and partially duplicated on the steering wheel. Sound quality is good, helped by the lack of noise intrusion into the cabin. Neither sat-nav nor phone integration are standard equipment however, despite the presence of a zero to nine number pad on the centre console.
Colours and trim
The uprated equipment levels of Volvo's R-Design models succeed in turning a somewhat plain looking vehicle into a real head turner. The large alloy wheels, boot spoiler, beefed up bumpers and stylish brushed aluminium additions to the exterior give the S40 a sharp, executive look. Inside the neat two-tone leather is equally attractive. The model looks particularly good in solid colours and an excellent range of paint is available.
Parking
Although saloons can be more difficult to gauge when parking than hatchbacks or estates, the addition of a boot spoiler on the R-Design model makes it easier to judge where the car ends. The mirrors offer a good view and the car is quite squat in dimensions, making it reasonably easy to park. Rear sensors are standard and accurate.
Spare wheel
Space saver spare fitted as standard.
Range information
Petrol engine options - 1.6-litre (98bhp); 1.8-litre (123hp); 2.0-litre (143bhp); 2.5-litre (226bhp). Diesel engine options - 1.6-litre (107bhp); 2.0-litre (134bhp); 2.4-litre (177bhp). Transmission options: five-speed manual gearbox, six-speed manual gearbox, five-speed Geartronic automatic gearbox with a switchable manual mode, six-speed Powershift twin-clutch automatic gearbox with a switchable manual mode. Trim levels: S, SE, SE Lux, R-Design Sport, R-Design SE Sport.
Alternative cars
Mazda3 Saloon model is similar in size but less refined
BMW 3 Series Larger, but better handling
Ford Focus Saloon version is mainstream with near premium finish
Volkswagen Jetta Nimble and well-built small saloon