February 2006
Volvo C70 T5 SE
Volvo family look adapts well to the convertible form
February 2006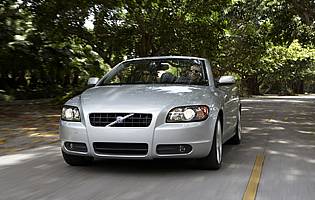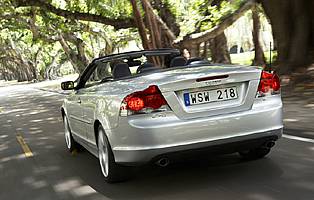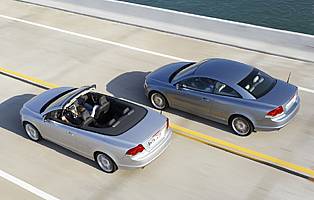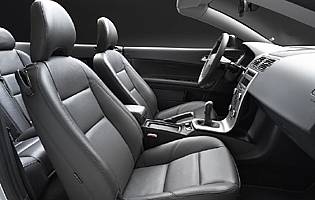 Overall rating

Likes:
Folding hardtop improves weatherproofing and security
Diesel variant likely to prove popular
Remotely lockable storage bins a bright idea
Will pass muster from beach to boardroom
Gripes:
Hood cannot be operated when moving
Lacks that intangible X factor
Complex roof mechanism remains to be proven
Little luggage space with roof down
The second generation of Volvo C70 is a more convincing package than the first, not least because the decision has been taken to replace the separate coupe and convertible models with a single car providing the virtues of both body styles. As a result, Volvo has a vehicle capable of tempting buyers away from traditional premium convertibles, compact coupes and even junior executive models.
Following the folding hardtop route already trodden by Mercedes, Peugeot, Renault and others, the C70 is able to morph from four-seater convertible to sleek coupe in just over 30 seconds. Importantly, it is equally convincing in both guises and manages a modicum of style into the bargain.
Volvo's traditional virtues of high safety levels and mechanical reliability seem to be intact, too, though there are one or two caveats. Despite the generous safety equipment lavished on the C70, open-topped cars will never be as inherently safe as those with fixed roofs. And while it's a cert that Volvo has done its homework, the incredibly complex roof mechanism is actually made by Pininfarina of Italy. That's not to imply that it will necessarily be unreliable, but it is not unusual for manufacturers' first attempts at a folding hardtop to have one or two glitches.
And it must be admitted that for all the positive noises Volvo makes about how exciting the C70 is, in reality it contains few surprises. It is exactly what you would expect a Volvo to be - well engineered, well thought out and nicely presented - without ever setting the pulse racing. It is smart, not beautiful. It is nice to drive, not great to drive, and it is admirable rather than desirable. But if you've liked every other recent Volvo, you're sure to like this one as well.
Inside there's good accommodation, with back seat passengers faring rather better than they might expect. The standard of fit and finish is generally good, though perhaps not quite as unburstable as Volvo's reputation would have you believe. Materials are all of a high standard and feel as if they should stand up well to the elements.
Our verdict on the Volvo C70 T5 SE
For all its objective appeal, the Volvo C70 still lacks a certain amount of personality, unlike its Saab 9-3 Convertible rival. This is a car to be bought with the head rather than the heart. Usually that is precisely what you should do, but somehow when it comes to convertibles - which are inherently impractical in many ways - you need a bit of spice to make all that sensibility more palatable.
Costs
Prices are comparable to rival cars but not cheaper. Volvo's premium status has come alongside rising prices. If the roof proves reliable, maintenance costs should be reasonable, if it does not, they could be steep. The diesel-engined variant is the obvious choice for anyone wanting to maximise fuel economy, though even that isn't hugely economical, being a fairly large unit. But this is quite a big, heavy car, so smaller engines would struggle to pass muster. Resale values should be strong - again, subject to the roof being trouble-free.
Space and practicality
With the roof stowed in the boot, luggage space is very limited, so when packing for a weekend away, owners will need to make sure they don't over-fill when the roof is up. Four might be able to fit in the seats, but they'll have to send their luggage on the baggage train. There are plenty of storage options around the cabin and a cleverly designed, large glovebox.
Controls and display
All controls and displays are straight out of the Volvo textbook. Familiar switchgear which seems to have been around since the late medieval period without becoming obsolete, and the driver information system with which to play fuel economy games on boring journeys is still there, too. If you've ever owned a Volvo before, you could probably drive this blindfold. The so-called floating central console about which Volvo gets so excited serves no actual purpose and doesn't even look particularly interesting.
Comfort
The claim that this is a car to fit four adults and not simply a two-seater with a couple of occasional seats in the back is justified. The two rear seats have comfortably angled backrests and good space to the side, though with the roof in place the back gets a little dark. An electrically operated driver's seat is only provided from SE specification and upwards, a powered passenger seat with Lux grade only. Height adjustment is lacking.
Car security
The steel roof obviously helps reduce the risk of a break in and is backed up by an alarm and deadlocks. A particularly useful feature is the ability to link some of the in car storage areas such as the glovebox to the central locking system, a feature that will come into its own should you need to leave the top down for a few minutes while paying for petrol or parking.
Car safety
Safety used to be the one thing that set Volvo apart from the competition and gave it its unique identity. These days, the competition isn't doing too badly either, and there is less clear water between Volvo and the rest. However, Volvo remains the leader in this field with the full complement of safety acronyms on board including SIPS, WHIPS, countless airbags and standard traction control.
Driver appeal
The major failing of the first generation C70 was that though it looked sleek, its driving dynamics were way behind its rivals. The new C70 is far better, not least because quite a few of the powertrain elements are shared with the fine-driving Ford Focus. The T5 variant is quite quick, but this is more of a cruiser than a bruiser so that despite the considerable power available, it never really sets the pulse racing.
Family car appeal
Those white-toothed, sun-bleached nuclear families that tend to inhabit glossy advertisements would no doubt love the C70. For everyone else, the small boot makes it a non-starter. This is a car for child-free couples in their thirties.
First car appeal
Convertible it may be, but the C70 doesn't really fit the profile for fun-loving youth. Quite apart from its expense and the considerable fuel costs likely from running such comparatively large engines, it is a determinedly sensible, mature car. First timers would be better off with a Peugeot 206 CC or Vauxhall Tigra if they want a cheapish folding hard top.
Quality and image
Volvo intones the word 'premium' at every available opportunity these days and to a large extent it has successfully reinvented itself as a premium carmaker. But despite trendy products like the XC90, the general public still thinks of Volvos as a wee bit less youthful and aspirational than a BMW, Mercedes or Audi. No matter how hard it tries to be radical, Volvo cannot help but end up being sensible - and what's wrong with that?
Accessibility
Doors are exceptionally thick, presumably in order to fit all the shock-absorbing safety structures and airbags inside them. As a result they are also quite heavy. Annoyingly the car has to be at a standstill while the roof is being opened or closed, and you need to have your foot on the brake as well as keeping your finger pressed on the relevant button for more than 30 seconds.
Stereo and ICE (In car entertainment)
Volvo has made a concerted effort over the last few years to build a reputation as a provider of top-notch sound systems - all part of its search for a younger clientele. As a result there are three sound system levels available, called Performance, High Performance and Premium. The entry-level unit has six speakers, the range topper 14. Volume and tone settings are adjusted automatically in line with the car's speed and whether the car's roof is up or down.
Colours and trim
Interior trim is constructed from quality materials with tight gaps indicating some excellent quality control at the Uddevalla plant where it is made. Interior arrangement is utilitarian almost to the point of blandness and seems identical to every other current Volvo. A dash of colour wouldn't go amiss, otherwise your choice is basically between beige and black.
Parking
The rear screen is made of real glass and is significantly larger than the screen in a traditional convertible, making reversing reasonably straightforward, though the long rear deck means there is still an element of guesswork unless you're prepared to invest in the optional parking sensors. This C70 is slightly shorter than the model it replaces and the turning circle - though unexceptional - is acceptable.
Spare wheel
A tyre sealant kit and compressor is the default kit, though a space saver Tempa spare wheel and jack kit is a no cost option.
Range information
All three petrol engines are five-cylinder units. Two of are naturally aspirated 2.4-litre units rated 140bhp and 170bhp. The 2.5-litre T5 turbocharged unit produces 220bhp. A 2.4-litre five-cylinder diesel (180bhp) is also part of the range. Five- and six-speed manual transmissions plus optional five-speed automatic transmission according to model selected. Specification designators are Sport, SE and Lux.
Alternative cars
Saab 9-3 Convertible Swedish rival has a sportier edge
Audi A4 Convertible Classy German with great interior
BMW 3 Series Convertible Still with legendary BMW balance
Renault Megane CC Cut-price version of the C70 formula