March 2010
Volvo C70 D5 SE Lux Geartronic
Roof down the C70 delivers a refined and relaxed driving experience
March 2010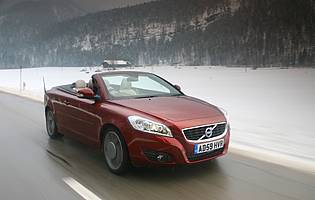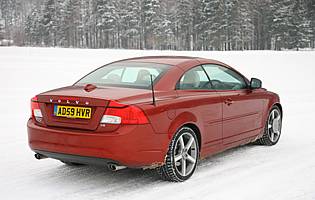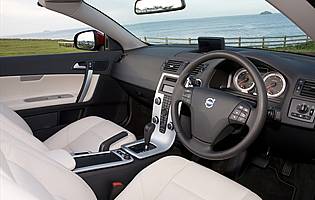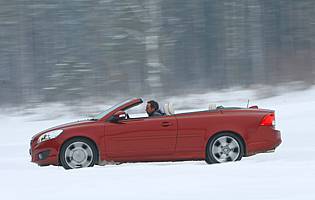 Overall rating

Likes:
Styling revisions add a new layer of sophistication to the car's looks
Once acclimatised, cabin ergonomics make a lot of sense
Respectable enough to be parked in the chief executive's space at the office
Folding hardtop improves weatherproofing and security
Gripes:
Diesel-auto combination lacks sufficient punch for stop-start city motoring
Driving dynamics more suited to comfort than performance
Luggage space compromised when the roof is down
Hood cannot be operated when moving
Volvo is unsurprisingly proud of its C70 convertible. Competing alongside other premium brands such as BMW and Audi, the distinctive-looking C70 has long offered buyers a different take on open-top motoring. This has been further cemented by a visual refresh, bring it into line with the firm's C30 and XC60 models.
The metal folding hardtop route is a well trodden one, but is understandably perceived to be the preserve of premium car makers despite the best efforts of the likes of Peugeot and Vauxhall. The C70 trumps these mainstream offerings with a pleasing mix of refinement and clever design.
Aside from the obvious attractions of open-top motoring, Volvo's traditional virtues of high safety levels and mechanical reliability remain intact with the C70. A solid car, as witnessed by its chunky dimensions, the four-seat Volvo offers all the airbags and rollover protection technology you'd expect from the Swedish firm.
Aside from all the aspirational product marketing, the C70 is surprisingly sensible. Sure, it boasts a fresh new nose but little else has changed - fundamentally the car is best suited to gentle cruising than aping the behaviour of the BMW 3 Series driver ahead.
Where the C70 does shine, though, is in the detail. Inside there's good accommodation, with back seat passengers faring rather better than they might in other cars. The standard of fit and finish is generally high and feel as if they should stand up well to the elements.
Our verdict on the Volvo C70 D5 SE Lux Geartronic
Presenting a new face to the world, Volvo's C70 offers buyers a solid package. The practical stuff - safety, comfort, ergonomics, space - are all nailed down to perfection, which leaves the car's refreshed front as a welcome breath of fresh air. It's no sports car, but Volvo's C70's offers a different, more mature form of open-top motoring.
Costs
The C70 might not be a direct rival to some German offerings when it comes to handling or dynamics but price-wise there's little separating them. One plus is that the Volvo range come better equipped as standard. Opt for a diesel variant and there's potential to save more money. That metal roof might also save some money on your insurance premium.
Space and practicality
The one downside to C70 ownership is that, with the roof stowed in the boot, luggage space is very limited. Four might be able to fit in the seats, but they'll have to send their luggage on ahead. There are plenty of storage options around the cabin and a cleverly designed large glovebox, though.
Controls and display
Familiar switchgear is arranged in an orderly fashion in the C70, although at first glance the car's upright console looks more at home in a mobile phone design office. It's all logically laid out and soon makes a lot of sense. The same is true for the car's main dials, although the handbrake can prove intrusive when in the up position.
Comfort
One of a handful of four-seat convertibles, the C70's small rear seats can be commandeered for occasional use. Although with the roof in place it gets a little dark in the back. Sticking with roof down motoring, road and wind noise is pleasing low and there's the option of a wind deflector to reduce the modest turbulence further.
Car security
Scoring using points over its fabric roof rivals, the C70's metal folding mechanism should please insurance groups if no the casual thief. Also offering more protection is the alarm and deadlocks package plus the ability to link some of the in car storage areas such as the glovebox to the central locking system.
Car safety
While no longer the one thing that sets Volvo apart from the competition, the Swedish firm remains committed to making its cars best in class when it comes to safety. And with a full compliment of airbags plus whiplash and rollover protection, every possible situation is covered.
Driver appeal
Although not an out-and-out sports car, this C70 is better to drive than its predecessor. The bias towards comfort and refinement is obvious though, and it's most comfortable on gently flowing country roads. This car is more of a cruiser than a bruiser so that despite the considerable power available from the various engines, it was never designed to set pulses racing. That much is also true when dealing with the relaxed shift patterns of the optional auto gearbox.
Family car appeal
It's not the C70's fault as it was never designed to be a family wagon, but you'll need to look elsewhere - V70 perhaps? - if you want a Volvo all the family can enjoy. Luggage space is at a premium and a stowing a baby buggy would be stretching the car's limits.
First car appeal
Apart from its expense and the considerable fuel costs likely from running such comparatively large engines, it is a determinedly sensible, mature car. As such, first timers would be better off with something like a Peugeot 308 CC or Audi's A3 if they wanted to blend roof-down motoring with a premium slant.
Quality and image
To a large extent Volvo successfully reinvented itself as a premium carmaker. The general public are stating to think of Volvos in aspirational terms, and not just as very safe cars. The C70 is no BMW 3 Series Convertible rival but it does offer buyers something different, and for some that's good enough when faced with the overtly sporting competition.
Accessibility
With its big, heavy doors you need plenty of space when parking the C70 if you don't want to squeeze in or out of its cabin. The seating position is comfortable and easily adjustable, though. And like the doors, the C70's boot is also heavy and requires a firm pull to open. One minor gripe is the requirement to have the vehicle stationary when playing with the roof. All in the name of safety no doubt, but some rivals will allow you to operate their respective roofs at walking pace - great for that rain shower when stuck in slow moving traffic.
Stereo and ICE (In car entertainment)
Along with boosting cabin quality, Volvo has also made a concerted effort to build a reputation as a provider of top-notch sound systems. The result is base system offering a premium experience, plus options to further enhance sound quality, introduce sat-nav, Bluetooth phone and MP3 player compatibility. The end result is a fully integrated system rivalling more expensive options from German rivals.
Colours and trim
Recent years have seen Volvo up the stakes in the interior design department. A growing list of funky colours and trim materials have crept into the options catalogue. Everything is constructed to a high standard, and does much to compliment the car's revised exterior.
Parking
With the C70's roof up you can reverse park with a surprising amount of confidence. Parking sensors obviously help here. The car's long boot deck can sometimes make judging distances a little tricky, but the situation improves greatly when the roof is lowered.
Spare wheel
Space saver wheel is supplied
Range information
Petrol engine options - 2.4-litre (170bhp); T5 (230bhp). Diesel engine options - 2.0-litre (136bhp); D5 (180bhp). Transmission options: six-speed manual or five-speed Geartronic automatic unit depending on variant. Trim levels: S, SE, SE Premium, SE Lux.
Alternative cars
Saab 9-3 Convertible Swedish rival has a sportier edge but is showing its age
Audi A5 Convertible Stylish German with great interior and more for the keen driver to like
BMW 3 Series Convertible Benchmark in this sector gets better with age
Peugeot 308 CC Lower cost alternative delivers above average quality and road manners