June 2009
Toyota Prius T Spirit Hybrid 1.8 VVT-i 5dr
Radical styling has become a Prius trademark
June 2009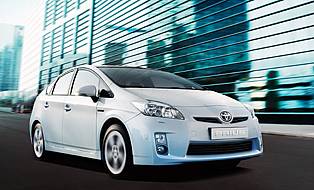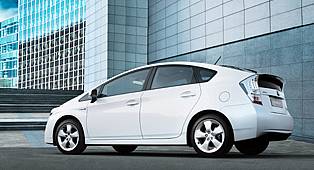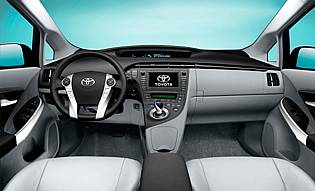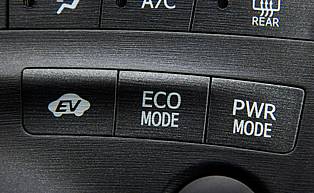 Overall rating

Likes:
Promises new levels of fuel economy and emissions
Spacious cabin is more like that of a conventional family car
Boot space is improved over previous model
Driving experience is closer to that of a regular car than ever before
Gripes:
Space-age exterior won't appeal to everyone
Digital instrumentation and flashy graphics ca be a distraction
Despite improvements, the Prius is not a car for keen drivers
Long distance and high speed journeys still better suited to a diesel-powered car
It's sometimes easy to forget that Toyota has been at the hybrid game for a long time. Long enough to have gone a long way towards perfecting its trademark hybrid drive system; this third generation model promises to deliver greater advances in economy and emissions. It's also more practical, thanks to a larger cabin and boot.
The space-age styling might remain, but it's a timely reminder that Toyota's Prius is no ordinary car. Underneath its swoopy exterior hides an advanced petrol-electric hybrid system. Fans of the Prius will be familiar with the set-up; a modest-size petrol engine is connected to a battery and electric motor, with the latter combo providing extra assistance when required.
And unlike Honda's Insight, Toyota's offering has the ability to run on electric power alone for short distances at urban speeds. Obviously, using no fuel at all is always a good thing, yet the Prius has the ability to balance the needs of the driver with ability to balance the electrical assistance of the petrol motor in a seamless and refined manner.
With the slight increase in size comes a larger petrol engine - 1.8 replacing 1.5-litres - although the focus isn't on performance but greater flexibility and efficiency. On the road this is immediately noticeable as the Prius feels more willing when driven hard and more relaxed on motorways journeys. It's also more composed on corners and feels closer to that of a regular five-door hatch than previous generations ever did.
From Toyota's perspective this is key to understanding the improvements over the second generation model. The firm's aim was to produce a car without the earlier compromises. Easier to drive and more competent on the road, it's no harder to make excuses for the Prius when the choice is between it and, say, a high-spec Volkswagen Golf.
Our verdict on the Toyota Prius T Spirit Hybrid 1.8 VVT-i 5dr
There's no question that, with all the various improvements, the focus on reducing fuel consumption and emissions remains as strong as ever with the Prius. The sub-90g/km CO2 figure is impressive for something in this class, and the hybrid system allows for substantial economy savings. That the Prius is now a credible rival to more conventional compact hatches is another plus, as it has largely banished the compromises of the previous models to recycling bin. It's still not a car for everyone, but so long as you do the maths prior to purchase it could prove a worthwhile investment.
Costs
While the purchase price might appear more than for an equivalent, conventional family hatch, the Prius comes better equipped than most conventional rivals. And it goes without saying that, if driven appropriately, the car can return some impressive economy figures. Factor in the car's VED rating and day-to-day running costs should be low.
Space and practicality
A bigger car than its predecessor, this Prius offers occupants more cabin space. With enough room for adults to feel comfortable in the back plus an enlarged boot, thanks in part to the modified battery pack, Toyota's claims that this Prius is a genuine family hatch rival are credible.
Controls and display
The electronic displays that make up the car's instrument panel work well. The way energy is transferred from engine to battery pack is shown in a clear manner, while the minor controls are where you'd expect them. The stubby gearshift and steering require little effort to operate. Where fitted, the car's touchscreen sat-nav unit is immediately intuitive, too.
Comfort
Save for some wind and tyre noise at motorway speeds - the only thing you can hear because the engine is so quiet - the Prius is an exceptionally refined car. This is taken to a higher level again when running in electric-only mode. Elsewhere, the seats are comfortable and supportive, and the enlarged cabin allows adults in the back to feel relaxed.
Car security
With its remote central locking and the convenience of keyless ignition, you can leave your key in your pocket - an advantage if parked in an unlit area. Elsewhere there's the usual immobiliser package to deter the casual thief.
Car safety
Raising the bar in this sector, the Prius comes with a generous number of airbags - including a driver's knee airbag - plus a full compliment of electronic safety aids.
Driver appeal
The Prius remains geared firmly towards economy and comfort, but efforts have been made to improve the experience for the driver. Now more of an all-rounder, most of the remote, clinical feel of the old car has gone. The Prius works best in town, where you can exploit its electric-only mode. The light steering makes easy work of city streets, while the CVT gearbox is smooth and predictable. Engine improvements have ensured a more competent experience at motorway speeds, and the transition back and forth between electric and petrol power is near-seamless.
Family car appeal
With its enlarged cabin and more practical boot, this Prius is more capable of dealing with the demands of a growing family. The interior is more biased towards compact executive levels than that of a regular family hatch, so young children might need to take care.
First car appeal
There's no reason why a novice driver wouldn't feel at home in a Prius. It's easy to drive and park, the controls are light yet accurate and it could never be described as a powerful sports car. Running costs should be modest, too.
Quality and image
There's no question that the Prius has connected with people keen to 'do their bit' in the face of calls for reducing emissions and boasting economy. As such, for a long time it was the only credible option for some, and the Prius has remained a benchmark. It's only with the previous generation car that it's felt like a premium product, though. Fit, finished and reliability have been first rate.
Accessibility
A little bigger than its predecessor, this third generation car boasts more cabin room. As a consequence it's also noticeably easier to get in and out of the rear seats. At the rear the load space is flat but there is a lip to negotiate when removing heavy items.
Stereo and ICE (In car entertainment)
Standard kit levels are high in the Prius, and this is reflected in the audio provision. A good quality unit forms the basis of the range, while further up the range there's a touch-screen sat-nav to play with. Everything works well and proves easy to control. Inputs for music players and a Bluetooth phone connection complete the picture.
Colours and trim
Despite the car's space-age styling, it doesn't appear to be colour sensitive. Light hues better help show off the various exterior details, though. Inside it's a little more conventional, with grey plastics dominating the cabin.
Parking
Although not a large car, it can prove tricky to reverse park thanks to the sloping design of the rear screen. Fortunately parking sensors are available, and the sat-nav screen can display a colour rear view to help you. The light but accurate steering and smooth CVT gearbox add to the car's general ease of use.
Spare wheel
Space saver fitted as standard.
Range information
Petrol engine options - 1.8-litre petrol engine plus electric motor (134bhp combined). Transmission options: CVT auto gearbox for all variants. Trim levels: T3, T4, T Spirit.
Alternative cars
Honda Insight More affordable hybrid alternative - can't run in electric-only mode, though
Ford Focus Econetic diesel model offers lower cost route to similar savings
Volkswagen Golf Frugal Bluemotion diesel a more rounded choice for high mileage drivers
Volvo S40 Eco-centric Drive model offers low CO2 performance in diesel form