February 2015
Suzuki Celerio SZ4
Pretty Japanese styling hides the car's overall proportions
February 2015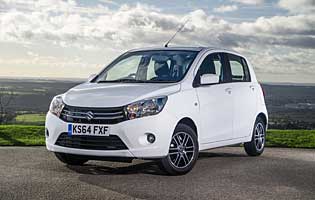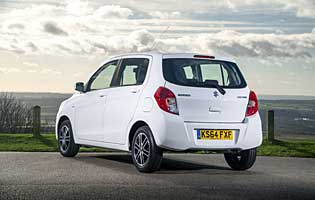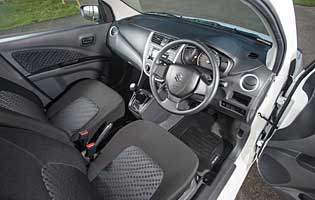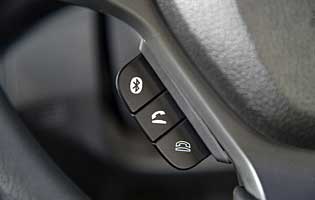 Overall rating

Likes:
Spacious interior seats up to five adults
Tight turning circle makes all types of parking easy
Suspension tuned on UK roads is comfortable and stable
High levels of equipment mean excellent value for money
Gripes:
Lacks premium touches like leather-trimmed contact points
Spotted upholstery looks and feels two decades old
Ageing 1.0-litre 'standard' engine lacks low-end torque
Some of the grey interior plastics feel low quality
Suzuki is reorganising its whole range, reinvigorating it with new models that promise to step away from the no-frills image that it has suffered with in Britain. The Celerio, named to represent a celestial river in the sky, takes the reins from both the Alto and the Splash, combining city car dimensions with a higher driving position.
Celerio is a name already worn by Suzuki's small cars across the world, and now British models are being brought into line. The company is working from a position of budget-friendly motoring, and in a crowded part of the market the Celerio will challenge the Kia Picanto and Toyota Aygo more than the heavily style-led Renault Twingo or Fiat 500.
The car is designed almost as a hybrid between the Alto and Splash, taking the size and manoeuvrability of the Alto and combining it with the higher seating position of the Splash to create a car that matches rivals for efficiency, but betters most of them for ease of parking and forward visibility.
Suzuki has boosted the equipment levels in the Celerio to levels way beyond equivalently-priced competitor cars. It lacks certain luxuries like leather contact points in the cabin, preferring instead to add connectivity and style add-ons like Bluetooth and alloy wheels. Air conditioning is also standard, which is unusual for a car so affordable.
Key to the Celerio's low price is that the chassis is not all-new. It is based on the Alto platform, but with a new rear suspension system for greater stability and comfort. But the quantity of interior and boot space is even more impressive. It is 6cm longer than a Volkswagen Up, but with noticeably more passenger space.
Our verdict on the Suzuki Celerio SZ4
The Celerio has what every good small car needs: character. A good engine and generally stable chassis are important, of course, but the Thai-built Celerio balances enough material quality and solidity with an excellent ride and plenty of neat real-world touches. Its tight turning circle is brilliant in town and to have air conditioning as standard enriches what is unquestionably exceptional value for money.
Costs
While the Dualjet engine is around 20 percent more efficient than the standard engine, at least in official testing, it will cost more to buy. Emissions are low for both, but the more expensive engine wins another hand with a low CO2 score.
Space and practicality
At 254 litres, the Celerio has the biggest boot in the class by two litres from the Hyundai i10 and by three from the three Volkswagen Group alternatives. It is evenly shaped with a broad floor, which is surprising given the plentiful legroom provided for rear-seat passengers. In the cabin the door pockets are tiny and the open-faced bin ahead of the gear stick could be bigger, but the glove box is spacious, if a little fragile-feeling.
Controls and display
Unlike some other small cars the Celerio features a rev counter as standard, which adds to the pleasantly grown-up instrument cluster where other highlights are a trip computer, a gearshift indicator and a digital fuel gauge. The ancillary controls are shared with other Suzuki models so while they are light and easily operated, they are laid out in a familiar, easy-to-grasp fashion. The LCD display in the centre console delivers media information like radio station data. It looks a little old-school, but it works well.
Comfort
Suzuki does a significant amount of suspension tuning in the UK, before fine-tuning the general settings on the Continent. The influence of British B-roads shows in how comparatively well the Celerio deals with the lumps, bumps and scars that litter the streets. Only the biggest, sharpest-edged hits come through the cabin with any vigour, and only because the 14-inch wheels are simply too small to overcome them. The seats are biased towards immediate and short-distance comfort, so long trips will require breaks.
Car security
There is no alarm on the Celerio, but both models do at least share an immobiliser and remote central locking. The key is a simple affair with a fixed blade protruding from a solid plastic handle where lock and unlock buttons are mounted. It is not possible to unlock the boot on its own. Since both trim grades come with alloy wheels, they also both feature locking wheel nuts to prevent opportunist theft.
Car safety
The Celerio's three-star Euro NCAP rating is based on the lowest-spec model available anywhere on the continent. However, UK models have six airbags instead of four including side airbags mounted inside the front seats. Stability control and braking aids are standard, while hill hold assist, which stops the car rolling backwards on hills while attempting to pull away, is only standard on two model variants; the SZ4 with the AGS gearbox and the SZ3 with the upgraded Dualjet engine.
Driver appeal
While the standard 1.0-litre engine has little problem hustling the particularly lightweight Suzuki along when the revs climb, an upgraded version of the engine boasts more torque for a more relaxed drive. The gear ratios have been well chosen, the ride quality is composed and comfortable and there is much to praise in the Celerio's general feeling of lightweight agility and cheekiness, matched as they are by featherweight controls. There is plenty of character in the way that the Celerio does its thing.
Family car appeal
As far as cars of this size go, there is much that impresses about the Celerio's design. There is enough space for four adults comfortably, although such a load would significantly slow the car down. It would make an excellent city runabout for families, with its especially useful boot and child seat mounts. The fairly basic array of materials in the cabin are not likely to be easily ruined by spillages, either, and could potentially be replaced without too much expense.
First car appeal
As a small car the Celerio is perfect for learners who might still be getting used to the dimensions of a car, or for whom spatial awareness is not a strong suit. It is lightweight, easy to handle at all speeds, a doddle to park and cheap to fuel. It sits in a higher insurance group than many of its competitors, but its purchase price affordability stands in its favour. An important consideration is its unusually high levels of equipment, including connectivity technology that will appeal to younger drivers.
Quality and image
Suzuki is a small company and it shows in many ways. One of those is that it can't match the outright reliability of fellow Japanese brands Honda and Toyota, but in Suzuki's favour is how relatively simple the Celerio's design is. There is little to go wrong, and even less that is likely to result in scary bills after the end of the warranty period. Suzuki's brand image is, for now, still at the more utilitarian end of the scale, but excellent new models like the S-Cross and Vitara may begin to change that from the top down.
Accessibility
The five-door layout is standard. The lower part of the rear door aperture is broader than in some other city cars, which means that there is less obstruction for feet when getting into the back seats. This is a strong performer in this area, aided doubly by the notably high roofline that never threatens to block heads on the way in and out. The boot needs a good tug to get it past the first inch of travel, but once past that it becomes lighter. The boot lip is fairly standard for the class; deeper than some and shallower than others.
Stereo and ICE (In car entertainment)
There is a pleasantly traditional and tactile quality about the stereo unit, which is neatly integrated into the dashboard and operates via a simple selection of dials and buttons. But despite its old-school appearances there is a USB port, DAB radio and Bluetooth connectivity, making it among the best in the class - and better than a great many cars of twice the price. SZ3 models only get two speakers, while SZ4 versions are fitted with four.
Colours and trim
The sole free colour choice is white, which doesn't look bad but can be bettered by any of the optional metallic shades. There are no really bold choices but a red and a blue should cater for those with designs on a colour. The interior trim is one of few low-points in the car, with upholstery that looks highly dated and hard surfaces that make a good first impression but look less impressive the more you look at them.
Parking
The Celerio has a thoroughly impressive steering lock, bettered only by the rear-engined Renault Twingo and Smart ForFour, both of whose design-led ethos makes them indirect rivals for Suzuki. Combined with a narrow body the Celerio slots into bays with no fuss or delay, and can negotiate smaller roadside spaces than all its close rivals. Decent rear visibility helps in the absence of electronic parking aids, as does a higher seating position than in most competitor cars.
Spare wheel
Emergency tyre repair kit supplied as standard.
Range information
Petrol engine options - 1.0-litre (67bhp); 1.0-litre Dualjet (67bhp). Transmission options: five-speed manual gearbox, plus auto gearbox. Trim levels: SZ3, SZ4.
Alternative cars
Skoda Citigo Sets a high standard in every area, but is more expensive than the Suzuki
Hyundai i10 Longer than the Celerio but less cleverly packaged, the i10 boasts a high-class interior
Vauxhall Viva The longest A-segment car has great looks, but entry models are low on equipment
Peugeot 108 Svelte styling is appealing, but quality disappoints and prices are high