November 2008
Subaru Impreza WRX-S
WRX-S has echoes of the range-topping STi model
November 2008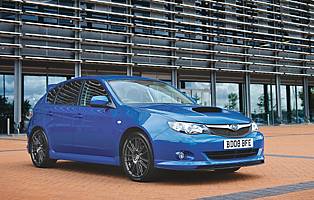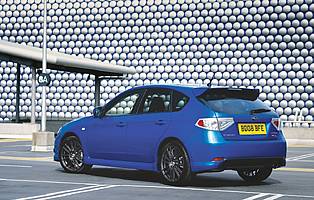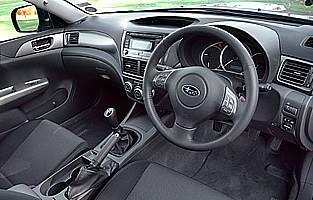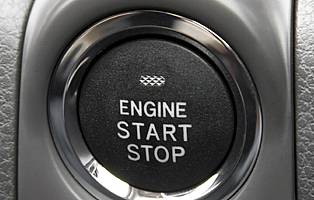 Overall rating

Likes:
Powerful and great sounding engine
Tremendous traction even in wet conditions
Modern and stylish instrument cluster and centre console
Ride is sporty but forgiving
Gripes:
Flimsy roller boot cover
Tinny feel to exterior
Hatchback styling is arguably less appealing than previous generation
Braking is noticeably under-assisted
Subaru's Impreza models have earned a worldwide reputation for performance largely thanks to the exploits of the World Rally Championship cars. Turbocharged WRX and WRX STI models have built a huge following in the UK, especially with young male drivers. Now there is a model to bridge the gap in the form of the WRX-S, with more performance enhancements.
Subaru's traditional recipe for the Impreza model has been refreshed for the UK market. The all-wheel drive and horizontally opposed engines remain, but instead of a four-door saloon and Sport Wagon Estate the company has chosen to offer British drivers a five-door hatchback for the first time. Subaru clearly feels that tapping into the huge appetite for more practical sports hatchbacks in the UK is the best way to bring the much-loved Impreza to a larger audience. Roomier and with a longer wheelbase, the model is intended to be a direct rival to some big selling hatchbacks with some excellent advantages across the range.
It's often the performance variants that get the attention, but it's the smaller-engined 1.5-litre and 2.0-litre models that Subaru feels have the most to gain from the switch to hatchback. With all-wheel drive, low-ratio gearboxes and a very competitive asking price it hopes the all-new Impreza may become a more common sight on UK roads.
The high-performance WRX and WRX STI models will doubtless remain the most visible presence however. Using turbocharged horizontally opposed engines to produce nearly 230bhp and 300bhp respectively and delivering it through intelligent all-wheel drive has made them potent machines. The new model is some 30kg lighter than the outgoing Sports Wagon estate, and with the engine positioned lower for better balance.
Unlike the extremely high specification STI on which the Subaru's WRC entry for 2008 will be based, the WRX model is less brutal and more tractable on the road. The company has sought to improve refinement by making the engine more flexible for everyday driving. Peak torque and power output is considerably lower in the rev range combined with a slicker gear change for smoother progress.
Our verdict on the Subaru Impreza WRX-S
The WRX-S is arguably something of a halfway house, offering increased performance over the regular WRX but without the full complement of technology and ability of the more expensive STI. The WRX-S is a capable and very enjoyable car, and retains the comfort and convenience of a standard car, and for those seeking a compromise it is ideal, but the full-house STI is the genuine rally missile.
Costs
The model's desirability among younger drivers and high performance may make it expensive to insure and the turbocharged boxer engine will also use fuel frivolously when pushed hard. Sensible everyday driving will see fuel consumption improve. Although there's little reason to doubt the well built model's reliability, constant hard driving will take its toll on perishables, although four-wheel drive should ensure even tyre wear.
Space and practicality
The Impreza's cabin is noticeably spacious with an airy feel and passengers receive generous legroom for a car of its size thanks to a long wheelbase. The boot isn't particularly impressive, being restricted by a high floor above the spare wheel. The rear seats fold flat for extra room and the WRX-S will seat four adults comfortably with no headroom issues.
Controls and display
The Impreza WRX-S features a contemporary instrument cluster with well lit and attractively styled dials. The steering column is fully adjustable and the centre console laid out in a familiar and sensible manner. The steering is impressively light at low speed, but with excellent feedback for sportier driving. A smooth and precise gear change adds to the appeal, with the only downside being a lack of servo assistance for the brakes which lends itself to sports, but not everyday, driving.
Comfort
The Impreza straddles performance and usability well and, while the ride is firm, it doesn't pose any problems for everyday use. The cabin is well designed with comfortable and supportive sports seats, the driver's being height adjustable, and air-con is standard. The engine can be loud when pushed, but settles to an acceptable hum on the motorway and is very quiet at idle. Neither wind nor road noise are particularly intrusive either, although dirt and gravel can be heard in the arches. Automatic interior lights would be a welcome addition, however.
Car security
The Impreza is alarmed and immobilised, which is fortunate as the models are known for being highly desired by thieves. Rear windows are also tinted which helps conceal possessions, but the boot is covered by a flimsy roller blind rather than traditional parcel shelf.
Car safety
All-wheel drive is the primary safety feature for the model, and it does an excellent job of keeping the car on the road in adverse conditions. Driver, passenger, curtain and side airbags are fitted along with energy absorbing seats and a snap away brake pedal. ABS and EDB assist during heavy braking.
Driver appeal
Fantastic grip from the intelligent all-wheel drive system and a raucous boxer engine combine for a highly enjoyable and extremely capable driving experience. A low centre of gravity means the model changes direction sharply and the WRX feels extremely stable at high speed. The car feels as though it is tuned more for high speed driving than ambling around town, which means the clutch can be a little grabby at low speeds, drivers will quickly become accustomed to the model's eagerness.
Family car appeal
The five-door format makes the Impreza WRX-S a useable family car, but for everyday use one of the less powerful engine options would make a more considered choice. That said, driver's who seek a trade-off between a family vehicle and weekend sports or even track car will find it in the model.
First car appeal
The Impreza WRX-S has street cred, high performance and value for money making it high on many young driver's wish lists, but a high power, highly desirable vehicle will doubtless incur additional insurance costs. Its competent handling should make it a safe bet in even inexperienced hands but, while its price tag offers great performance for the money, it will still make an expensive first buy.
Quality and image
The Impreza is traditionally more of a value for money than a premium quality proposition, which translates into the use of some cheaper plastics inside and the some thin and flexible materials on the outside. That said it is well built and there are no major rattles or squeaks present. Performance Imprezas carry a great deal of street cred, especially with younger drivers, and are well respected as fast and nimble cars.
Accessibility
The Impreza WRX's five-door layout means that access to the rear is considerably less troublesome than with some three-door hot hatches and the front of the car is equally accessible, with well-proportioned doors and welcoming sports seats.
Stereo and ICE (In car entertainment)
The Impreza WRX-S gets a six-disc CD and tuner with ten speakers as standard, which offers a very good standard of sound reproduction and a clear, easy to use layout. It also has steering wheel controls fitted as standard, which are intuitive to use.
Colours and trim
Available in four colours including the rally-based Blue Mica, the Impreza WRX-S is well catered for in terms of solid and metallic paint choices. Inside, the model boasts conservative but stylish dark cloth with silver trim on and around the dark dash. Being a performance variant the model also gets a sports body kit clearly designed to please the younger target audience including a roof spoiler and rear diffuser. 18-inch alloys wheels also add to the sports appeal.
Parking
Featuring a hatchback design for the first time means the Impreza is easier to park as the car effectively ends with the rear window. The turning circle is good in spite of the all-wheel drive system and visibility is good all round, with large mirrors that offer an excellent view.
Spare wheel
Space saver fitted as standard.
Range information
Petrol engine options - 1.5-litre (105bhp); 2.0-litre (148bhp); 2.5-litre (227bhp, 250bhp and 296bhp). Transmission options: five-speed manual gearbox, five-speed manual gearbox with low-ratio transfer, four-speed automatic gearbox, permanent all-wheel drive across range. Trim levels: R, RX, WRX, WRX-S, STI.
Alternative cars
Ford Focus ST engine sounds impressive and boasts similar performance
BMW 1 Series 130i M Sport is quick and equally good around the bends
Volkswagen Golf V6 R32 has meaty power delivery but costs more
Renault Megane Renaultsport F1 Team R26 has fizzy performance and neat handling