October 2008
Seat Ibiza 1.4 TDI Ecomotive
Stylish Ibiza looks good in bold colours
October 2008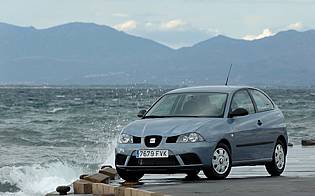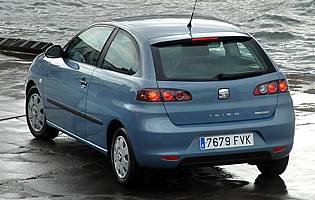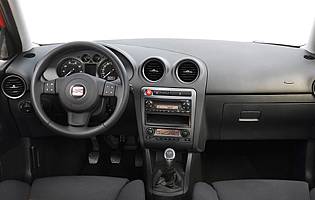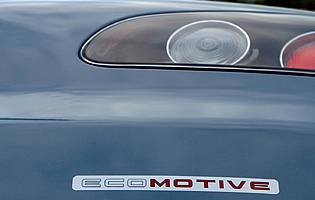 Overall rating

Likes:
Styling has aged well and remains fresh after all this time
Sharper than average steering and handling
Practical and spacious small car
Ecomotive variant offers good savings without any major compromise
Gripes:
Cabin is solidly built but lacks flair
Big doors on three-door hatch can prove troublesome in tight spaces
Engine is not the quietest in its class by some margin
Tall gearing means plenty of gear changing around town
Despite its obvious familiarity, this Ibiza hides a clever secret: it's the most fuel efficient of the range. Spearheading Seat's move toward greener motoring, this Ecomotive model promises better than average economy and emissions without the complications associated with petrol-electric hybrids.
It's common knowledge that diesel power is the way to significant fuel efficiency gains if you don't want to dabble with expensive batteries and other hybrid technology. Yet the combination of a diesel motor and small car remains a left-field choice for most people - you need to put in the miles to make it pay.
Seat thinks differently with its compact hatch Ibiza. For starters it's priced aggressively, while the promised savings are considerable - over 70mph and sub-100g/km CO2. The good thing about this Ibiza is that you drive it like a regular car; the intention is not to compromise the driving or ownership experience.
In practice Seat's approach largely works. The choice of engine - a three-cylinder, 1.4 unit - is a proven unit. It can be a little noisy when cold and pushed hard, though. Various clever tweaks have made it cleaner, while the standard fit five-speed manual gearbox boasts taller than average ratios to eek out the fuel. As such, you will have to pay attention when around to ensure you're in the right gear.
The car's low rolling resistance tyres are another clever addition, and in the main don't harm the overall ride quality too much. And that's it really; the Ibiza Ecomotive offers to save you money and a bit of the planet to boot for only the smallest of compromises. The car might not be as quiet as a petrol-powered hatch, but you'll see the difference in your wallet.
Our verdict on the Seat Ibiza 1.4 TDI Ecomotive
For a car with such a narrow remit - saving money and reducing overall consumption - the Ibzia scores highly. There's no need for something flash, and in Ecomotive form the little Seat certainly isn't flash. It is competent though, and in perverse way performs at its best on long journeys, something small cars aren't supposed to do. All in all, a low compromise way of making a significant cut in consumption.
Costs
Although the regular Ibiza is hardly a drain on resources, the Ecomotive model takes it step further with its low CO2 rating and fuel consumption. Ultimately you'll pay less frequently at the pump and less in road tax.
Space and practicality
Given the growth in the supermini sector in recent years, it's increasingly obvious that the Ibiza is no the most spacious on the market. That said, front seat passengers have good leg and headroom, although those in the rear will feel the pinch occasionally. Boot space however is good, with a wide and deep load area, plus oddment space in the cabin is reasonable.
Controls and display
In keeping with the car's simple approach to motoring, the Ibiza's modest collection of controls and displays are all largely easy to read and intuitive. The audio unit's small buttons and red display are as minor disappointment, although not as much as the absence of a trip computer for the economy-minded Ecomotive model.
Comfort
Any Ibiza that's not an overtly sporting variant offers occupants a comfortable seating position and good insulation from the outside world. The Ecomotive falls a little short here because the diesel engine is a little on the noisy side, while the ride on low rolling resistance tyres can feel overly firm on less than smooth roads.
Car security
All the basics are covered here, with models fitted with an engine immobiliser as standard, along with remote central locking with deadlocks for a good level of security. The radio aerial is an anti-theft item and the fuel cap is fitted with a lock - an important consideration given the Ecomotive's potential to sip fuel.
Car safety
Despite no longer being a bang-up-to-date car, this Ibiza does come with twin front airbags as standard, plus a useful a deactivation switch for the passenger side to allow a baby seat to be used. The standard fitment of ABS and front seatbelt pretensioners are also as you would expect.
Driver appeal
The Ecomotive variant is hardly a car for keen drivers. In fact, only fuel misers need apply. The car's tall gearing and the engine's lazy power delivery ensure a modest pace. Perversely, the car performs well on motorways that to the eco-friendly gear ratios. Around town you need to always be in the right gear at the right time to ensure smooth progress.
Family car appeal
It's fair to say that, in three-door form, the Ibiza is bettered by other cars in Seat's range. As an occasional family car stand in the compact hatch won't let you down, though. Its boot is a good size and the cabin made from durable materials.
First car appeal
In principal the Ibiza makes an excellent first car for the novice driver. It is an easy car to drive, and should prove affordable to maintain and insure. A lower cost petrol variant might prove a better choice for some than the eco-centric Ecomotive model, though.
Quality and image
With its upbeat exterior styling policy and positive image cleverly cultivated over many years, Seat has attracted many buyers to the brand. Image-wise it's often viewed as the youthful arm of the Volkswagen Group. Look closer and build quality and the choice of materials used in the cabin of cars of this generation could be better, though.
Accessibility
In three-door form this Ibiza is compromised slightly, but only if make frequent trips to the rear seats. If you're agile it shouldn't be a major problem, but try quickly belting in a small child. The slightly raised front seat position is welcome, while the car's big doors make front seat access a breeze.
Stereo and ICE (In car entertainment)
The Ibiza's simple combined radio and CD player delivers an acceptable performance. The various controls are on the small side and the display can prove hard to read in bright sunlight, though. At it can struggle to drown out the Ecomotive's vocal engine - especially on motorway journeys.
Colours and trim
Black and dark grey dominates the Ibiza's cabin, which does much to enforce the Volkswagen Group sombre ambience theme. Look closely and the materials don't quite match the VW gold standard, though. It's better outside, with the Ibiza shape working well with the bright and jolly colours from the Seat palette.
Parking
The Ibiza's compact size should pose few problems when it comes to parking. All-round visibility is good and the steering offers plenty of assistance at low speeds. The car's vertical tailgate makes it easy to judge where the rear of the car is.
Spare wheel
Steel spare fitted beneath the boot floor
Range information
Petrol engines - 1.2-litre (63bhp); 1.4-litre (74bhp); 1.8-litre turbocharged (147bhp and 178bhp). Diesel engines - 1.4-litre (79bhp); 1.9-litre (97bhp, 128bhp and 157bhp). Transmission options - five-speed manual standard with six-speed unit for highest output diesel engines. An automatic gearbox is available with the 1.4-litre petrol engine. Trim levels are Reference, Stylance, Sport, FR and Cupra, Ecomotive (1.4 diesel only).
Alternative cars
Toyota Yaris Thoughtful packaging and appealing looks
Ford Fiesta Shaper to drive than most rivals and easy to live with
Hyundai i20 Polished performer but conservatively styled
Skoda Fabia Premium looks but cabin lacks a polished feel