August 2013
Renault Zoe Dynamique Zen 5dr
Bold exterior of the Zoe signals that this is no ordinary supermini
August 2013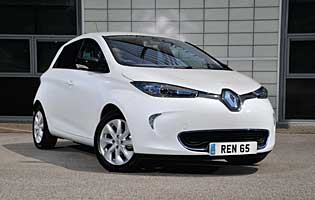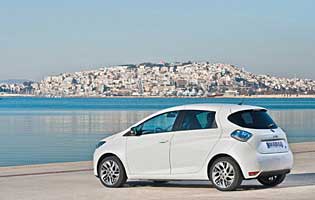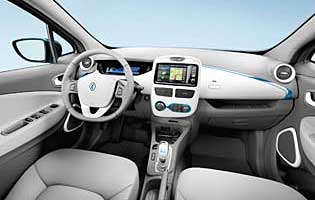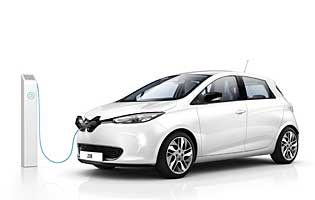 Overall rating

Likes:
Seamless operation of powertrain
Running costs should be extremely low
Cabin refinement levels when on the move are high
Physical act of recharging is straightforward
Gripes:
Bold looks might be off-putting for some
Modest range will deter long distance journeys
Purchase and lease options can prove confusing
Charging facilities will vary around the country
Following on from Nissan's Leaf, the other member of the Alliance partnership, Renault, has a lower cost and less luxurious electric offering in the shape of the Zoe. Like the Leaf, the Zoe is a compact hatchback. It's a five-door car with the emphasis on value for money, which is reflected in the car's Clio-esque interior complete with hard plastics and modest equipment levels.
Similar to the ethos behind the Leaf, Renault has ensured that the Zoe is as much like a conventional car to drive as possible. As such, the car's cabin is straightforward and boasts many similarities with the petrol and diesel-powered Clio, right down to the switchgear.
What's not conventional is the Zoe's exterior, which is a lot more futuristic than a Clio or any other small hatchback. It's nothing like Toyota's Prius, but there's more than a hint of a futuristic theme. Clean lines, bold shapes and a radical interpretation of Renault's family 'face' ensure you can't mistake the Zoe for anything else on the road.
Underneath the radical styling is a relatively conventional car bar the powertrain, although the chassis on which it is built is new and many of the components were designed specifically for electric motoring. The powertrain itself is made up of an electric motor driving the front wheels, components under the bonnet that manage the flow of power from the batteries to the motor and the batteries themselves, which are thin and therefore are laid along the floorpan for better weight distribution.
The end result is a car that, unsurprisingly, drives much like Nissan's Leaf. That in itself is no bad thing, as the experience is a quiet, refined and competent one. The Zoe is no sports car though, and is best driven at a modest pace. Not just to conserve battery power but because the car feels more comfortable when not being hurried. Intuitive controls and charging procedures ensure the ownership experience is as conventional as it can possibly be.
Our verdict on the Renault Zoe Dynamique Zen 5dr
While even the most enthusiastic supporters of electric cars will admit there's still plenty of room for improvement, Renault's Zoe offers a straighforward and relatively fuss-free motoring experience. Save for a few quirks the car's cabin is conventional, while the driving experience is refined and performance is acceptable. Short, frequent runs are the Zoe's forte, and if used sensibly and expectations are suitably managed it can prove to be a competent alternative to anything with a combustion engine.
Costs
In basic terms charging the Zoe should cost far less than fueling a conventional car. Also in the Zoe's favour is its relatively modest purchase price. However, Renault's decision to split the battery from the equation and make is a separate item you lease does muddy the water slightly and requires careful calculation before committing to a particular financial plan. Mind you, nominal servicing costs and zero excise duty should help matters.
Space and practicality
The Zoe offers class-competitive space for passengers and luggage, and so is perfectly acceptable rather than exceptional. However, the Zoe is less practical than a conventional car in terms of its ability to cover long distances in one hit. The Zoe's range is highly dependent on the manner of driving and the conditions, so a worse case scenario means the car could need to be charged several times on a long journey.
Controls and display
As you'd expect of any electric car, the Zoe has a great deal of important information to give to the driver and the car's main instrument panel does an excellent job of telling the driver everything they need to know. From current charge state to the flow of energy and regeneration performance, it's all easy to read at a glance. The Clio-esque touchscreen infotainment is also easy to use when on the move.
Comfort
Ride comfort in the Zoe is good, and the Clio underpinnings ensure a compliant and predictable ride. Of greater impact on comfort though is the virtual absence of noise. Whilst stationary and at low speeds there is no noise at all, and even at higher speeds it is only the faint rush of wind that makes its presence felt. The single-gear transmission and light controls also help greatly in this respect.
Car security
As with other aspects of the ownership experience, the Zoe is surprisingly conventional. Remote central locking, keyless entry and ignition ensure there's no fumbling for a key in a dark car park.
Car safety
It's not just Renault but all manufacturers of electric cars have been keen to stress that the underlying technology is safe to use and, crucially, safe in the event of a crash. Elsewhere, the Zoe boasts a comparable level of active and passive safety systems to keep you safe and protected when on the move.
Driver appeal
Conventional in the extreme, the Zoe behaves a lot like a supermini with an automatic gearbox. Controls are light and boast plenty of assistance, hinting at the car's unsporting pretensions. Naturally, the car's 87bhp electric motor delivers a near-instant form of acceleration thanks to its torque characteristics. Sadly the combined weight of car and batteries means the Zoe is brisk but hardly swift, encouraging a relaxed approach to making progress. And with around an 80-mile range per charge, progress is only halted by the availability of suitable charging facilities.
Family car appeal
As a family machine the Zoe offers a useful amount of space, but it is its zero emissions credentials and ease of use that would make it an ideal car for the school run, shopping trips and any other short of journeys in the course of a day.
First car appeal
The Zoe is a car for the environmentally aware and therefore may well show up on the radar of new drivers. Modest pricing and ease of use also count in its favour.
Quality and image
Although it could not be described as luxurious, the use of good materials and appealing design give a feeling of quality. The Zoe's image is all down to its green credentials, and it is likely that it will be seen as having a very strong image as a result.
Accessibility
With a conventional cabin layout and a family hatch silhouette the Zoe presents no problems when climbing aboard. The same can be said for the boot, which has a low loading lip and a good-sized tailgate.
Stereo and ICE (In car entertainment)
The standard system includes a radio tuner with Bluetooth and an emphasis on MP3 player connectivity. Overall, sound quality is good and, in conjunction with the touchscreen, access to the various functions is easy.
Colours and trim
The Zoe's zero emissions tag and futuristic shape lends itself to soft colours: blue and white suit it well. Inside, the cabin also works well in a light colour, although perhaps not as good at hiding marks as darker colours but does help to promote a light and airy cabin.
Parking
With a large glass area, good visibility and instant torque from the electric motor, parking the Zoe is very simple indeed. Parking sensors help make the process that bit easier, too.
Spare wheel
Emergency tyre repair kit as standard.
Range information
Engine options - AC electric (87bhp). Transmission options: Single speed transmission. Trim levels: Expression, Dynamique Zen, Dynamique Intens.
Alternative cars
Volkswagen Golf Bluemotion Conventional hatchback with highly efficient diesel engine
Toyota Auris Hybrid Electric and petrol power for fuel and emission savings
Vauxhall Ampera Electric power and range-extending petrol motor offer convincing performance
BMW i3 All-electric BMW is hi-tech but also an expensive proposition