October 2005
Renault Laguna Sport Tourer GT205 2.0 Turbo 16v
Restyled nose bring Laguna into line with the Modus and Megane
October 2005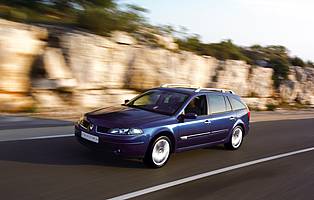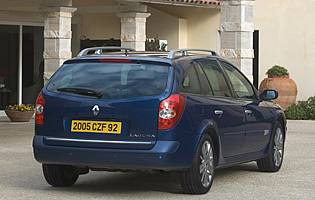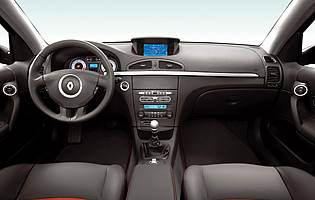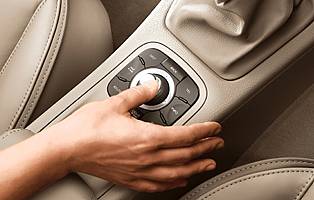 Overall rating

Likes:
Attractive interior is tastefully finished in quality materials
GT205 is no slouch in a straight line
Load area is practical and easy to access thanks to split tailgate
Impressive level of standard safety and comfort equipment
Gripes:
Manual gearshift not really suited to enthusiastic driving
Electric handbrake could be better located closer to hand
Space for rear seat occupants still only average
Restyled nose not as elegant as previous model
Renault's elegant Laguna Sport Tourer has always appealed to buyers who fancied a more stylish alternative to the offerings from Ford and Vauxhall. Never a rival to the sports orientated cars in the mid-size estate class, the Laguna experience was one that focused more on comfort, practicality and safety. For 2005 the car gained a Megane influenced nose, more standard kit and a number of handling tweaks to keep pace with its rivals.
Often billed as the car you buy if Ford's Mondeo and Vauxhall's estate pairing fail to ignite any excitement, Renault's Laguna Sport Tourer is hardly the stereotypical rectangular box on wheels.
Although boasting enough space to carry shopping, work-related objects, leisure equipment or the odd furniture flat-pack, many estate cars lack visual appeal. Looking like long, featureless boxes on wheels, some mid-size cars have taken the utility look too far. Not so the Laguna Sport Tourer.
The car's sloping rear glass area and rounded tail section mark it out as an elegant alternative to conventional estate cars and even compact people carriers. The traditional mid-size car sector might have seen better days, but Renault's efforts to give the Laguna a lift should be applauded.
While the car's revised nose is not as elegant as the one it replaced, the car's interior is full of pleasing curves, contrasting trim, bold colour options and sensible ergonomics. The car's handling is now sharper, making the Laguna an enjoyable if not a riveting steer.
Our verdict on the Renault Laguna Sport Tourer GT205 2.0 Turbo 16v
Renault's refreshed Laguna deserves plenty of praise for its style and interior decor. The firm's considerable emphasis on safety is also commendable, and the work done on the handling should boost the car's appeal. It's not the largest car in this sector, but the Laguna's spacious boot is useful and versatile. Overall it's a good value and attractive package.
Costs
Pound for pound the Laguna range is reasonably good value for money. Equipment levels are generous and, if you pick a diesel, running costs are modest. The performance GT205 variant is slightly different as it's not that frugal and its insurance rating will be higher than average. As with most cars, major servicing intervals are generous and it's unlikely you'll be paying prestige rates at the dealer.
Space and practicality
Although the Sport Tourer is one of the more streamlined estates on the market, its load lugging capacity hasn't been sacrificed completely in the name of style. The car's tailgate requires little effort to raise or lower, and the load lip is wide and doesn't suffer from any unnecessary intrusions from the tail lights. The split rear seat arrangement works well, but the seats don't fold completely flat. With the seats in place the total space available is 475 litres, and with them folded it rises to 1,515.
Controls and display
The GT205's main dials differ from those of the regular cars as they are silver with red numerals and can prove a little tricky to read in low light. The ventilation buttons are also a on the fiddly side, although you could leave the system on 'Auto' if you wanted. The eye level audio and trip computer readout might be small but the information is presented in a no-fuss manner. The electric handbrake can be hard to reach if you prefer a reclined driving position, as it's located to the right of the steering wheel.
Comfort
The Laguna has always been pitched as a refined cruiser, and has distanced itself from the more sports-orientated cars in the estate class. This remains the case but suspension revisions have reduced bodyroll and pitching to more acceptable levels without harming the ride too much. Of course, the GT205 boasts the firmest ride of the range but it rarely proves uncomfortable. The front sports seats are more likely to cause a problem if you're generously proportioned. Elsewhere, headroom is good, as is cabin width. Long journeys in the back might prompt a few frowns, but it's no worse than some rivals.
Car security
The security package on the Laguna is a predictable one; remote central locking, plus an alarm an immobiliser. Renault's unusual credit card-style key is difficult to lose thanks to its size, while opting for a car with the full 'keyless go' package means you never need to take it out of your pocket. Just walk up to the car, grab the door handle, get in and press the starter button and you're away. Do the reverse when you've stopped and the car will lock automatically after a few seconds. Fumbling for your keys in a dark car park will be a thing of the past.
Car safety
Renault doesn't cut corners in the safety department - the string of Euro NCAP five star cars is proof of the French firm's dedication to improved crash protection. Anti lock brakes are, predictably, standard, as are twin front and side airbags plus a pair of curtain air bags that run the length of the cabin. You can turn off the front passenger air bag if you intend to carry n infant, while Isofix mountings are fitted to the outer rear seats. Dynamic spec cars add auto headlamps and windscreen wipers plus cruise control, while the GT205 adds ESP and powerful Xenon headlamps.
Driver appeal
Regular Lagunas are still, despite revisions to the ride, biased towards comfort and refinement. The GT205, on the other hand, leans noticeably more towards the sporty end of the spectrum. With the same engine, albeit slightly detuned, as the Megane 225 hot hatch, this Laguna is no slouch. The front-wheel drive chassis can struggle a little in the corners when pushed hard, but treat it more like a rapid cross-country load lugger and you'll find the driving experience enjoyable.
Family car appeal
It's no Scenic or Espace, but the Sport Tourer will accommodate the needs of a growing family. Isofix anchor points, a decent boot that will easily swallow pushchairs and shopping together and plenty of airbags are all highlights. Growing teens - and adults - might find rear legroom only average and the cabin storage options can't match that of a Scenic's, but the Laguna will handle better than any top-heavy compact MPV.
First car appeal
The Laguna, in hatch or Sport Tourer form, is unlikely to appeal to the novice driver using his or her own money - a Modus or Clio would be a better and more affordable option. As a first company car the Laguna would be more than acceptable, although the GT205 might be a little quick for some people and their insurance company.
Quality and image
Renault has taken a few knocks in recent years thanks to less than great levels of reliability. While mostly minor electrical gremlins, the French firm's reputation has suffered a little. Renault has claimed the situation is much improved, and if the quality of the cabin is an example of the progress made, it looks like Renault has made some improvements. Fit and finish is good, while the materials used possess a high quality feel.
Accessibility
Front seat occupants won't be troubled by the door aperture of the Laguna, as access is good. Cars with sports seats, such as the GT205, won't let you slide in or out as the seat bolsters get in the way, but this shouldn't be a problem for able-bodied adults. Back seat passengers don't fair quite so well as the rear door is smaller, although only the really tall or infirm will find access and egress a problem. On a positive note the car's tailgate boasts an independently opening glass screen, making it easy to deposit small items without needing to constantly manhandle the tailgate.
Stereo and ICE (In car entertainment)
Audio provision in the Laguna is, on the whole, a cut above most rivals. The sound quality of even the basic system is good, with the better-equipped units boasting CD changers and more powerful outputs. Renault's convenient remote audio controls are also present. The basic, monochrome sat-nav fitted to the GT205 and optional on other models is disappointing, although the optional full-colour system is very impressive and comes with an Audi MMI-style controller that's surprisingly intuitive.
Colours and trim
Renault has done a fine job with the Laguna. While you can opt for a dark, conventional cabin, lighter options do exist and boast a premium feel that few in this sector appear able to replicate. Real wood inserts and leather upholstery on upmarket variants are cleverly executed, and the satin finish on selected plastics is convincing.
Parking
So long as you're not sitting too low in the seat, forward visibility is reasonably good. The car's thick windscreen pillars can make judging distances a little tricky, but at least the Laguna's power steering is light enough at low speeds to make the job easy. Rearward visibility is a little better, although rear occupants will, predictably, obscure most of your vision. Parking sensors - optional on all models bar Privilege and Initiale - are worth the expense.
Spare wheel
A steel spare wheel is supplied as standard fit.
Range information
Petrol engines: 2.0 (135bhp); 2.0 Turbo (170bhp); 2.0 Turbo (205bhp); 3.0 V6 (210bhp). Diesel engines: 1.9 dCi (95bhp); 1.9 dCi (120bhp); 1.9 dCi FAP (130bhp); 2.0 dCi (150bhp); 2.2 dCi (150bhp). Gearboxes vary depending on model, but run to five and six-speed manual and four and five-speed automatic. Trim levels are grouped for luxury - Expression, Privilege, Initiale - and sport - Extreme, Dynamique, GT205.
Alternative cars
Peugeot 407 SW Rakish 407 SW handles well but is not the most spacious in its class
Ford Mondeo Estate Popular Ford still a sensible option, although can prove expensive if well equipped
Vauxhall Vectra Estate Revamped Vectra now better to drive, good value and well equipped
Citroen C5 Estate Value for money C5 is spacious and comfortable but won't please enthusiastic drivers