August 2015
Renault Kadjar Signature Nav TCe 130
The Kadjar sports looks inspired by the Captur compact crossover
August 2015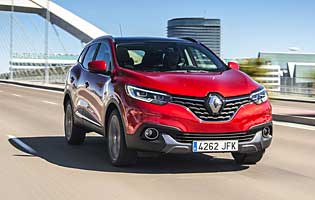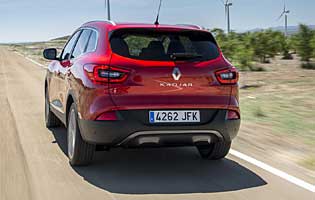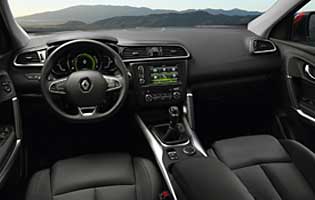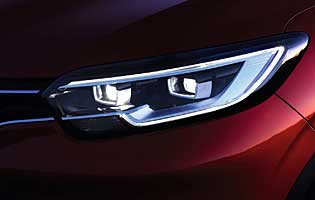 Overall rating

Likes:
Practical touches like remote releases in the boot for folding rear seats
Lots of rear legroom
Comfortable front seats
Quiet cabin under most conditions
Gripes:
None of the available engines offers enough performance
Big price jump between entry-level and mid-range trim grades
Cabin not as high quality as some rivals'
Rear visibility restricted by rising shoulder line and corner pillars
Given that Renault has long since been in a parts-sharing alliance with Nissan, which makes the hugely successful Qashqai crossover, it's somewhat surprising that Renault has taken so long to get in on the act with a rival car. That vehicle is now here, differentiated by slightly larger dimensions and a bigger boot.
The family-sized crossover market has exploded in popularity since the launch of the Qashqai, which although not the first to adopt the concept was the model to really take it to the mainstream. Renault has created the Kadjar to try to take sales and profit away from rival cars with years of sales history already behind them.
The French firm seems to be somewhat reluctant to try new things at present, following its decision to cull its range to eliminate chronically unpopular models like the Koleos and Laguna. The Kadjar is positioned in a competitive but potentially lucrative part of the market in an attempt to rebuild the firm's sales share.
Slightly longer and wider than the Nissan with which it shares a chassis, it adds a useful extra amount of boot space that further elevates it above the smaller hatchback alternatives that are not too dissimilar in price to the Kadjar. Practical, family-oriented features have been added to appeal to retail buyers rather than company car users.
The available engines are all low-power options with a strong emphasis on reduced CO2 emissions. In the real world this can be counter-productive as they need to be worked all the harder to move the car along with traffic, thus ruining fuel economy. It's clear that Renault expects the Kadjar to be used more in urban settings than on motorways.
Our verdict on the Renault Kadjar Signature Nav TCe 130
While there are plenty of design touches to praise on the Kadjar there are also fundamental flaws in its under-powered drivetrains. When loaded with passengers and luggage it really struggles to perform, and overtakes become all-but impossible on busy roads. Used solely around town its strengths are more obvious, with comfortable seats and a quiet cabin, but in urban settings it can't record good fuel economy.
Costs
Renault claims best-in-class residual values for the Kadjar at the time of its launch. Its relative scarcity will at first count in its favour. Road tax will be low whichever engine is picked, but fuel consumption is likely to be much higher than advertised because of how hard they all have to be worked to keep up with rushing traffic. Insurance should be modest, falling in line with the sector.
Space and practicality
The size advantage the Kadjar holds over the Qashqai is evident here. The boot shames those of compact family hatchbacks and offers an active family a much-improved option for holiday or toddler luggage. The bench seat only splits in a standard 60/40 format but that should be good enough for most owners when wishing to carry longer loads.
Controls and display
Renault has employed a simple arrangement for the main controls, one that any prospective customer will be able to quickly familiarise themselves with. The R-Link touch-screen interface is excellent, using fresh graphics, good colour and clear layouts to guide users through menus. The pedals and steering are intentionally on the light side to feel user-friendly and boost confidence.
Comfort
Higher up the range there are bulkier, sportier seats with better overall support and comfort. Some people will want for longer seat squabs for better under-thigh support and better spread of body weight, but the seat backs are easy to relax into and seem comfortable for longer journeys. There is excellent legroom on offer to rear passengers and even three children should be able to sit across the bench without clashing shoulders.
Car security
Remote central locking with deadlocks is standard on all grades. High-spec versions come with keyless entry, using a key fob roughly the shape and size of a credit card, only thicker. It allows people to enter without having to take keys out of bags or pockets. The standard alarm is approved to Thatcham Category One standard.
Car safety
Among the safety features available on the Kadjar range are emergency brake assist, lane departure warning, road sign recognition with speed limit alerts and a reversing camera to help prevent low-speed manoeuvring calamities. Full-LED headlights offer clearer visibility at night, being brighter than halogen but casting a more natural colour of light that the eye can more easily deal with.
Driver appeal
The Kadjar is not unpleasant to drive, but it suffers with under-powered engines that leave it floundering through attempted overtakes. The turbocharged petrol is the smoother option for low-speed urban driving but is very much out of its depth on faster roads. It is not a car built for thrills and offers none as a result, but its driving position is good, and ample comfort from the high driving position mean that it's likeable.
Family car appeal
Families will be the main target audience for Renault, with mums and dads alike appreciating the looks, driving position and raised seats for ease of child seat installation. There are two ISOFIX child seat mounts on the outer rear seats for compatible chairs, but the main boon is the sheer amount of space behind the front seats, which makes fitting any kind of child seat all the easier.
First car appeal
This is a good-looking car and could realistically have appeal for a new driver, but the highly successful Captur is smaller and cheaper, with more exciting colour options. By comparison the Kadjar is too big, too expensive and not especially relevant to most first-time car buyers' lifestyles. Renault is not without options for these customers, but this model is unlikely to appeal.
Quality and image
There is a clear step up in quality between the Kadjar and previous Renaults, and apart from a few areas of cheap-feeling plastic the interior is solid; helped in part by the neatness of its design. Renault's image has much ground to cover, though, with complaints persisting across several of its models with regard to electrical problems. It rarely records good results in ownership satisfaction or reliability surveys.
Accessibility
Getting in and out of the Kadjar is an easy task, although there is a notable width of bodywork to step over between the seat and the ground so the short-legged might struggle not to rub their calf on the potentially dirty paint. The doors need to swing out to a significant angle before they reach a rest point, which is not helpful in car parks. The tailgate is light and rises with a modest tug at the handle, closing equally simply.
Stereo and ICE (In car entertainment)
Renault's latest TFT display is the interface through which the stereo operates. It can also be partly controlled by voice, but the touch-screen is more reliable and features a home screen customisable for the user's most-used items. Drivers will find USB, Aux, DAB radio and Bluetooth connections through which to select music. A Bose stereo upgrade is offered for better audio.
Colours and trim
The bold at heart will be pleased to see a bright red on the palette called Flame Red. The rest of the colour options leave much to be desired in terms of adventurousness. A dark blue is nice, but light beige-brown, white and black do no favours for the car. On the inside there is the option of tacky colour-coded trim, but without it it's a pleasant and moderately premium-feeling environment with an extra front passenger grab handle there as a nod to its off-roading ambitions.
Parking
Although it shares a platform with the Nissan Qashqai, the Kadjar is slightly larger and can occasionally feel it in car parks. The difference isn't much, but passengers will need to be conscious of their proximity to other cars when they open doors. A reversing camera is part of the standard specification on high trim levels. All versions have an automatic parking brake which will release the car when the clutch bites.
Spare wheel
Space saver spare wheel supplied as standard (except Signature Nav models).
Range information
Petrol engine options - 1.2-litre (128bhp). Diesel engine options - 1.6-litre (108bhp, 128bhp). Transmission options: six-speed manual gearbox, plus automated manual (108bhp diesel only). Trim levels: Expression+, Dynamique Nav, Dynamique S Nav, Signature Nav.
Alternative cars
Nissan Qashqai By far the biggest-selling model in the class; a great all-rounder
Volkswagen Tiguan Styling to mimic SUVs joins good cabin ergonomics and engines
Suzuki SX4 S-Cross Underrated and excellent value crossover with an excellent diesel option
Peugeot 3008 Very comfortable choice hampered by poor residual values