November 2012
Renault Clio Dynamique MediaNav 1.2 16v 75 5dr
New design is the most notable change
November 2012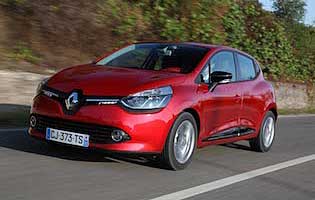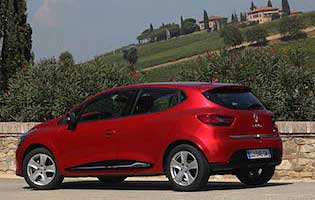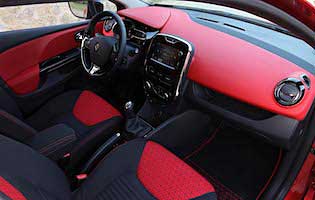 Overall rating

Likes:
Exterior redesign is a success
Cabin is easy to use and practical
New engines are frugal yet flexible
Infotainment interface has been cleverly designed
Gripes:
Some hard plastics remain in the cabin
Five-door only bodystyle might disappoint some
Sat-nav function could be more responsive
Modest power of the engines can prove frustrating on motorways
In a bid to maintain its position in the fiercest of markets, Renault's latest Clio supermini focuses on ease of use and low running costs. Its sharper looks, improvements across the board in terms of quality and a greater emphasis on connected driving through a user's smartphone, should ensure it can compete head on with higher selling rivals and increasing number of newcomers.
The name might be the same but the gradual evolution of Renault's Clio continues as the French car maker seeks to remain at the top of buyers' shopping lists. As is the case elsewhere in the supermini sector, the Clio has grown slightly and the overall quality ambience has improved significantly.
Following the Twingo and aping the Captur, the Clio's cabin boasts a clean, minimalist appearance. For many the car's dominant touchscreen will be the primary control interface, be that for audio or navigation functions. Elsewhere, Renault's flair for delivering intuitive and uncluttered fascias remains intact, while the overall sense is of a pleasingly upmarket cabin environment.
Renault's two-pronged attack marries quality with reduced running costs, with the Clio gaining a modest range of small capacity petrol and diesel engines. Power outputs aren't earth shattering, but with the promise of low emission and fuel consumption there are significant savings to be made in the real world.
Elsewhere the Clio remains true to its predecessors in that it's an agile and engaging car to drive. It's also good-looking in a range of bright colours and the standard specification is pleasingly generous. The switch to a five-door only policy doesn't appear to have harmed the car's looks, and it's done much to boost its practical side.
Our verdict on the Renault Clio Dynamique MediaNav 1.2 16v 75 5dr
It might now be five-door only but that shouldn't put you off Renault's latest Clio. supermini. Like many in this sector, the Clio has been positioned more upmarket than previously and economy and connectivity are the two standout features. It's still good to drive and, crucially remains an aesthetically pleasing proposition. The competition might be tough but this Clio is no also ran.
Costs
Low running costs should be a key benefit to owning this Clio, with meaningful fuel economy a key factor. Low insurance groupings and keen pricing further reduce costs, alongside a generous level of standard kit across the range.
Space and practicality
The Clio makes the most of its dimensions, which are big for the class, and this translates into decent cabin space. Front seat occupants will have no concerns while those in the rear can enjoy good space for the class. The boot is also generous and storage space in the cabin is good.
Controls and display
From the driver's seat the Clio has a pleasing layout with all the controls logically placed. Some minor controls are quite small but easy to use. Renault's trademark steering wheel controls and the supplementary stereo column stalk are welcome additions. For most models the main point of contact will be the central touchscreen, which although clear and intuitive, can prove a little slow to respond - especially when in navigation mode.
Comfort
Renault has invested much time in reducing noise levels and the work has paid off. The Clio is very quiet for a car in this segment with very little wind, engine or road noise at sensible speeds. This contributes greatly to comfort levels as does the ride quality, which is of a very good standard. Seat comfort is also good, both for front and rear passengers.
Car security
There's nothing out of the ordinary here but Renault does have all the basics covered. Remote deadlocking and an alarm, as well as useful features such as automatic door locking when the vehicle is on the move, certainly help. Renault's famous 'keycard' remote fob and ignition 'key' allows for keyless entry and push button start - negating the need to fumble around in the dark for a conventional key.
Car safety
The Clio offers a high standard of safety. Naturally ABS is standard, alongside a full compliment of airbags on all versions. Active head restraints have also been included which claims to further reduce the likelihood of whiplash in the event of a rear impact.
Driver appeal
Despite Renault focusing on low power, low emissions engines, fun can still be had. This generation of Clio may be more refined and comfort orientated, but it remains an agile and engaging car irrespective of your speed. Light controls, good forward vision and a well sorted ride ensure it competes head on with many of its rivals.
Family car appeal
Smaller families will find the Clio well suited to everyday use. There is enough rear seat space and boot room for most journeys; only longer trips with lots of luggage may prove a struggle. The promise of modest running costs should also prove attractive to those on a limited budget.
First car appeal
First time car buyers are a big market for the Clio and many will be attracted to its broad range of abilities. Low running costs are important, with good fuel economy and low insurance group ratings the main attractions. Its simplicity of use and wide trim options means there should be something for all budgets.
Quality and image
Renault has maintained a good standard of quality with the Clio. The exterior has a solid appearance and inside most of the surfaces feel of good quality and well constructed. The overall design is clean and simple, adding to the good impression.
Accessibility
Being five-door only, access to the cabin requires little effort. The doors front and rear have a wide opening for easy access and, even in the rear, the footwell is generous and the roofline is high enough to avoid contact with the head. Access to the boot is also straightforward with a wide tailgate and modest load lip.
Stereo and ICE (In car entertainment)
All models are fitted with a comprehensive audio package, including connections for an MP3 player. Sound quality is good, largely because the Clio is very quiet at speed. The unit itself is relatively easy to operate as most functions are accessed through the car's touchscreen, although this is boosted by the excellent controls repeated on a column stalk.
Colours and trim
Bold exterior colour choices plus clever styling details mark the Clio out as one of the more stylish superminis on the market. The car's interior isn't quite as bold, but quality levels are good and the various trim accents do much to raise the otherwise sombre ambience.
Parking
A large glass area is a huge factor in making the Clio easy to park. The steep rear window makes it simple to judge where the rear of the car is. Light steering and well-placed door mirrors also contribute to the experience.
Spare wheel
Space saver spare fitted beneath boot floor.
Range information
Petrol engine options - 0.9-litre (90bhp); 1.2-litre (75bhp). Diesel engine options - 1.5-litre (90bhp). Transmission options: five-speed manual gearbox, six-speed automatic gearbox. Trim levels: Expression, Expression+, Dynamique Media Nav, Dynamique Media Nav S.
Alternative cars
Ford Fiesta Class best for looks and driving pleasure, good value too
Volkswagen Polo Offers usual high-quality experience but not a bargain proposition
Vauxhall Corsa All-rounder offers good specification and value but is showing its age
Toyota Yaris Practical and economical, not for keen drivers though