June 2011
Peugeot 508 SR 2.0 HDi 140 4dr
View from the front is bold and striking
June 2011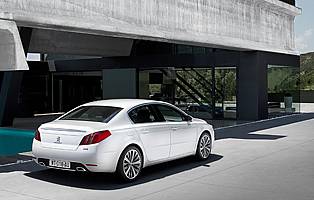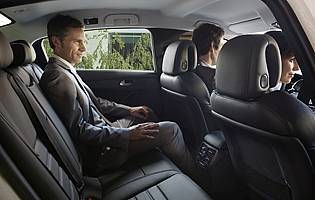 Overall rating

Likes:
Much bolder style statement than its predecessor
Premium-grade quality ambience throughout
Creature comfort and safety provision is impressively high
Dynamic performance is a welcome step up from the old 407
Gripes:
Looks won't appeal to everyone
Badge snobs will still prefer something German
No hatch variant, only saloon or estate to choose from
Despite improvements, dynamic performance still behind some of its key rivals
After the lukewarm reception to the 407 and a general move upmarket by rivals, there's considerable pressure on Peugeot's 508 to succeed. This time around the signs are promising: bold looks, plenty of kit and refinement and a return to the agile Peugeot's of old to keep the keen drivers happy.
The dramatic-looking 508 is important to Peugeot for a number of reasons. Not only does it signal a new design direction for the firm but the car attempts to revive the French firm's old values of putting the driver first.
Recent years have seen the competition in the mid-size market expand and, crucially, become tougher. Traditional high volume makers are muscling in on the territory of German premium models, while the old guard have become more price-savvy and appealing.
From its looks alone it's easy to see the 508's premium leanings. It remains a bold shape, only now there's a generous and welcome dash of refinement to give it the boost it needs to succeed.
And if that's not enough, the car comes with a wide range of well thought out and frugal engines. Predictably for a car still targeted at the company car market, the diesels should command the most interest - especially as the eco-centric HDi 112 boasts an efficient and unobtrusive stop-start system.
Our verdict on the Peugeot 508 SR 2.0 HDi 140 4dr
With its less radical yet still striking exterior and the promise of more room in its noticeably more refined cabin, Peugeot's 508 mid-size saloon sets out to offer more of everything. Select the right engine and it can be surprisingly frugal, too. And, crucially, it retains Peugeot's supple yet engaging driving characteristics for good measure.
Costs
With its generous levels of standard equipment plus a range of frugal diesel engines, cost of ownership levels should be modest. Historically large French cars haven't fared as well as German rivals in the residual stakes, but the 508 stands a much better chance than its predecessors.
Space and practicality
The saloon acquits itself well to everyday tasks, and should appeal to security-conscious folk who don't like leaving valuables in the boot of hatchback cars. That furniture flatpack might have to be delivered separately but the 508's loadspace is surprisingly versatile. Occupant space is good fore and aft, while oddment storage is fine, if not at people carrier levels.
Controls and display
At the heart of the 508 is a set of easy to read main instruments plus the intuitive trip computer. Both column stalks and the supplementary audio controls are also straightforward to use. At the fascia level Peugeot's legacy audio and ventilation unit is less intuitive - it's a feature of many Peugeot Citroen models - and requires more than just a quick glance when driving. Thankfully the car's main display screen requires less attention when on the move.
Comfort
Drivers will find the wide range of seat and steering wheel adjustments welcome, while road and wind noise is has been kept to a pleasing minimum. Front seat occupants will find it hard to complain about their surroundings, as there's plenty of head, leg and elbowroom - and it's better in the back than the old 407.
Car security
As you'd expect, remote central locking plus the usual alarm/immobiliser combination is offered with the 508. The car's saloon boot helps to ensure that your valuables are securely locked away and out of sight.
Car safety
Other car makers might make a big fuss about their cars' safety credentials but Peugeot's products are just as good. With plenty of airbags and the latest electronic stability aids to keep you safe, the 508 is level-pegging with the competition.
Driver appeal
Despite its size, the big Peugeot can be hustled enthusiastically through a series of bends - its direct steering and confident, sporty handling clearly evident. Predictably, the most powerful diesel option is the star performer, as its generous levels of torque make light work of twisting, undulating terrain. Peugeot's trademark supple ride is evident, and the new generation of stop-start diesel engines work as you'd expect.
Family car appeal
The 508 is no MPV but there's enough space for a growing family and more than a few personal items in the boot. The saloon style body won't be able to match the practicality of a hatchback, though. And the plush upholstery might prove vulnerable in the presence of very small children.
First car appeal
Novice drivers would be better off with something smaller and more manageable as a first car. The 508 is hardly a cumbersome machine but, say, a 207 would be better if you didn't need all the space.
Quality and image
Keen to move on from the decidedly average performance of recent predecessors, Peugeot has positioned the 508 a notch above the older 406 and 407 models. Everyone is now offering 'affordable premium' models, and the 508 comes with all the right kit, but some buyers will still be focused on the badge.
Accessibility
Access to the 508's cabin should pose few problems. Certainly, front seat occupants will have no trouble getting in or out, while those in the back fare surprisingly well. At the rear, access to the car's boot is straightforward.
Stereo and ICE (In car entertainment)
The standard issue kit is very good, although Peugeot's common switchgear design does make some of the minor controls less intuitive than they could be. Predictably there are plenty of upgrades, including sat-nav and improved audio amplification.
Colours and trim
Both dark and light colours work well, with lighter shades helping to better illustrate the car's dramatic styling. Inside, dark plastics exaggerate the cabin's premium ambience, although everything looks durable as for some the car will have to work for a living.
Parking
It might be a long and wide car but parking the 508 is not the chore you might think it is. Light steering and a well-weighted clutch conspire to make the process drama-free. That said, don't rely complete on the car's exterior mirrors as they offer only a modest field of view. Where fitted, rear parking sensors will make your life easier.
Spare wheel
Space saver wheel fitted as standard.
Range information
Petrol engine options - 1.6 VTi (120bhp); 1.6 THP (156bhp). Diesel engine options - 1.6 HDi (112bhp); 2.0 HDi (140bhp, 163bhp, 200bhp). Transmission options: five and six-speed manual gearboxes, plus conventional six-speed auto and six-speed semi-auto depending on engine type. Trim levels: Access, SR, Active, Allure, GT.
Alternative cars
Ford Mondeo Archetypal mid-size fleet car. Does everything right
Vauxhall Insignia Bold styling but focus on refinement is at the expense of driver involvement
Renault Laguna Attractive Laguna is safe and well equipped, although can't match the Peugeot for driver enjoyment
Mazda6 Japanese firm's best attempt yet at cracking the fleet sector. Good to drive and not short of standard kit