January 2014
Peugeot 308 Allure 1.6 e-HDi with Stop and Start 5dr
Peugeot family resemblance remains a constant
January 2014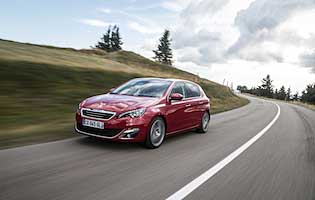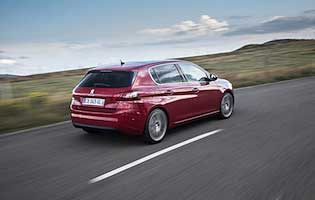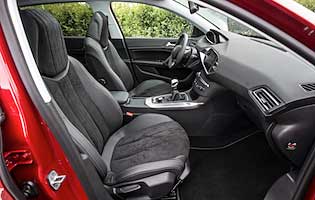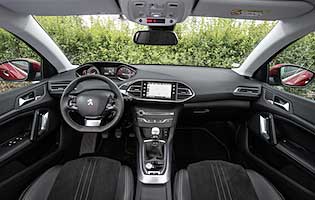 Overall rating

Likes:
Much improved exterior design over its predecessor
Cabin quality considerably better than before
Diesel options make a lot of sense for business users
Generous level of standard of equipment
Gripes:
Near-total reliance on touchscreen to access car functions can be annoying
Small steering wheel a sign of style over substance
Sat-nav ease of use could be much better
The main instruments are easily partly obscured by the steering wheel
The gradual return to form of Peugeot continues with this generation of the mid-size 308 hatchback. The French firm has again found some of the magic that propelled it to the front of keen drivers' shopping lists in past decades. Clean lines and the promise of an engaging and sophisticated driving experience are the highlights.
The family resemblance to the rest of Peugeot's rejuvenated range is striking, and with this latest 308 sporting a bold, fuss-free exterior, it's clear that the French firm is keen to make up for the years it spent in the wilderness, be it quality, design or the driving experience.
This 308 also feels special thanks to Peugeot's efforts in the quality department. There's a noticeable improvement all-round in the cabin, from the main plastics used to the plush feel of the seats and the quality of the switchgear.
In fact, this 308 is a huge step forward in every direction, and this is perfectly demonstrated by the way the car drives. Keen to claw back the ground it lost to key rivals, Peugeot's engineers have done a great job of delivering an engaging yet refined driving experience that fans of Peugeots from the past will enjoy.
Factor in an engine range delivering decent performance plus the all-important fuel and tax savings everyone now expects, and this 308 is very much a rounded package in the same vein as Ford's Focus and Vauxhall's Astra.
Our verdict on the Peugeot 308 Allure 1.6 e-HDi with Stop and Start 5dr
Fans of the brand can breath easy again - Peugeot has delivered yet another high-class, fun to drive and easy on the eye car as it continues its recovery. What's also a pleasant surprise is the build quality, which is streets ahead of its predecessor and good enough to rival some cars from the class above. Factor in a good range of engines and a generous and thoughtful list of equipment, and the 308 is a car that puts Peugeot back on track.
Costs
Priced to compete aggressively with the likes of Ford's Focus and Vauxhall's Astra, the 308 offers plenty of standard equipment and a high quality cabin for the various asking prices. As with so many mainstream products, there are no surprises here. Opting for a diesel should bring the costs down, although servicing should be nothing more than routine and insurance premiums modest.
Space and practicality
There's no shortage of storage areas in the 308, which should make it attractive to both busy company drivers and families. Overall, the cabin is a good size, and there's plenty of knee room in the back for adults. At the rear, the tailgate opens to reveal a flat loadspace. The rear seats fold easily to boost the car's total carrying capacity.
Controls and display
One area where Peugeot has always excelled in is instrumentation and the car's main dials are clear and easy to read. In a departure from the norm, this 308 boasts a central touchscreen that acts as the portal for all the car's main functions - audio, navigation, climate control, general settings. Although sound in principle, the lack of secondary controls for, say, heating, leads to multiple presses of the screen, a sometimes-tricky act when on the move. The remote steering wheel controls help but don't cover all the car's features.
Comfort
Cabin refinement is very good in the 308. Road and wind noise has been kept to a pleasing minimum, and the car's seats are supportive and comfortable. There's also plenty of elbowroom for all passengers, while headroom is even more than acceptable in the back despite the sloping roof.
Car security
While not a high value car in general terms, it's good to see remote central locking and the usual anti-theft protection present. The car's luggage cover appears to be a sturdy item, also. The lack of a visible audio unit in the fascia is another plus.
Car safety
The 308 is certainly better than the cars that have gone before it. All the current active and passive systems are present, including ABS, brake assist, stability control and airbags for every corner of the car.
Driver appeal
Often criticized in the past for being a little unexciting, this latest 308 is a return to form for Peugeot. It manages to cleverly balance the need for a refined ride with a level of agility and driver engagement that has been missing for far too long. Coupled with the various willing and eager engines and it's hard to find fault, plus the car is closer than ever to its rivals in this department.
Family car appeal
It might not be a conventional people carrier, but the 308's cabin is reasonably spacious and there are enough storage areas for most active families. The car's boot is also a good size, which should ensure that a fair bit of shopping and a pushchair will fit without too great a struggle.
First car appeal
There's every reason to consider the 308 as a first car: it's easy to drive and manoeuvre, and all-round visibility is good. Running costs are unlikely to be high, making it a sound proposition for novice drivers.
Quality and image
Having been in the doldrums of late regarding build quality and driving dynamics, it's good to see that Peugeot has bounced back with the successive generations of the 308. The various cabin plastics and overall fit and finish is much improved. However, it might take a while for buyers to fully appreciate this, especially if they have negative memories of the previous 307.
Accessibility
The doors on the five-door variant open nice and wide, and the seat height is such that you can just slide in. At the back, the rear doors open to reveal a good size aperture, while the car's boot opens and closes with little effort.
Stereo and ICE (In car entertainment)
The standard issue equipment will be plenty good enough for most people; sound quality is excellent and there's no shortage of source inputs available. That you have to access all infotainment's functions via a touchscreen - audio, navigation, climate control - can prove frustrating, especially when on the move. Granted, there are steering wheel controls for minor functions, but this is the price you pay for an uncluttered fascia.
Colours and trim
Bold colours help highlight the 308's equally bold exterior. This is especially true of cars sporting the more eye-catching alloy wheel designs. Inside, the main cabin materials are dark in colour, which helps promote a high quality feel. However, the various light coloured trim helps lift the otherwise somber ambience.
Parking
Parking is straightforward in the 308. The car's power steering offers plenty of assistance and the all-round vision is good. Where fitted, parking sensors certainly help.
Spare wheel
Space saver fitted as standard.
Range information
Petrol engine options - 1.2-litre (82bhp, 110bhp, 130bhp); 1.6-litre (125bhp, 156bhp). Diesel engine options - 1.6-litre (92bhp, 115bhp, 120bhp); 2.0-litre (150bhp). Transmission options: five and six-speed manual gearboxes depending on engine choice plus a six-speed automatic gearbox on selected variants. Trim levels: Access, Active, Allure, Feline.
Alternative cars
Ford Focus Impressive all-rounder - does everything right
Vauxhall Astra Rakish Astra looks the part and delivers the goods in a refined style
Volkswagen Golf Upmarket Golf is no driver's car but feels solid and dependable
Toyota Auris Evolutionary step up from the Corolla; quality, dependability and refinement are its strong points