March 2006
Nissan Note 1.4 SE
Grille copies Murano styling
March 2006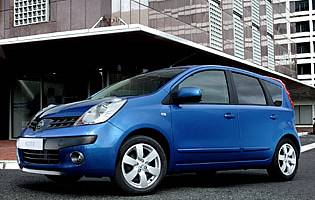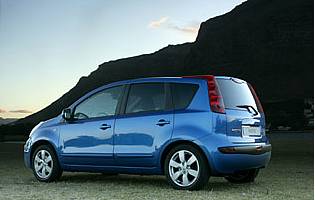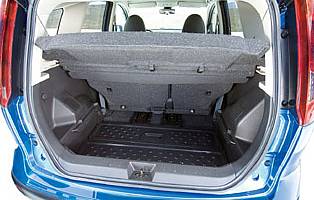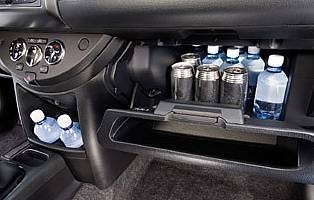 Overall rating

Likes:
Drives better than most rivals
Clever glovebox design is the best around
Care taken over rear passengers' facilities
Oft-overlooked Battery Saver function is valuable
Gripes:
Looks like an assemblage from the parts bin
Entry-level models lack vital family-friendly kit
Split boot floor only built to withstand 50 kilos
Dials look cheap and unattractive
Bigger than a Renault Modus but smaller than a Renault Scenic, Nissan's Note shares a platform with the former and engines with both, yet offers a slightly different approach to family motoring. Like the Vauxhall Meriva, it provides some of the practicality of a compact MPV while retaining the looks and feel of a hatchback.
In its marketing for the Note (or NOTE as it annoyingly insists on writing it), Nissan refers to its 'distinctive profile' and a 'highly individual design', but this is far from the case. If anything, the Note looks like an amalgam of other Nissan products with the grille from the Murano, the rear lights from the X-Trail and the front lights and switchgear from the Micra. The result may be distinctive, but it isn't particularly cohesive and the Note looks a little awkward.
It's classed as a so-called B+ segment vehicle - a bit bigger than a Fiesta but not as big as a Focus. But it's that inability to pin it down precisely that is one of its key attractions. Buyers can feel they are getting something a little out of ordinary, even though it's fairly conventional in what it offers. The Note is shorter than a Volkswagen Golf overall, but the wheelbase is actually longer, making it feel like a supermini one minute and an MPV the next.
Entry-level S models are wilfully under-equipped. With steel wheels, no split boot floor, no tray tables, no active head rests and just four airbags, it is difficult to envisage anyone buying one, particularly as these are precisely the features that are supposed to make the Note noteworthy. Mid-range SE is clearly the best value buy.
Unexpectedly, it's the small 1.4-litre petrol engine that is the most enjoyable of the range. Because it needs to be worked slightly harder than the larger units, it feels more lively and responsive, yet copes well with high-speed cruising. The superior fuel economy of the 1.5 diesel is probably the most sensible choice, though.
Our verdict on the Nissan Note 1.4 SE
Not nearly as radical as it likes to think it is, Nissan's Note is nevertheless a good small car. Anyone finding the Modus just too small will be surprised how much extra room the Note creates, and it could even find a role as a cheap alternative for buyers who would have a Volkswagen Golf Plus if they had the money.
Costs
Designed to appeal to families on a tight budget, the Note isn't quite as cheap as it should be - particularly as S models are so unattractive. Realistically you need to go to the middle of the range to find the most attractive vehicles, at prices that could also net you a traditional family hatch or small estate. However running costs, insurance and repairs should all be cheap given that many parts are shared with various other Nissan and Renault models.
Space and practicality
Plenty of thoughtful stowage places are provided within the cabin. On SE and SVE models the backs of the front seats house folding trays and aircraft-style expanding pockets for books, magazines and the other ephemera collected by young children. The nine-litre glovebox is capable of swallowing up to 12 cans of drink and has a useful slot incorporated into its lid that's ideal for maps. Borrowing a feature from Micra, there's also a 'secret' compartment under the front passenger seat squab.
Controls and display
The intention was evidently to create something that feels a bit like a Murano, only constructed from cheaper materials. While the general layout and the materials used for the instrument binnacle are good, the design of the instruments themselves and many of the driver contact points is at best dull and at worst downright ugly. The dials are clear but have nothing else to recommend them.
Comfort
Theoretically a five-seat hatchback, the Note can only accommodate four comfortably. Indeed, items such as the rear seat armrest were designed specifically to provide a barrier between warring siblings. Front seats are a bit too soft and may start to sag over the years. Engines can become noisy at high speeds, but apart from that, there is commendably little noise intrusion into the cabin.
Car security
A fairly standard package of security features is provided across the range, comprising an immobiliser, central locking and keyless entry. Not content with the term deadlocks, Nissan says the Note has 'superlocks'. An intelligent key similar to the Micra's is a cost option.
Car safety
Passive safety equipment starts with four airbags. Standard on all models, there are two at the front for the driver and passenger plus thorax side airbags mounted in the front seats, offering extra protection for the front seat occupants in a side impact. But for a car touted as a family vehicle, the lack of rear seat protection in S models is surprising. SE and SVE models get curtain airbags for front and rear, plus active front headrests on the front seats to guard against whiplash injury. Only SVE models with manual transmission get the added security of an Electronic Stability Programme (ESP).
Driver appeal
Nissan insists the Note 'will deliver dynamically for mums and dads who enjoy their driving'. Certainly it handles more like a conventional hatchback than a people carrier, but it's still far from involving. Steering is rather lifeless and the Note is far happier at cruising speed on a motorway than it is on B-roads. By the standards of its sometimes stodgy direct competitors, it's not a bad drive, and the small-engined 1.4 is the liveliest of the range.
Family car appeal
Designed specifically for young families on a tight budget, the Note fulfils its brief quite well. Nevertheless, many potential customers might do better looking at a nearly new vehicle from a class or two above. When kids reach secondary school age, the Note will no longer be large enough.
First car appeal
A practically minded young buyer might go for a Note as a first car, though perhaps it is just a shade too large to be a classic cheap runaround. Nissan's reputation for reliability and insurability counts in its favour, as does its generally helpful dealer network.
Quality and image
The Note is built in the UK, so it's a relief to be able to report that interior quality is generally good with well fitted trim and a durable feel to the cabin. That said, the uniform black interior of some cars does hide any imperfections very effectively. It remains to be seen what sort of image the Note creates for itself, though Nissan expects most buyers to be male, to balance the Micra's largely female following.
Accessibility
Rear seat passengers fare exceptionally well. The rear seats slide backwards and forwards, like in Renault's Modus, but even when they are fully forward, legroom is fine. The boot aperture is narrower than you might expect and not particularly low, so shopping bags need to be lifted high over the lip then placed right down in the boot well, if the two-piece boot floor is not in place.
Stereo and ICE (In car entertainment)
Every model has a radio/CD unit, either a single disc player with four speakers (S) or six speakers (SE) or the double DIN in dash six CD autochanger with six speakers (SVE and optional on SE as part of a Comfort Pack). Only SE and SVE models have steering wheel mounted controls.
Colours and trim
10 body colours are available including some truly hideous ones such as a lime green that should be avoided at all costs. S models are seriously under-equipped, driving customers to choose SE or above for items such as cooling vents for the glove box, extra airbags, alloy wheels, the split level luggage floor, storage tray under the front passenger seat, front seatback mounted pockets and foldaway tray tables for the kids.
Parking
There are no parking sensors but the Note's relatively compact dimensions mean that they would be only infrequently useful anyway. The high waistline and thick rear pillar means that visibility could be better when reversing. Steering lightens helpfully at very low speeds.
Spare wheel
Space saver spare wheel as standard on all models.
Range information
One diesel and two petrol engines: 1.4 (87bhp) petrol; 1.6 (108bhp) petrol and 1.5 (85bhp) diesel. All versions feature a five-speed manual transmission, while the 1.6-litre petrol also has the option of a four-speed automatic. There are three trim levels - entry level S, rising through SE to range topping SVE.
Alternative cars
Vauxhall Meriva Inferior road manners but decent value
Ford Focus C-Max Surprisingly good to drive
Renault Modus It's on same platform, smaller, more character
Toyota Corolla Verso Similar size and seats up to seven