June 2009
Nissan GT-R 3.8 V6 Premium Edition
Aggressive styling signal's the GT-R's potential
June 2009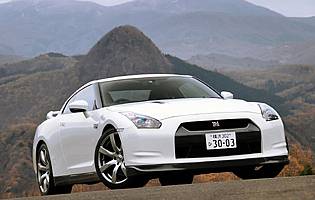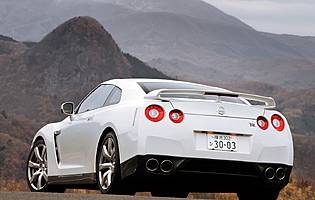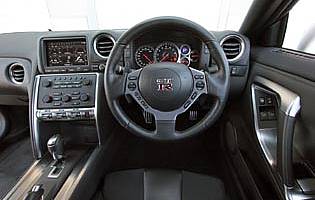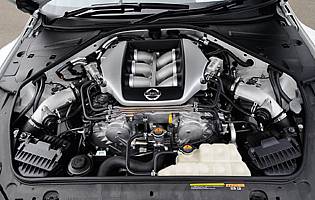 Overall rating

Likes:
Stunning performance - and not just in a straight line
Aggressive styling a nod to Skyline models from the past
Despite its potential, GT-R is easy to drive on a daily basis
Bang for buck' pricing is unbeatable in the affordable supercar market
Gripes:
Not a quiet or subtle car - even when driven slowly
Dark, sombre cabin lacks the ambience or character of rival European cars
Purchase price might be low but thirst for fuel is in supercar territory
Badge snobbery will ensure some will pass the GT-R by
Enthusiasts and those with long memories will remember Nissan's previous affordable supercar, the Skyline. Crammed full of technology and bulging with power, it was capable of embarrassing more expensive machinery. Think of the GT-R as the 21st century equivalent.
You can't have a discussion about Nissan's GT-R without mentioning Porsche's mighty 911 Turbo. The two cars are evenly matched in many areas, but the Nissan is approximately half the price. This and Nissan's overtly hi-tech approach to supercar production is what separates the Japanese firm from its German and Italian rivals.
This technology-led approach results in a very different car to the likes of Porsche's 911 and Ferrari's F430. The flair of the Italian car is largely absent, while the GT-R's reliance on a wealth of technology to get the job done is at odds with Porsche's more discrete approach.
The result is a slightly clinical experience but one that leaves you in no doubt as to the GT-R's potential. For starters its performance is more accessible by the average driver. The Nissan feels less intimidating at speed, for example. The car's beefy V8 engine is not only powerful but hugely flexible.
In isolation such performance would be impressive, but when it's combined with a clever all-wheel drive system and a dual clutch DSG-style gearbox, acceleration is in another world. Grip and the GT-R's ability to change direction is also exceptional, putting the aggressively-styled Nissan head and shoulders above conventional supercars when the conditions underfoot are less than ideal.
Our verdict on the Nissan GT-R 3.8 V6 Premium Edition
The GT-R's styling and sombre tech-heavy cabin might not appeal to all tastes, but there's no denying the car's performance credentials and its ability to embarrass more established supercar rivals. It will flatter the average driver and allow the keen wheelsmith to exploit the car's abilities with a greater degree of comfort and confidence than pricier rivals. All in all, the GT-R is an exceptional car.
Costs
On paper the GT-R is great value for money, offering the same or better performance of cars costing twice as much. This is supercar territory tough, and you'll be paying comparable prices at the pump, for servicing and insurance.
Space and practicality
Unlike some rivals it would be no hardship to life with the GT-R on a daily basis. Cabin oddment space is as good as a regular performance saloon, while the car's boot is a decent size - easily coping with a few soft bags for a weekend away. From the outside the car's cabin might look modest, however there's more than enough room for two large adults to sit in comfort.
Controls and display
Fans of Nissan's Skyline will already be familiar with the firm's penchant for fancy computer graphics and a sea of buttons and switches. The GT-R continues the slightly dubious trend, although some take the view that it's to catch the attention of the PlayStation generation. It certainly works; the car's main screen offers a wealth of useful and trivial information about the car's behaviour, while there's an array o
Comfort
For a car capable of lapping race tracks at supercar speeds, it's surprising how comfortable the GT-R is. Granted, the ride is on the firm side, but not so bad as to have you aching for a rest every hour - the supportive front seats help. It can be a loud car though, which is to be expected when you're pushing hard, be it tire, wind or engine noise. At regular speeds it's no different from any sports car powered by a large capacity engine.
Car security
It may not be as distinctive as a Ferrari, but the GT-R is a desirable car nevertheless. As such, there's a comprehensive array of security measures to keep unwanted admirers out. Depending on your insurer, you might need to add a tracking device for extra peace of mind.
Car safety
With a car of this calibre it's fair to say you're not lacking when it comes to passive and active safety equipment, be it airbags or ESP. There's also the car's four-wheel drive, which is not just for performance purposes but to keep tings in check on slippery roads all year round.
Driver appeal
Often called a 'giant killer' for its ability to match and sometimes humble more expensive machinery, the GT-R is an impressive piece of kit. The combination of all-wheel drive, a slick DGS-style gearbox, that beefy V6 engine and a ride that always seems right for the conditions should have you questioning the need to spend more on, say, Porsche's 911 Turbo. In short, its limits will always be way higher than yours. And despite its potential, it's an undemanding car to drive on the daily commute.
Family car appeal
Family cars don't get more inappropriate than the GT-R. That doesn't make it a bad one, juts a car that's lacking all the right attributes: space, convenience, modest running costs.
First car appeal
It's fair to say that the GT-R is hardly an appropriate car for the novice driver. Its performance potential pretty much rules it out. It won't be a cheap car to run, either - that's assuming you can successfully insure the beast in the first place.
Quality and image
Only if you're a serious enthusiast will you have knowledge of Nissan's performance car. Although more famous for its Micras, that changed with the arrival of the 350Z. The GT-R is the logical successor to the fabled Skyline series, and anyone in the know will appreciate its significance. Quality-wise there's nothing to complain about - Nissan knows how to build durable, reliable cars.
Accessibility
Being a two-door car, the focus with the GT-R is the front seat occupants. Access is straightforward, although the usual low-slung seating position in cars like this might be an issue of you're not terribly agile. The car's doors are big, which could make exiting from tight paring spaces a challenge.
Stereo and ICE (In car entertainment)
It might not be the focal point of the car, but Nissan has fitted the GT-R with a decent audio unit. Radio, CD and sat-nav are all standard, and the car's main display is located high up in the fascia for ease of use when on the move. As you would expect it all works well, although the on-screen graphics are a little similar to that of a games console's.
Colours and trim
The colour palette might be small but there isn't really an option that doesn't flatter the GT-R. Even white works well with the car's angular, chunky appearance. Inside, the Nissan's cabin is dark and sombre. Although functional, it lacks the sparkle displayed by other cars in this sector.
Parking
For a car with so much performance potential, the GT-R is surprisingly easy to drive at low speeds. Parking isn't a major challenge, as the steering offers plenty of assistance. The view forward is good but rearwards the thick pillars and small screen can hamper progress. If you want parking sensor's you have to pay for them.
Spare wheel
Space saver fitted as standard.
Range information
Petrol engine options - 3.8-litre V6 (485bhp). Transmission options: six-speed dual clutch (DSG) gearbox fitted as standard. Trim levels: 3.8 V6, Premium Edition, Black Edition.
Alternative cars
Porsche 911 The Turbo is the benchmark in this category for driving thrills and all-round usability
Maserati GranTurismo Flamboyant choice ultimately comes up short in the dynamics department
Ferrari F430 Thoroughbred option is huge fun but not an all-weather car like the GT-R
Audi R8 Matches GT-R for all-wheel drive and performance but extrovert looks might be off-putting for some