February 2014
Mini Mini Cooper
All-new third-gen Mini gets a makeover, but one that retains the original car's character
February 2014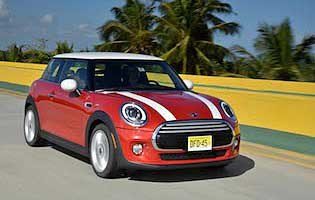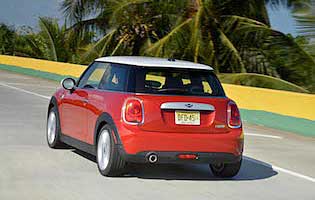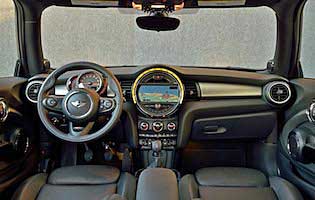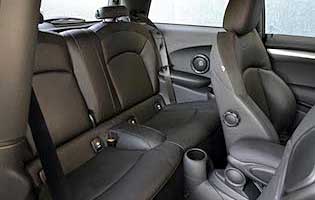 Overall rating

Likes:
Revised exterior design retains the trademark Mini look
Ride and handling is more polished and refined
Cabin quality is much improved
Engines boast improved performance and green credentials
Gripes:
Engines lack the aural appeal of previous units
Changes to minor switchgear dilute the Mini's USP
Be prepared to dig deep for many of the attractive cost options
Despite size increase, rear seat access remains a tight squeeze
To the casual observer the third generation Mini looks just like its predecessors. And while the basic look has been retained, the car is a fraction bigger in all dimensions and, crucially, rides on a new BMW Group platform.
In a bid to keep pace with the rash of premium small cars entering the market, BMW has upped its game with regards to the Mini. Boasting a little more cabin space and room in the back, the car gains a more polished and mature ride and the cabin ambience has been raised a notch or two.
Under the skin the Mini receives BMW's latest petrol and diesel engines. Of note is the switch to three-cylinder power for both mainstream petrol and diesel units, with the hotter Cooper S gaining a more powerful four-pot motor. All engines are now turbocharged, can be had with new manual and auto gearboxes and return better than even economy and CO2 figures.
Key to the Mini's appeal has always been the driving experience. BMW claims to have done much work to iron out the wrinkles - occasionally uneven ride, steering kickback, noise intrusion - and the result is an instantly noticeable improvement. Crucially the car's playful nature has been retains, which should please keen drivers.
With one eye on its rivals, BMW has also spent much time polishing the Mini's cabin. Higher quality materials are evident, while the car's trademark oversize central speedometer has been re-purposed to house a high resolution infotainment display supported by a BMW i-drive influenced controller. The package, along with some choice cost options, does much to convince you that the car deserves a place at the premium table.
Our verdict on the Mini Mini Cooper
BMW has succeeded in retaining all that was good about its original Mini - ride and handling, looks, kerb appeal - while delivering a distinctly upmarket ownership proposition. This third-gen model loses nothing in the transition, and also offers the prospect of greener credentials and low running costs.
Costs
As with previous generation cars, running costs should be very reasonable thanks to the new range of more fuel efficient petrol and diesel engines. The low fuel consumption and CO2 figures are also likely to appeal to business users. A fixed price service package and value for money options complete the picture.
Space and practicality
In an effort to offer a more practical ownership experience, this third-gen Mini is a little bigger. It's most noticeable up front as two adults can sit in improved comfort, while the boot is now more spacious. There are numerous oddment storage areas in the cabin but it's still a squeeze to get in the back. Once there, though, adults can sit reasonably comfortably.
Controls and display
The cabin redesign includes a new infotainment display and changes to the minor controls. The former ensures a more enjoyable user experience thanks to the redesigned controls and large, bright display. The latter includes a convenient ignition toggle switch and the relocation of the window switches to the doors - a move purists are unlikely to approve of.
Comfort
Here this latest Mini is an improvement on the old, with better ride quality without compromising the fun factor. The seats are also more comfortable and supportive than before, and refinement has also improved. However, while cabin space has been increased it's still an effort to access the rear seats.
Car security
The Mini's security has been improved with the inclusion of keyless ignition, meaning the starter toggle can be used in lieu of rummaging for the key in a pocket or bag. Elsewhere, the glovebox is a good size and there's an extra compartment below the moveable boot floor to hide valuables.
Car safety
As you'd expect from a BMW product, a high level of safety has been built into the Mini. Aside from the usual tally of airbags and electronic stability systems, higher value features are starting to appear as they trickle down from the larger, more expensive BMW products such as active cruise control, a head up display and collision avoidance technology.
Driver appeal
Fun remains the main appeal of the Mini even though it's now a more refined and larger proposition. The car's electric steering is accurate and responsive while, in standard Cooper guise, ride comfort balances nicely with a pleasing lack of roll ensuring BMW's claims of 'go-kart' handling ring true. The Cooper's three-cylinder petrol motor is a fine replacement for the old four-pot unit, proving responsive, eager and frugal in equal measure. The slick six-speed manual gearbox is also a high point.
Family car appeal
It should be no surprise to learn that families are likely to struggle using the Mini on a regular basis, given the lack of room in the rear and the car's modest boot. With a child seat in the rear, it would require an uncomfortable amount of manoeuvring by an adult to secure a child quickly. For genuine family practicality you'd be better served by the much larger Countryman.
First car appeal
Despite the minor increase in size and subtle move upmarket, the Mini Cooper remains an excellent first car, with its ease of driving, fun factor and reasonable running costs the important highlights.
Quality and image
The Mini's image is almost untouchable, recalling the original 1960s Mini but offering modern convenience and reliability. The high degree of personalization also allows buyers to create a car that feels individual, which is a major attraction. Quality has improved significantly, and this new Mini feels more robust than before.
Accessibility
Front seat occupants will have no trouble getting in, thanks to the long doors which open to a wide aperture. Rear seat passengers have less space to enter through, but there is still sufficient access for most. Access to the boot is easy, with a low loading sill.
Stereo and ICE (In car entertainment)
The basic package of radio, music player and mobile phone connectivity works well. The car's oversize main dial now houses the infotainment display, enhancing the overall experience. The Mini's main control device has also been improved and is now much more like an improved version of BMW's i-drive system.
Colours and trim
Both bright and more sombre colours work well here, and can be enhanced with a range of optional trim and decal packages. The cabin is a little more sombre thanks to the dominant dark plastics, although LED mood lighting and bright trim accents boost the ambience.
Parking
The Mini's size is a big help when parking and the power steering makes it easy to squeeze into smaller gaps. The view through the rear is slightly restricted by the pillars, but it is easy to judge the extremities of the car. Parking sensors and, where fitted, reversing camera make life easier, as does the optional automated reverse park function.
Spare wheel
A mobility kit is fitted as standard.
Range information
Petrol engine options - 1.5-litre (136bhp), 2.0-litre (192bhp). Diesel engine options - 1.5-litre (116bhp). Transmissions: six-speed manual and six-speed automatic. Trim levels: Cooper, Cooper D (diesel), Cooper S.
Alternative cars
Ford Fiesta Similar fun to drive, more practical and conventional in execution
Audi A1 Premium alternative that's practical and good to drive
Volkswagen Beetle Lifestyle alternative is big on image and better to drive than of old
Fiat 500 Funky 500 can't match Mini for driving appeal but looks and feels the part