May 2009
MINI Mini Cooper convertible
Subtle changes to the car's exterior have kept the Mini 'look' intact
May 2009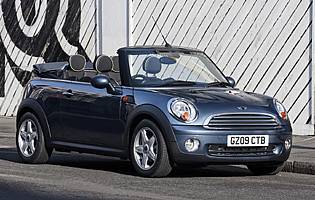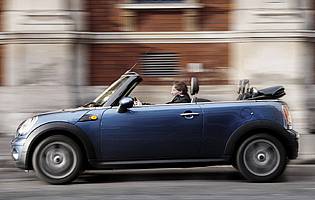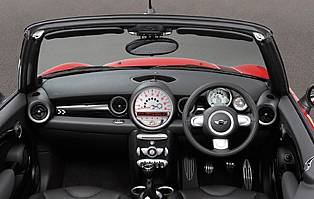 Overall rating

Likes:
Roof mechanism is quick and smooth in operation
Cooper model is a solid all-rounder; good for urban use and a countryside blast
Subtle interior changes improve ergonomics
Replacing rollover hoops has greatly enhanced the rear view from inside the cabin
Gripes:
Dark, sombre cabin when the roof is in place
Modest amount of cabin storage space
Wind deflector eliminates ability to carry rear seat passengers
Equipment levels have improved but could still be better
Mini, for all its success, was always going to have a problem improving what was already a impressive convertible variant. Predictably, the company opted to change very little that you could see. Why mess with success, after all? This second generation drop-top is essentially the same, only better, in a number of key areas.
For this generation car to add value to the Mini range, the engineers and designers opted for a subtle programme of exterior enhancements, keen not to spoil the car's trademark appearance. Its slightly wider track and longer length has been cleverly hidden, while the fabric roof detracts nothing from the car when it's raised.
A new range of engines taken from the tin-top Mini mark one of the biggest improvements. More powerful and refined yet cleaner and more efficient, these units along with the adoption of some BMW technology - stop-start, brake energy regeneration - have done much to enhance the car's green credentials and reduce running costs.
On the road the Mini Convertible continues to be a fun experience. Greatly improved chassis stiffness, the changes to the car's track and length plus a tuned steering system all ensure a more polished performance. For many the Cooper variant will provide ample thrills; it modest power output can be exploited without fear of getting into trouble, and it's a refined and easy to live with car if you spend a lot of time in town.
Performance fans will like the Cooper S model even better. The extra power available allows the driver to further exploit the car's excellent handling. Grip levels remain reassuringly high, ensuring winter motoring doesn't have to be a heart-in-mouth experience.
Our verdict on the MINI Mini Cooper convertible
It seems that Mini can do no wrong with its cars. A new generation of models brings improved driving dynamics, comfort, refinement and, most impressive of all, better economy and emissions performance. The few niggles are largely academic and shared by most other drop-tops anyway. And that's the only thing this Mini shares with its rivals.
Costs
It's true that, once you've added a few choice extras, a Mini is never an inexpensive purchase. It is, though, an emotional purchase, which makes cany criticism a waste of time. Running costs are modest and, along with stop-start technology and other ideas borrowed from BMW's Efficient Dynamics programme, Mini ownership can be very afforddable.
Space and practicality
Although boot space has grown slightly the Mini Convertible is no rival to a conventional small car. The rear seats can fold, which is a useful bonus. Storage space in the cabin isn't overly generous, though. The cup holders are welcome but the door pockets are modest at best.
Controls and display
Dominating the car's fascia is a modern take on the old Mini's familiar main dial. It's grown in size over the first 'new' generation Mini, and is easy to read but rarely in the driver's eye line. The secondary display over the steering column is more sensible, and includes the trip computer - a speed display is helpfully available. The toggle switches remain for the minor controls, while without the multi-function steering wheel operating the audio unit can prove fiddly when on the move.
Comfort
If you want a plush, soft-riding car you'll need to look elsewhere. The Mini, in whatever guise, is a little on the firm side, be it the ride or seat support. For many this is actually a positive attribute, especially when pushing on. Wind noise is very low with the roof up, and acceptable roof down with the deflector in place.
Car security
Any convertible with a fabric roof is always going to be vunerable to attack, and it's something you can do nothing about as only something with a folding metal roof will be better. However, elsewhere remote central locking, an alarm and immobiliser are present for your peace of mind.
Car safety
It's good to see that all the basics are covered in the safety department. Twin front and side airbags are present across the range, while Mini's own flavour of ESP is also standard fit, which can be turned off it you know what you're doing.
Driver appeal
In Cooper and Cooper S form the Mini Convertible is considerable fun when out on the open road. Stable and boasting plenty of grip, even non enthusiasts will enjoy the experience. The Cooper's ride is more fluid, which is most obvious and welcome around town. The engine pulls strongly from all revs, and the manual gearchange is short and snappy.
Family car appeal
For all its good points, the Mini Convertible - or any Mini - is not a good family car. The two-door format, lack of rear space and compact boot dimensions rule it out of all but the most basic of family duties. However, there's no reason why it can't perform as the second family car.
First car appeal
Irrespective of purchase price, the Mini Convertible would be an easy car to drive. Light and accurate steering plus al lthe other minor controls contribute to a straightforward experience. Rear visibility issues might cause a few issues early on in the ownership, though.
Quality and image
With its massive following, the Mini brand has achieved a lot in a few short years. There's little to say as it's very much a personal thing - you either 'get' the brand and the cars or you don't. On a more tangible subject, there have been reports of a few quality niggles over time, but nothing that hasn't been quickly rectified. And it's obvious that the second-gen cars have been improved.
Accessibility
Roof down motoring flatters the Mini Convertible in many ways. Access and egress is very easy despite the purposely low seating position. With the roof up you sometimes need to take more care - especially when exiting the car.
Stereo and ICE (In car entertainment)
The basic provision is a good quality unit, with the display split and located in the car's main instrument dial. Some of the controls could be more intuitive, and you'll have to pay extra for a multi-function steering wheel. Performance upgrades are optional, as is sat-nav.
Colours and trim
Wide choice of trim designs and colour combinations are available, ensuring a high level of customisation possible - bright colours work exceptionally well. There's less scope inside thec car, but the cabin design is already distinctive.
Parking
With the roof down it's an easy task to reverse park a Mini. The asssited steering is helpful and the parking sensors are a welcome bonus. With the roof up the view rearward is reduced and the rear screen is small - making those parking sensors essential.
Spare wheel
Run flat tyres and pressure sensors - no spare wheel.
Range information
Petrol engine options - all units are 1.6-litre petrol, but with different power outputs. Cooper (120bhp); Cooper S (175bhp); John Cooper Works (211bhp). Six-speed manual gearbox is standard, with six-sped auto a cost option - not John Cooper Works. Trim levels: Cooper, Cooper S, John Cooper Works.
Alternative cars
Volkswagen Beetle Cabriolet Retro styling remains fashionable although will disappoint keen drivers
Vauxhall Tigra Boasts clever metal roof but space only for two
Mazda MX-5 Benchmark for performance and boasts simple fabric folding roof
Peugeot 207 CC French offering improves on popular 206 CC