June 2006
Mercedes-Benz E-Class E 320 CDI Elegance
Elegant E-Class saloon is good to drive and refined at speed
June 2006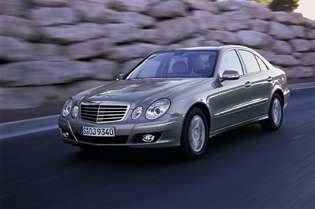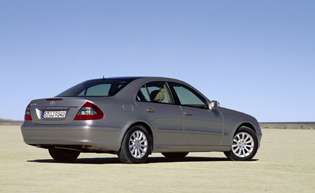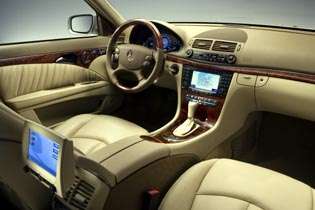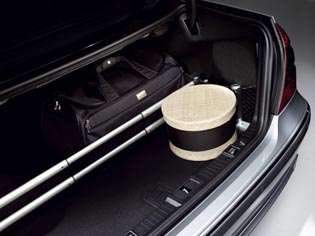 Overall rating

Likes:
Cabin is spacious and decorated with quality materials
Seven-speed automatic gearbox is smooth and responsive
Improvements to ride and handling work well
Standard issue Pre-Safe is a welcome bonus to the already high level of standard safety kit
Gripes:
While more responsive, the car still remains in the shadow of BMW's 5 Series
E-Class is not a cheap car, especially when some of the options are considered
Light coloured interiors fail to adequately reflect the car's premium price
Foot operated parking brake will be annoying to anyone who doesn't choose an auto gearbox
The elegant-looking choice from all the usual premium executive offerings, Mercedes' E-Class is unashamedly biased towards comfort in the face of sportier rivals from BMW and Audi. What's not obvious from the 2006-model year cars is the number of improvements under the skin to make the experience even better.
A familiar sight on the roads, the E-Class is devoid of the fussy lines and controversial angles associated with its German rivals. A car that's often looked on as the choice of the mature driver, the E-Class has a reputation for being the safe, comfortable option.
Keen to move the car up a notch in the driver appeal stakes - a factor that has helped boost sales of rivals - for the 2006-model year Mercedes engineers decided to sharpen the car's responses but, crucially, not at the expense of comfort or refinement.
Boasting over 2,000 changes, the E-Class has been given a thorough update. In typical Mercedes design modesty, the only external clues are reworked bumpers, revised headlamps and a chrome strip for the boot lid. Under the skin it's a different story, with steering and suspension changes plus improved safety kit - the range-wide inclusion of Pre-Safe an important addition - and a noticeable step-up in quality.
The result is a car that is no less refined than before, but one that is now more willing to accommodate the desires of the enthusiastic driver. It's also safer than before, and boasts a revised engine line-up that includes frugal yet powerful diesels and a new 6.2-litre petrol V8 for the flagship AMG performance variant.
Our verdict on the Mercedes-Benz E-Class E 320 CDI Elegance
Always the car of choice for buyers if brash, sporty, firm-riding BMWs and Audi's weren't appealing, the E-Class is a refined and elegant alternative. Quality niggles have sometimes overshadowed the car's abilities, but a comprehensive programme of revisions appears to have stemmed any decline in standards. In fact, the result is a car that's better equipped, safer, even more refined and now more rewarding to drive.
Costs
It's good to see that the levels of standard equipment have improved in recent times, making the E-Class a better value proposition than of old. Many options are still tempting and some remain costly, though. That said, residual values remain good - the E-Class is a popular car - and opting for a diesel should mean above average fuel economy. Be prepared for prestige level dealer servicing prices and insurance premiums.
Space and practicality
A large car, the E-Class saloon's cabin is a good size and will happily accommodate four large adults in reasonable comfort. Legroom is, obviously, dependent on whether you're sitting behind a tall front seat occupant. At the front there's plenty of space, plus all-round headroom is good considering the car's gently sloping roof. Oddment storage is reasonable, with a capacious centre console at your disposal. At the back, the car's boot is deep and wide, although heavy items have to be lifted in and out with care.
Controls and display
Always a Mercedes strongpoint, the controls and instruments in the E-Class are well laid out and easy to see and understand. The car's comprehensive trip computer doubles as a secondary display for the audio unit and sat-nav, while the car's trademark single column stalk makes sense after a bit of practice. The supplementary controls on the steering wheel are instantly intuitive. The numerous buttons on the optional COMAND unit are fiddly and the foot operated parking brake isn't ideal when used with a manual gearbox.
Comfort
Pick of the European bunch in terms of refinement, the E-Class is now something that rivals even Mercedes' bigger S-Class. Ride comfort, especially with the largely optional air suspension, is exemplary, and cabin noise is close to Lexus levels when cruising. The cabin's size and the supportive seats also play an important part in the overall experience.
Car security
A popular car - sometimes for all the wrong reasons - it's good to know that you get a full immobiliser and alarm system with the E-Class. Of course, a tracking device could be a good investment on the very expensive variants. Remote central locking is a standard feature - with a keyless ignition system optional, and it's also good to have a remote boot opening on the keyfob.
Car safety
Other makers might shout louder about their safety exploits but Mercedes has also made great strides in this area. You get all the airbags you could ever need in the E-Class, plus a host of clever electronic traction and stability aides. The latter work well, but keen drivers might find that they cut in sooner than you'd expect. The big news for 2006-model year cars is the inclusion as standard of Pre-Safe, a system that effectively braces a car for an impact if all else fails. The measures include tensioning seat belts and closing windows to help lessen injuries.
Driver appeal
2006-model year improvements include changes to the car's suspension and steering, which has resulted in a more balanced and rewarding driving experience. While no match for a well-driven BMW 5 Series, the E-Class is now good fun to pilot where it once was a little reluctant to change direction. Completing the good news is a selection of new or revised engines and transmissions. Many cars get a seven-speed auto gearbox, which is very good, while the diesel engines are the star turns - especially the top-end E 320 CDI variant. Low-end petrol units can struggle, but the big units are impressive, if thirsty.
Family car appeal
The car's large cabin makes it easy to accommodate a growing family, while belting in small children in the back shouldn't be a chore. You will have to watch that small hands don't damage the car's quality materials, though. But if you're really serious about the E-Class as a family car, the estate variant makes a lot more sense.
First car appeal
Like any premium executive car, the E-Class is unlikely to appeal to a novice driver - no matter how much money they might have. And they'll need a far bit of cash because the E-Class isn't a cheap car to buy or run. Main dealer servicing commands premium prices, as will insurance premiums. It's an easy car to drive, though.
Quality and image
Enough time has passed for Mercedes to confidently claim that quality issues are in the past. The 2006-model year E-Class certainly feels well built, and cabin materials are first rate. More rigorous testing is said to have improved reliability, too. Image-wise the three-pointed star badge remains a big attraction, and the fact that Mercedes offers a slightly more elegant and less sporting option than BMW or Audi is a serious plus point for many people.
Accessibility
While the E-Class can't rival a people carrier - even a posh one - for ease of access, its long wheelbase and wide opening doors are a good compromise. Front seat occupants fare the best, but those in the back shouldn't, unless they are elderly or infirm, have any problem. At the rear, the saloon's boot opens wide, but there is a load sill to negotiate when lifting heavy items.
Stereo and ICE (In car entertainment)
It's difficult to fault the standard audio unit's performance, although the display can be hard to read in direct sunlight. Sound quality is good, though, and remote controls on the steering wheel work well along with a secondary display in the main dial cluster. Options are numerous and sometimes pricey. That said, the full-colour sat-nav 'COMAND' system is feature-packed but the controls could be more intuitive. A Bluetooth phone add-on plus voice activated commands are also possible.
Colours and trim
Dark metallic colours work best, with black an especially classy choice. Brighter and lighter shades tend not to flatter the car as much, and can give the E-Class a low-rent taxi look - especially if the car is running on small wheels. Inside, it's the opposite as light coloured trim and seat materials work well. However, dark leather and wood will no doubt be the traditional choice for many.
Parking
While a big car, the fact that the steering is pleasingly light at low speeds helps enormously. Visibility is, on the whole, good and the car's door mirrors are a decent size. Parking sensors are a great help and worth the expense, especially at the back as it can be tricky to judge where the boot lid ends.
Spare wheel
Space saver fitted as standard.
Range information
Petrol engines: E 200K (184bhp); E 280 (231bhp); E350 (272bhp); E 500 (388bhp); E 63 AMG (514bhp). Diesel engines: E 220 CDI (170bhp); E 280 CDI (190bhp); E 320 CDI (224bhp). Transmissions vary according to chosen model, but run to five and seven speed auto plus six-speed manual. Trim levels: Classic, Elegance, Sport, Avantgarde, AMG.
Alternative cars
BMW 5 Series Benchmark for driver appeal. Ride comfort a little firm and looks consistently divide opinion
Audi A6 Sleek Audi boasts a large, spacious cabin, superb ergonomics and above average build quality
Lexus GS Japanese saloon is well equipped, refined and well built. Lacks brand heritage
Jaguar S-Type Retro-styled Jag is, after a number of updates, good to drive and built well