November 2014
Mazda Mazda2 1.5 SkyActiv-D Sport
Hawkish headlights give the Mazda2 stand-out looks
November 2014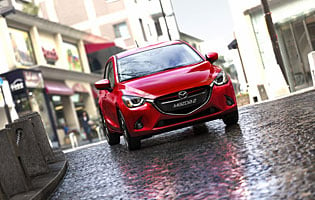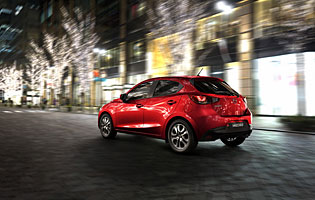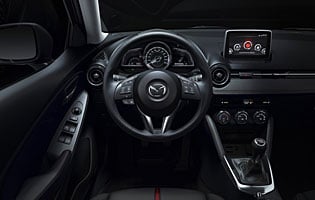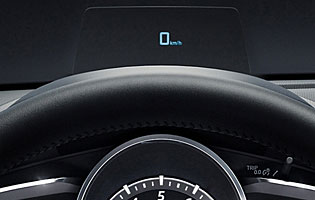 Overall rating

Likes:
Striking styling makes a bold statement in an increasingly dull class
More passenger room for all passengers than might be expected
Remarkably free-revving and smooth diesel engine
Well-chosen technologies add real-world appeal
Gripes:
Deep boot creates significant load lip
High prices compared to many rivals
Largest available alloy wheels still look too small
Optional cream leather begins to look dirty almost immediately
Mazda is proud of doing things its own way, and its latest generation of cars are certainly distinctive. The Mazda2 is the latest addition to the all-new range, with flowing 'Kodo' styling, brand new engines and materials borrowed from the larger Mazda3. Mazda is keeping sales expectations modest, but the car is likely to turn heads.
While some manufacturers of small cars choose cute styling, Mazda's ethos is more mature. The striking frontal looks make an immediate impact next to more conservative rivals, and as a whole the package looks more grown-up. Mazda aims to design its cars with emotion and desirability, as well as maturity and solidity.
This generation of the car uses three versions of a 1.5-litre petrol engine, and one advanced diesel; also 1.5 litres in capacity. The diesel makes use of cutting-edge technology to reduce particulate emissions to very low levels, and all without needing to use any additives or special chemical treatments.
Against the sales might of the Ford Fiesta and Vauxhall Corsa the Mazda2 is likely to be a small fish in the pond, but Mazda has improved interior quality and added useful technologies that will appeal to younger buyers, all while keeping weight low and maintaining a compact size.
Running costs were given great consideration in the design phase, so Mazda claims the 2 will be good value for buyers who come to get it serviced or repaired. Factors like the head-up display are likely to grab most attention in the showroom, though, and justifiably so - its introduction is a first for this class of car.
Our verdict on the Mazda Mazda2 1.5 SkyActiv-D Sport
The Mazda2 is a high-quality product, a few niggles aside, and the SkyActiv engine technology translates into hugely impressive smoothness and refinement on the road. Its seats are comfortable, the new media screen is bright, clear and blessed with very effective graphics for the interface, and it looks very good in shop window reflections. It ticks almost all boxes - the only question mark is price.
Costs
Thanks to the innovations that make up the SkyActiv engineering package, the Mazda2 can be very cheap to run, especially in diesel form - albeit at a higher initial purchase price. Fuel economy is high if the driver knows how best to extract it, and low emissions are good for potential business users, who will feel the benefit of lower emissions-related tax payments.
Space and practicality
While inside the cabin there are several good storage solutions, other areas have not been so neatly designed. Media players have to be left in the open, ahead of the gearstick, when plugged into the USB ports there. It's not a big deal, but the depth of the boot's load lip could be. The boot aperture is not especially practically sized or shaped, and although it will be fine for most buyers, getting large or heavy baggage in and out can be awkward.
Controls and display
Mazda has excelled itself with the head-up display (HUD), which complements the attractive, stylish and engaging graphics for the main media and navigation interface on the large, central screen. The HUD only displays three pieces of information at most, to avoid driver distraction, but speed, navigation directions and cruise control readouts are very useful in the real world.
Comfort
The sports front seats in this car are not as contour-hugging as a sports car's, but they do offer more than the normal supermini quota of lateral support, and have a thoughtfully-shaped back that feels comfortable for typical journey distances. A little more lumbar support might be needed for long trips. There is enough legroom for rear passengers to stay happy for a surprisingly long time, although the steeply rising shoulder line cuts out light and visibility.
Car security
Keyless entry is available on high trim levels, on top of full remote central locking functionality, including deadlocking and the ability to open the boot independently of the main doors. The fuel filler cap is lockable too, to avoid fuel theft.
Car safety
Airbags around the car offer a measure of protection for all occupants. New production processes have allowed the use of ultra-high-tensile steels, which increase the stiffness and strength of the passenger cell and encourage the impact protection zones at both the front and the rear to absorb more of the damage. For the first time on a B-segment car, Mazda is also offering active safety technologies like blind spot warnings and lane departure warnings.
Driver appeal
Thanks to complex mechanical engineering that recycles exhaust gases more efficiently and operates at a lower compression than diesels normally can, the SkyActiv-D engine is a modern marvel. It revs freely and smoothly, with comparatively minimal diesel clatter. The gearbox, which apes the design of the MX-5 sports car's, is precise and direct in a way rarely before seen in a supermini. It's also stable through corners and compliant over bumps, rounding off one of the best drives in the class.
Family car appeal
As a supermini the Mazda2 is more likely to appeal to families as a second car rather than the main one. It simply doesn't have a big or practical enough boot to suggest otherwise. But in that second car role it excels, being capable of coping with anything that might be asked of it - even motorway journeys - in suitable comfort. There are child seat anchor points and enough legroom to house all but the tallest children.
First car appeal
The Mazda2 has plenty of the right attributes to appeal to young or new buyers. It's an unintimidating but practical enough size, it looks great and it's packed with cool technology. It's easy to drive, simple to park and is the sort of car that earns envious glances from peers. Insurance should be reasonable, and fuel economy is, with careful driving, excellent.
Quality and image
Quality has taken a marked upswing in the 2015 car, with many materials borrowed from the Mazda3. The addition of parts of a car that occupies a class above the Mazda2's level helps it to feel like a more premium product than is normally offered at this level. The perceived quality jumps again with the extras like the large, high-res screen and head-up display.
Accessibility
This model is significantly more cab-rearwards than the last car, for a sportier, more coupe-like stance. The roofline has been adapted to maintain the headroom for drivers and front passengers, and even rear occupants shouldn't find too much in the way of head obstruction. Feet are a different matter, though, with the curve at the base of the car's B-pillar getting in the way to a greater or lesser extent based on shoe size.
Stereo and ICE (In car entertainment)
A larger media interface screen will be standard in the UK, and it does a fantastic job of clearly displaying all the music playback information a driver might need. Inputs are available through USB ports in the centre console, Bluetooth wireless connectivity and traditional radio.
Colours and trim
Mazda has introduced a new pair of colours with this model; a bright electric blue aimed at those aiming for a sporty look, and a dusky, smoky pink targeted openly at the female contingent. But neither tops the fabulous deep metallic red that has become Mazda's signature colour, and looks stunning on the 2. Inside, materials taken from the more expensive Mazda3 make its smaller cousin look and feel like a relatively premium product.
Parking
Buyers can specify the Mazda2 with several added extras to help with parking. Higher trim levels come with rear distance sensors anyway, but a reversing camera can be added. It is less effective in wet weather, though, as water droplets can distort and blur the image. If drivers are able to rely only on themselves, the Mazda2 proves a compact and nimble partner in town, with a decent turning circle and light steering at low speed.
Spare wheel
Emergency tyre repair kit supplied as standard.
Range information
Petrol engine options - 1.5-litre (74bhp, 89bhp, 113bhp). Diesel engine options - 1.5-litre (104bhp). Transmission options: six-speed manual gearbox, plus auto gearbox (113bhp petrol only). Trim levels: SE, SE Nav, Sport, Sport Nav.
Alternative cars
Ford Fiesta The most popular supermini by far
Toyota Yaris Striking new styling and a Europe-centric interior make this the best Yaris to date
Vauxhall Corsa Cute 'grin' and improved driving dynamics, but engines lag behind
Kia Rio Long warranty and great looks, although less advanced than some